KetoCitra™
Santa Barbara Nutrients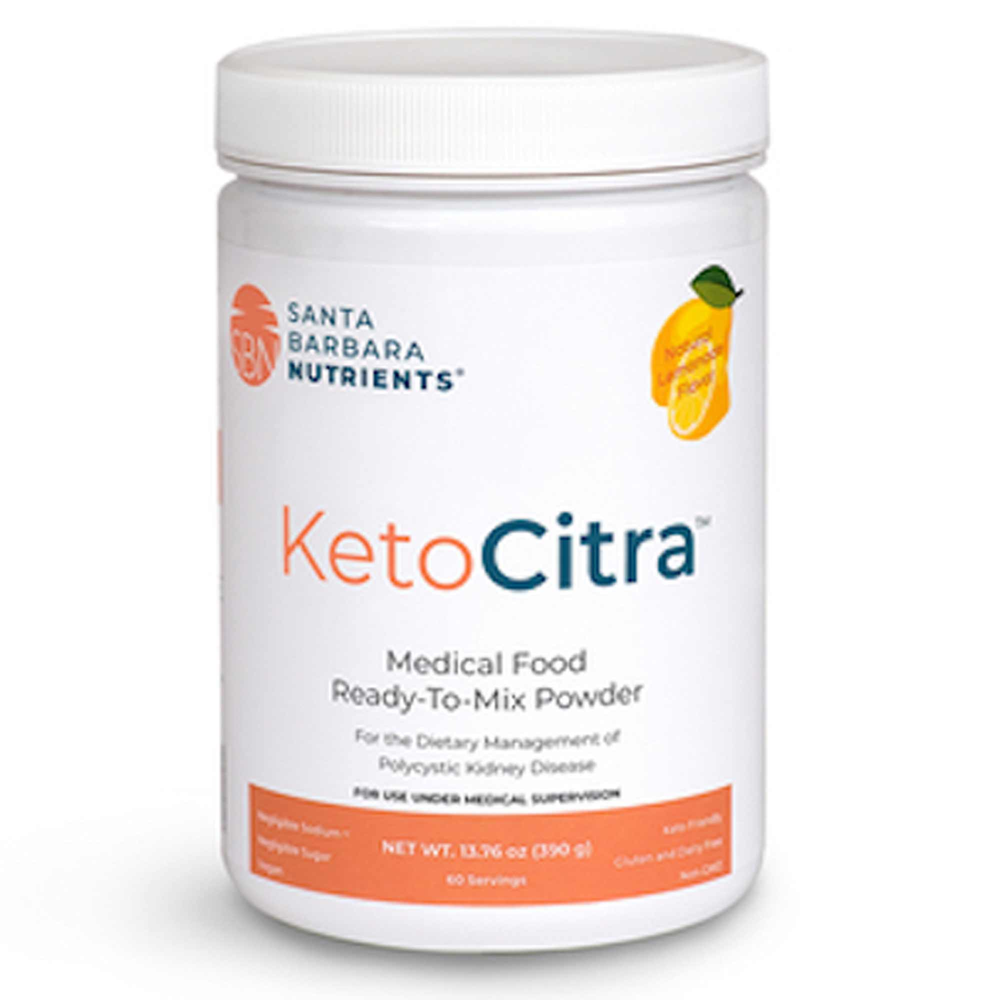 SKU: SAN832-195893662807
KetoCitra™ is a medical food for the daily nutritional management of individuals with mild to moderate stages (PKD stages 1-3) of autosomal-dominant polycystic kidney disease (ADPKD). KetoCitra™ supports nutrition for PKD by delivering the ketone beta-hydroxybutyrate (BHB) together with citrate in a beneficial blend of minerals. KetoCitra™ is formulated with kidney safety in mind.


As a medical food, KetoCitra™ must be taken under medical supervision. Work with a healthcare practitioner to check if you qualify to receive KetoCitra™.
Suggested Use:

Twice per day, shake or stir vigorously two rounded scoops (approx. 6.5 g) of KetoCitra™ with 8-16 oz of water and drink slowly with a meal, or as directed by your physician. First time users begin with one rounded scoop (approx. 3.3 g) twice per day for one week to assess tolerance, and gradually increase to recommended serving size. In case of gastrointestinal discomfort or any other signs of intolerance, reduce serving size or discontinue use of product, and consult your physician. Taking KetoCitra™ slowly with meals, during the course of an hour, is recommended. This will also aid in binding harmful oxalate and inorganic phosphate from the diet.


Serving Size: 2 rounded scoops (6.5g)

Amount Per Serving
Calories … 15
Total Fat ... 0g
Total Carbohydrates ... <1g
Dietary Fiber ... 0.4g
Sugars ... <0.1g
Protein ... 0g
Beta-Hydroxybutryrate ... 2.65g
Citrate ... 1.75g
Potassium ... 300mg
Calcium ... 150mg
Magnesium ... 125mg
Sodium ... <10mg
Base Equivalents ... 25.5mEq

Ingredients: Citric Acid, Magnesium Beta-Hydroxybutyrate, Potassium Beta-Hydroxybutyrate, Calcium Beta-Hydroxybutyrate, Soluble Corn Fiber, Natural Lemon Flavor (Arabic Gum, Lemon Extract, Lemon Juice Concentrate), Purified Stevia Leaf Extract (Reb A 97%), Monosodium Citrate.


Does not contain: Gluten, Dairy, Soy, GMO.

Ideal for Vegans, Vegetarians, Keto diets, low-sodium, low-sugar
Warning: Talk to your doctor with any questions about the directions for use or any specific health concerns. Unless directed by your physician, KetoCitra™ is not intended for individuals with hyperkalemia (high potassium levels), or those with severely impaired renal function or impaired electrolyte homeostasis. Prior to using KetoCitra™ for the first time, your healthcare practitioner should review your metabolic blood panel, renal function, and body's ability to handle the electrolytes contained in KetoCitra™ (potassium, calcium, magnesium).

Storage: Keep closed in a cool, dry place with dessicant packet and scoop inside.