Kid Vits Berry Blast
NOW Foods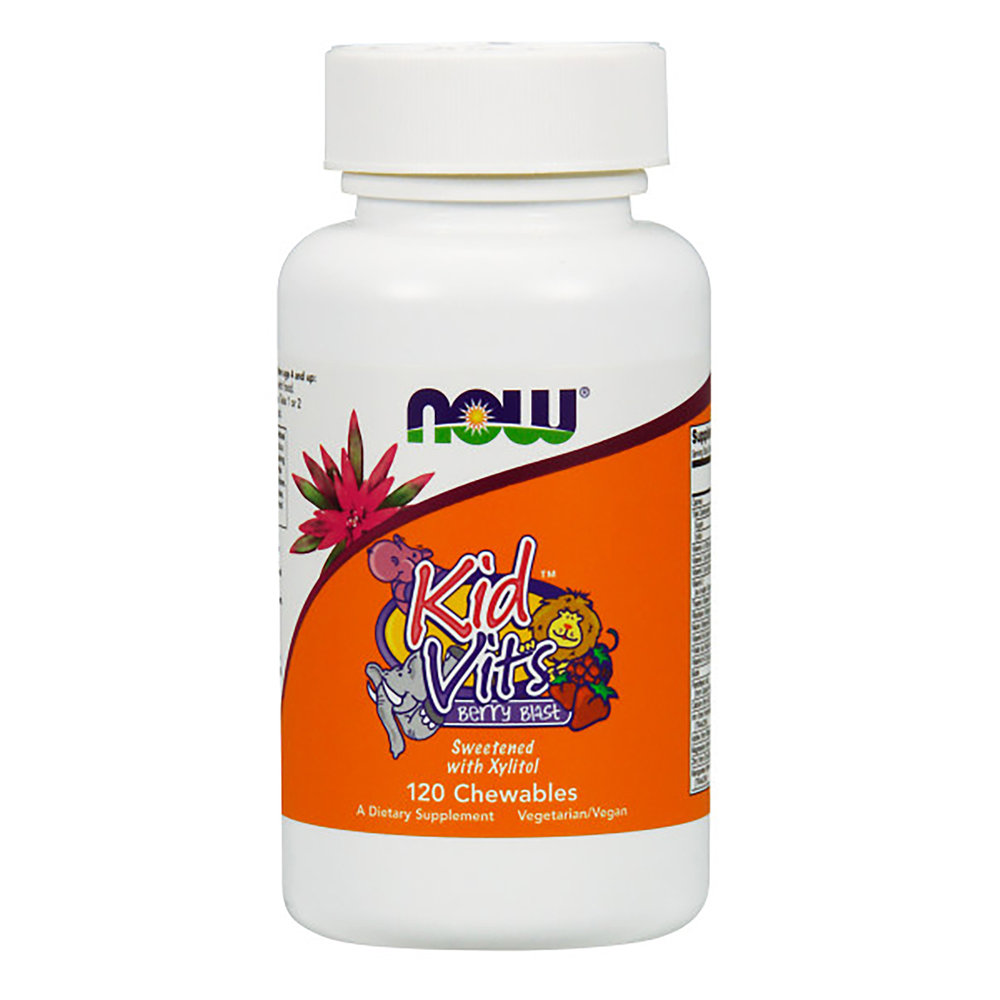 SKU: NOW-3882
Kid Vits (Berry Blast)

Dietary Supplement

? With Real Fruit Concentrate
? Vegetarian Formula

Supplement Facts
Serving Size: 2 Chewable Tablets
Servings Per Container: 60

Amount per Serving
Calories 15
Total Carbohydrate 3 g
Sugars 2 g
Vitamin A 5,000 IU
[from 60% Retinyl Palmitate and 40% Beta-Carotene (as pro-Vitamin A)]
Vitamin C (as Ascorbic Acid) 60 mg
Vitamin D (as Ergocalciferol) 200 IU
Vitamin E (from d-alpha Tocopheryl Succinate) 30 IU
Thiamine (from Thiamine HCl) (Vitamin B-1) 1.5 mg
Riboflavin (Vitamin B-2) 1.7 mg
Niacin (as Niacinamide) (Vitamin B-3) 20 mg
Vitamin B-6 (from Pyridoxine HCl) 2 mg
Folate (as Folic Acid) 400 mcg
Vitamin B-12 (as Cyanocobalamin) 6 mcg
Biotin 300 mcg
Pantothenic Acid (from Cal. d-Pantothenate) 10 mg
Calcium (from Cal. Citrate and Carbonate) 20 mg
Iron (from Ferrochel? Iron Bisglycinate) 5 mg
Iodine (from Potassium Iodide) 150 mcg
Magnesium (from Magnesium Citrate) 10 mg
Zinc (from Zinc AAC**) 3 mg
Manganese (from Manganese AAC**) 100 mcg
Chromium (from AAC**) (Chelavite?) 120 mcg
Molybdenum (from Molybdenum AAC**) 75 mcg
Potassium (from Pot. Chloride and Iodide) 5 mg
Red Raspberry (Rubus idaeus) (Fruit) 20 mg
Choline (from Choline Bitartrate) 2 mg
Inositol 2 mg
PABA 2 mg
Lutein (from Marigold Extract) 500 mcg
Lycopene 500 mcg
(from Natural Tomato Extract)

Other ingredients: Fructose, Sorbitol, Coconut Oil, Barley Malt, Stearic Acid (vegetable source), Beet Powder, Xanthan Gum, Malic Acid, Natural Flavors, Magnesium Stearate (vegetable source) and Silica.

Contains soy derivative. Contains no salt, wheat, milk, egg, shellfish or preservatives.

Suggested Usage: A chewable dietary supplement for children. Children age 4 and up: Take 2 chewables daily with food. Children 1-3 years of age: Take 1 or 2 chewables daily with food.

WARNING: Accidental overdose of iron-containing products is a leading cause of fatal poisoning in children under 6. Keep this product out of reach of children. In case of accidental overdose, call a doctor or Poison Control Center immediately.

Tablet speckling which may occur is normal and does not affect product quality or nutritional value.

Vegetarian/Vegan Product.

Store in a cool, dry place.

*These statements have not been evaluated by the FDA. This product is not intended to diagnose, treat, cure or prevent any disease.