Bronchial Wellness for Kids
Gaia Herbs/Professional Solutions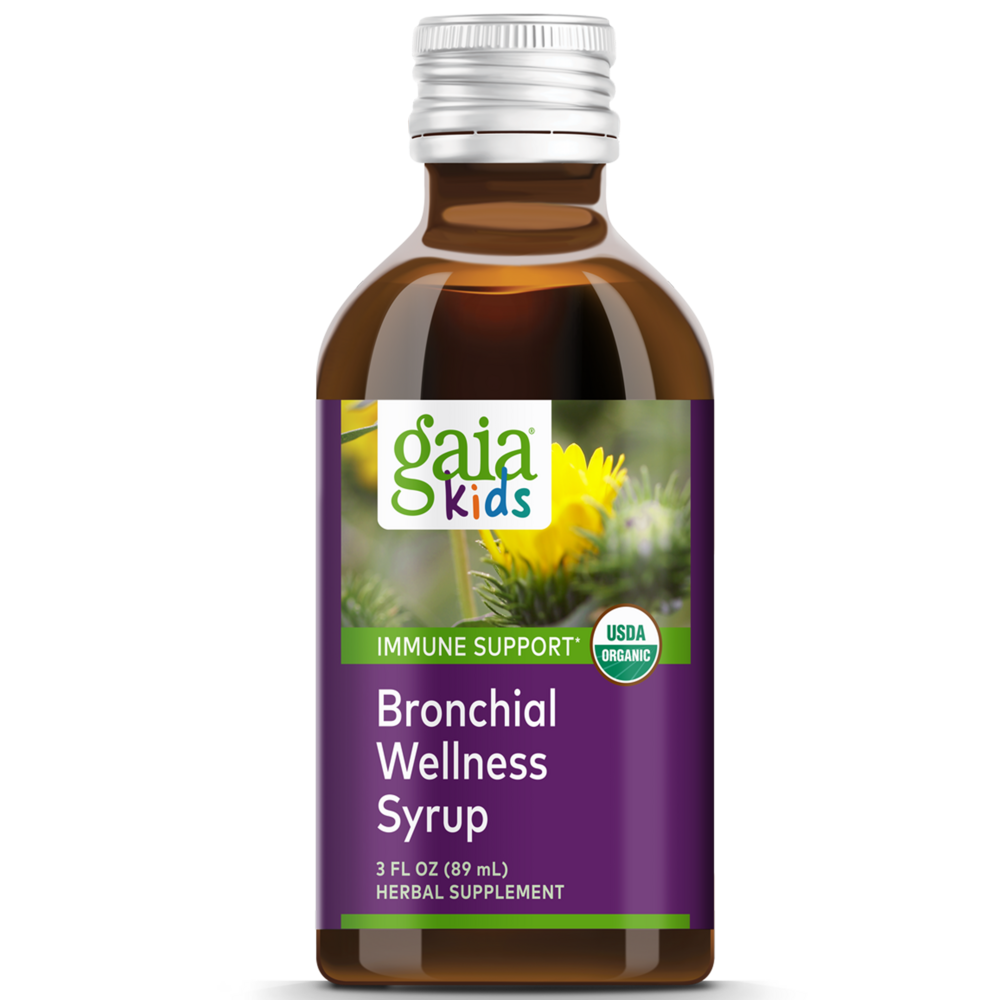 SKU: GAI-90C16003
With honey & lemon for a kid-friendly taste
Promotes healthy mucous membranes*
Herbal support for the respiratory system*
Finding natural support for your child's throat and bronchial health which is both organic and great tasting can be a challenge.* Bronchial Wellness for Kids has been popular with parents in Europe for over 10 years. Gaia Herbs now brings this herbal syrup to the U.S. Parents can trust the purity of organic herbs such as Plantain and Grindelia, used traditionally in Europe for promoting respiratory health and naturally processed to ensure high concentration and absorption. Kids, on the other hand, can enjoy the great taste which comes from organic honey and flavorful essential oils.
Age 2 to 6: 1 teaspoon 2 times a day.
Age 6 and older: 1 teaspoon up to 4 times a day.
Serving Size: One Teaspoon (5ml)
Amount Per Serving
Calories ... 20
Total Carbohydrates ... 5g
Sugars ... 4g
English Plantain leaf* ... 60mg
(Plantago lanceolata) hydroalcoholic extract
English Plantain leaf* ... 14mg
(Plantago lanceolata) freeze-dried extract
Proprietary Extract Blend ... 19mg
Grindelia flowering tops freeze-dried extract* (Grindelia camporum), Helichrysum flowering tops freeze-dried extract* (Helichrysum italicum), Lemon Peel Essential Oil (Citrus x limon), Orange Peel Essential Oil (Citrus sinensis), Myrtle Leaf Essential Oil (Myrtus communis).
Other Ingredients: Organic sugarcane, organic honey, water and lemon fruit juice.
This product does not contain
artificial sweeteners
corn syrup
colors
flavors
* = Certified Organic Ingredient
*Shake well before using. Refrigerate after opening.* This product contains honey – not for use in children under 1 year old. Use only as directed on label. If your child has a medical condition or takes medications, please consult with your doctor before using this product. Use within one month of opening. Store in a cool, dry place. Safety sealed for your protection. Do not use if safety seal is broken. Store away from children.