MegaFlora® Kids Probiotic
MegaFood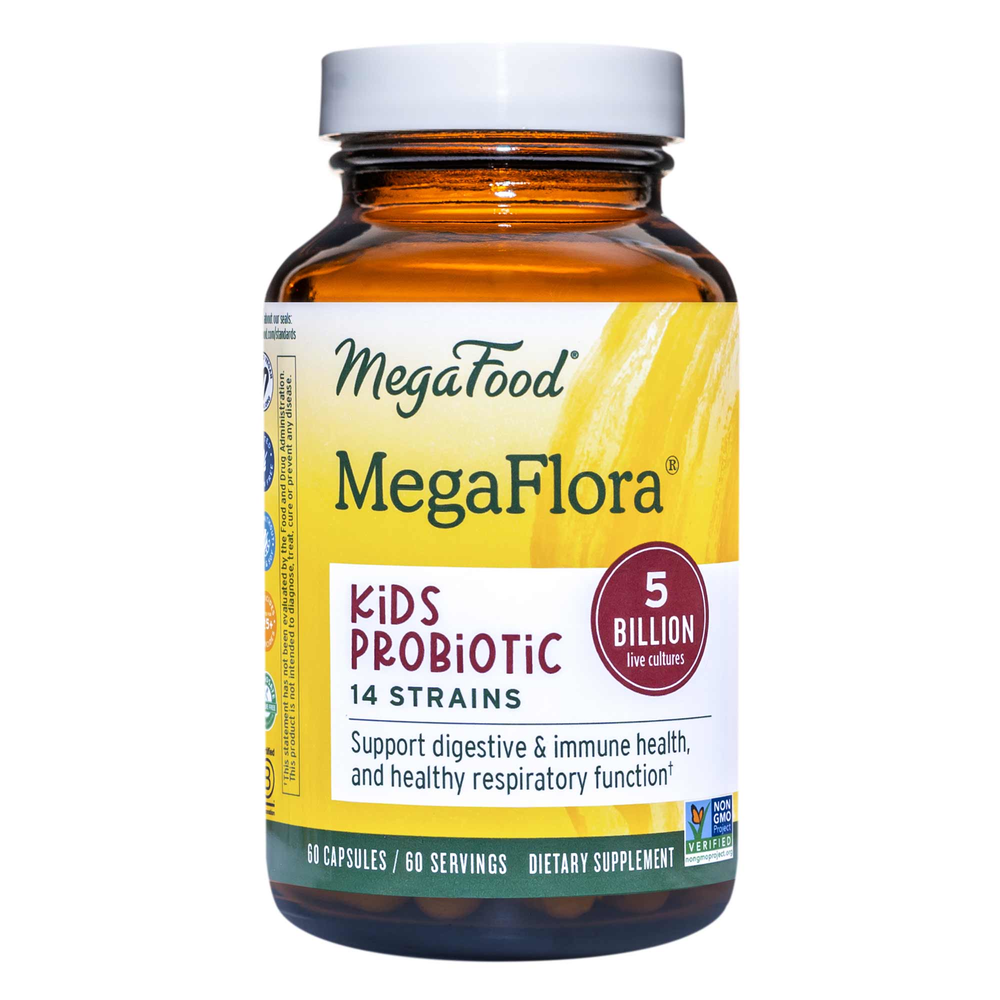 SKU: MEG-10215
Trust your gut & trust our probiotic for kids*
Supports healthy immune & respiratory functions in kids age 5+*
Intestinal health is vital to overall health - even in children!*
Contains our proprietary blend of 14 unique probiotic strains with 5 billion active bacteria to help restore & maintain the balance of healthy probiotics*
Use as a part of a child's foundational health program
Mega Foods recommends storing in the fridge or freezer
Take once daily with a meal and a beverage
Suggested Use:
Adults and children 5 and older take 1 capsule per day with a meal and a beverage.
Serving Size:
1 Capsule
Amount Per ServingProprietary MegaFood® Blend
... 5 Billion CFU
Bifidobacterium lactis (SD-5219)
Lactobacillus acidophilus (SD-5212)
Lactobacillus casei (SD-5213)
Lactobacillus plantarum (SD-5209)
Lactobacillus rhamnosus (SD-5217)
Lactobacillus salivarius (SD-5208)
Lactobacillus brevis (SD-5214)
Lactobacillus bulgaricus (SD-5214)
Lactobacillus gasseri (SD-5585)
Lactococcus lactis (SD-5584)
Bifidobacterium longum (SD-5588)
Bifidobacterium bifidum (SD-6576)
Bifidobacterium infantis (SD-6720)
Streptococcus thermophilus (SD-5207)

Other Ingredients:
Microcrystalline cellulose, hypromellose, l-leucine, silicon dioxide.
This product is Certified Vegan, Gluten Free, Non-GMO, Dairy Free, Soy Free.Warning
: Keep out of reach of children. Store in refrigerator or freezer to maintain potency. Once open, consume within three months.