Kids Calm Multi
Natural Vitality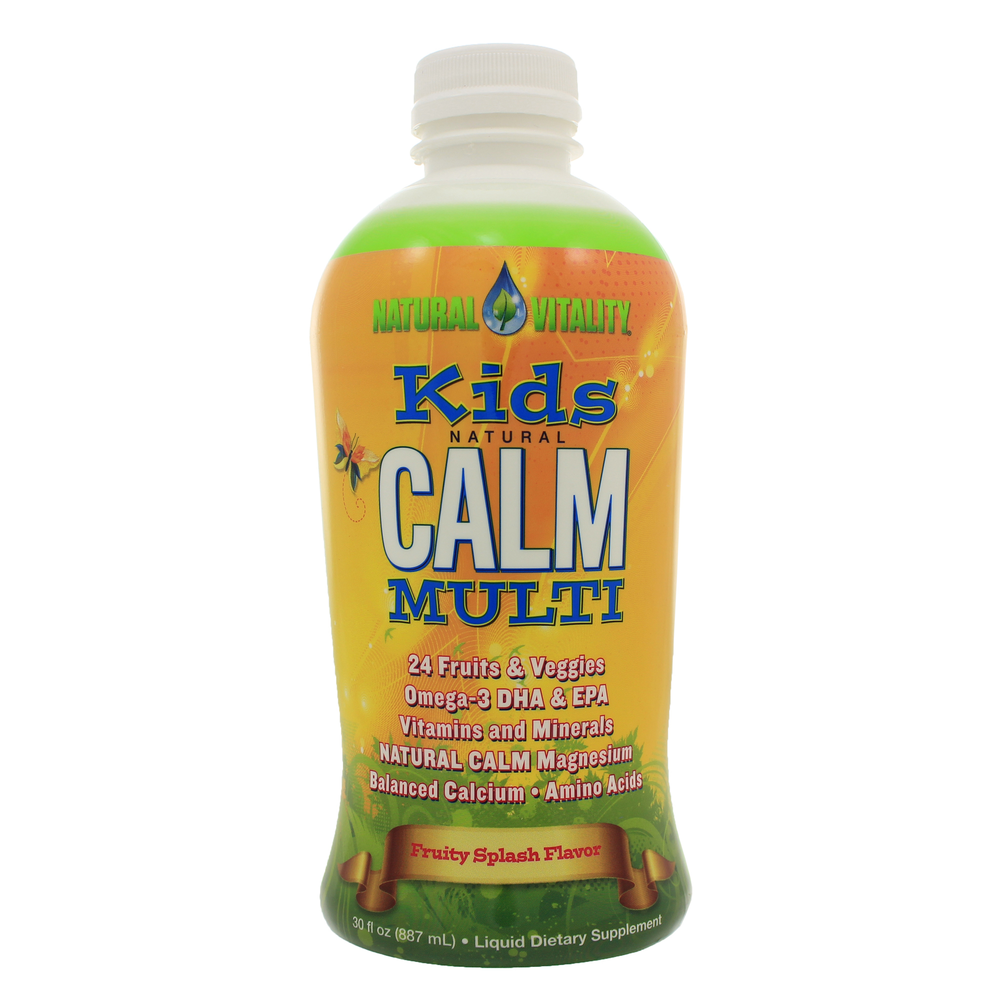 SKU: NVT-3419
As we know, fruits and vegetables are fundamental nutritional factors in a healthy diet. Kids Natural Calm Multi incorporates superfruits (organic pomegranate, açaí, goji and noni), fruits (apple, banana, blackberry, blueberry, cranberry, mango, orange, pineapple, rasp-berry, strawberry and tart cherry) and vegetables (beets, broccoli, carrot, collard greens, kale, peas, pumpkin, spinach and tomato). We took extra care to use organic produce to ensure no pesticide, herbicide or fungicide residues, chemical fertilizers or genetically modified ingredients were included in our formula.
Shake vigorously (natural separation may occur). Mix with an equal amount of water or add to juice.
Ages 4 and up: 2 tbsp (1oz). As a dietary supplement, take with a meal.
Serving Size: 2 tbsp(1floz/30mL)
Amount Per Serving
Calories ... 40
Calories from fat ... 9
Total Fat ... 1g
Total Carbohydrates ... 9g
Sugars ... 0g
Vitamin A ... 5, 000IU
(as beta-carotene)
Vitamin C ... 200mg
(as ascorbic acid)
Vitamin D3 ... 400IU
(as cholecalciferol)
Vitamin E ... 30IU
(as D-alpha tocopheryl acetate)
Thiamin ... 1.5mg
(as thiamin HCI)
Riboflavin ... 1.7mg
(as riboflavin 5-phosphate)
Niacin ... 5mg
(as niacinamide)
Vitamin B6 ... 2mg
(as pyridoxal 5-phosphate)
Folic acid ... 300mcg
Vitamin B12 ... 6mcg
(as methylcobalamin)
Biotin ... 50mcg
Pantothenic acid ... 10mg
(as D-calcium pantothenate)
Calcium ... 200mg
(as calcium-magnesium citrate)
Magnesium ... 240mg
(as magnesium citrate, cal-mag citrate)
Zinc ... 2mg
(as zinc picolinate)
Omega fish oil ... 1, 000mg
Total Omega-3 ... 180mg
(from fish oil)
DHA and EPA ... 150mg
(from fish oil)
Proprietary Organic Kids' Fruit & Veggie Blend ... 200mg
Banana, orange, pineapple, blackberry, tart cherry, raspberry, mango, cranberry, broccoli, strawberry, apple, blueberry, pumpkin, collard greens, spinach, tomato, beets, broccoli sprouts, kale, carrot, açaí, noni, pomegranate, goji
Organic Quinoa seed ... 200 mg
containing the following amino acids: L-glutamicacid, L-arginine, L-asparticacid, L-leucine, L-glycine, L-alanine, L-valine, L-serine, L-phenylalanine, L-lysine, L-proline, L-threonine, L-isoleucine, L-tyrosine, L-histidine, L-methionine, L-cystine, L-tryptophan
Natural Vitality Proprietary Blend ... 50mg
Mineral complex (ConcenTrace®traceminerals), Choline (as choline bitartrate)and Querceti
Other Ingredients: purified water, glycerin (vegetable source), citric acid, organic flavors, natural flavor extracts, organic stevia (leaf) extract, potassium sorbate, xanthan gum.
Contains fish (anchovy, sardine).
NOTE: SHAKE BEFORE USING (NATURAL SEPARATION MAY OCCUR). DO NOT USE IF TAMPER-EVIDENT RING OR SEAL IS BROKEN OR MISSING. KEEP BOTTLE TIGHTLY CLOSED AND OUT OF REACH OF CHILDREN. STORE IN A COOL PLACE. AFTER OPENING, KEEP REFRIGERATED AND USE WITHIN 60 DAYS.
It looks like there are no similar
products available