KLEAN ESSENTIAL AMINOS +HMB
Klean Athlete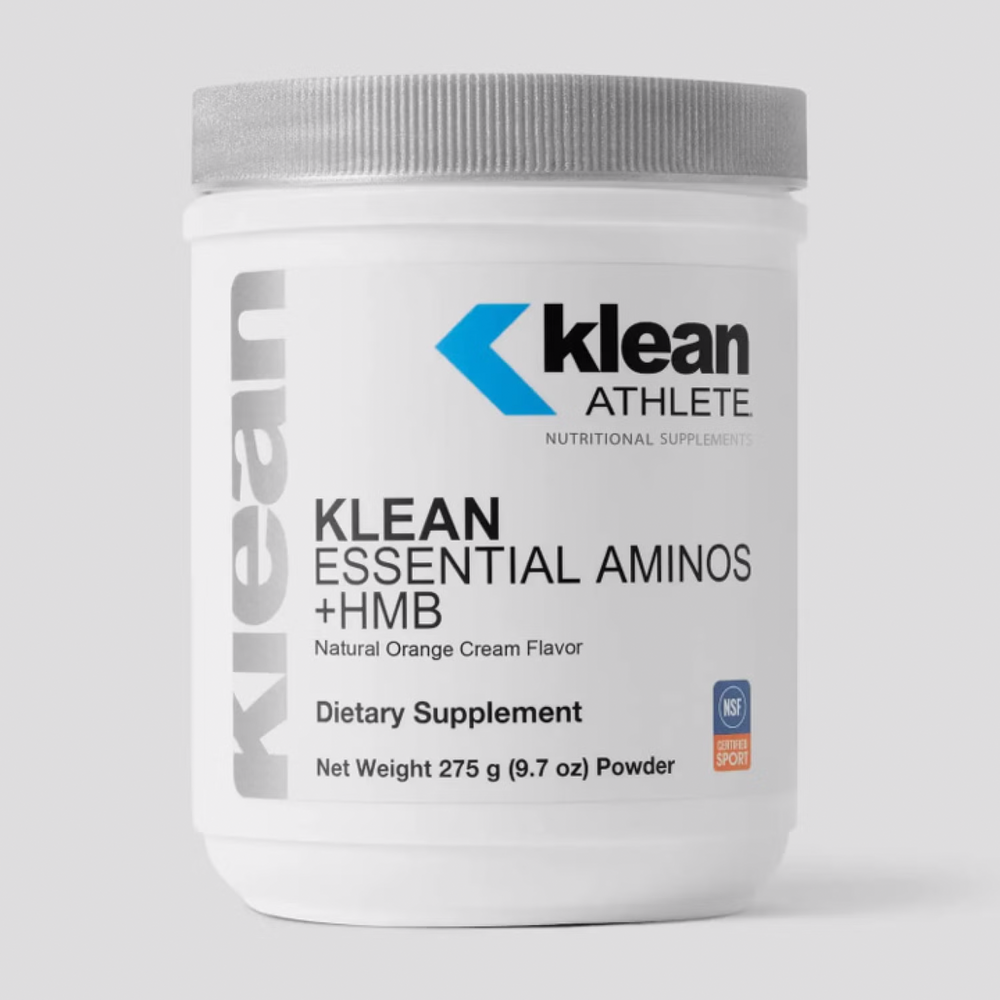 SKU: KLE-KA57737P275
Athletes have a unique state of mind – driven, goal oriented, and unrelenting. Day, week, and year-in and -out athletes push their bodies to perform at high levels. As athletes age, a greater effort is needed to support anabolic muscle mass. Continuing to perform at peak levels, not only requires proper training, but also demands proper fueling to build and maintain muscles. No matter if you're in your 30's or 70's, Klean Essential Aminos + HMB is designed with a leucine-rich blend of essential amino acids combined with HMB®, vitamin D3 and glutamine to support building lean muscle mass and function for all adult athletes.‡
Suggested Use:
As a dietary supplement, adults take one (1) scoop 1-2 times daily dissolved in 8-10 oz of water or other beverage, or as directed by a trainer, coach, or health professional.
Serving Size: 1 Scoop (9.15g)
Amount Per Serving
Calories … 20mg
Total Carbohydrate … < 1g
Vitamin D3 … 12.5mcg (500IU)
(as cholecalciferol)
Calcium … 210mg
myHMB® Calcium β-Hydroxy-β-Methylbutyrate Monohydrate … 1.5mg
(HMB)
Amino9 Amino Blend … 3.35g
L-Histidine
… 109mg
L-Isoleucine … 280mg
L-Leucine … 1271mg
L-Lysine … 487mg
L-Methionine … 129mg
L-Phenylalanine … 181mg
L-Threonine … 342mg
L-Valine … 264mg
L-Tryptophan … 18mg
L-Glutamine … 2g
Other Ingredients: Natural orange flavor, natural vanilla and other natural flavors, citric acid, stevia leaf extract, monk fruit extract (Siraitia grosvenorii), turmeric (for color)
Amino9™ is a registered trademark of Compound Solutions Inc.
myHMB® Nutritional uses of Calcium β-Hydroxy-β-Methylbutyrate Monohydrate (HMB) and Vitamin D are licensed to Klean Athlete under U.S. Patent # 8,815,280, # 9,259,430, #9,539,224 and #9,707,241
Warning: If you are pregnant, nursing, have any health condition or taking any medication, consult your health professional before using this product. Keep out of reach of children.
Store in a cool, dry place. Use only if the safety seal is intact.
PHENYLKETONURICS: CONTAINS PHENYLALANINE