Klean Isolate Pouch
Klean Athlete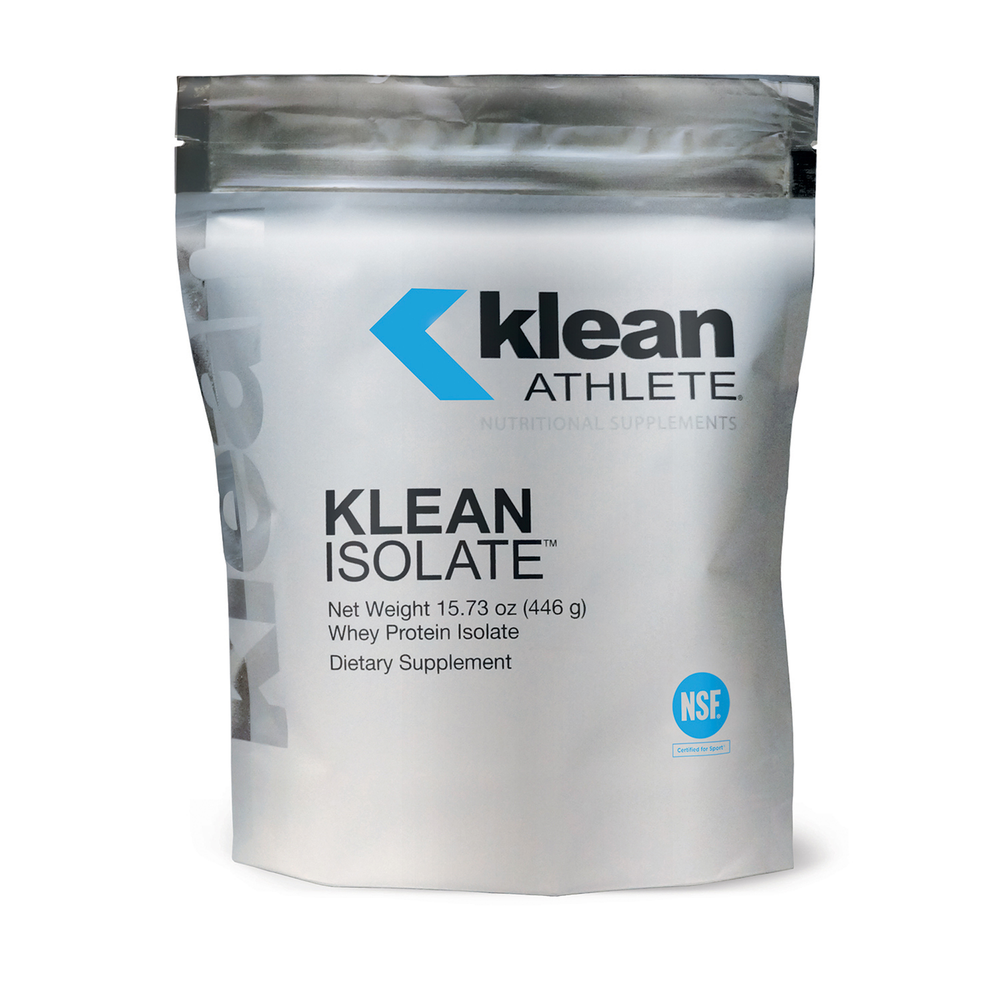 SKU: KLE-KA57534P446
Klean Isolate Pouch
-Simply put protein powers muscle. Klean Isolate is pure whey protein isolate, free of artificial flavoring or sweetener. You add what you want for flavor. No matter how you take it, whether you are building or repairing muscle, just like you, Klean Isolate is up to the challenge.
Klean Isolate by Klean Athlete supplies 20 grams of high quality whey protein isolate in each serving. With no additional flavorings or sweeteners, Klean Isolate can easily be added to any beverage to enhance daily protein and amino acid intake.
Adults take one scoop daily mixed with 10 to 12 ounces of water or other beverage or as directed.
Serving Size: 1 Scoop (approx. 22.2 grams)
Amount Per Serving
Calories ... 85
Total Carbohydrates ... 1g
Sugars ... 1g
Protein ... 20g
Calcium ... 20mg
(from whey)
Sodium ... 30mg
(from whey)
Potassium ... 125mg
(from whey)
Typical Amino Acid Pro?le
L-Alanine ...940mg
L-Arginine ...415mg
L-Asparagine ...2, 115mg
L-Cystine ...480mg
L-Glutamine ...2, 920mg
L-Glycine ...325mg
L-Histidine ...395mg
L-Isoleucine ...1, 240mg
L-Leucine ...2, 075mg
L-Lysine ...1, 720mg
L-Methionine ...405mg
L-Phenylalanine ...595mg
L-Proline ...1, 325mg
L-Serine ...935mg
L-Threonine ...1, 360mg
L-Tryptophan ...325mg
L-Tyrosine ...585mg
L-Valine ...1, 125mg
Ingredients: Whey protein isolate (from milk), sun?ower lecithin
This product contains NO yeast, wheat, gluten, corn, starch, artificial coloring, preservatives or flavoring.
KEEP OUT OF REACH OF CHILDREN.
For optimal storage conditions, store in a cool, dry place. (59°-77°F/15°-25°C) (35-65% relative humidity)
Tamper resistant package, do not use if outer seal is missing.