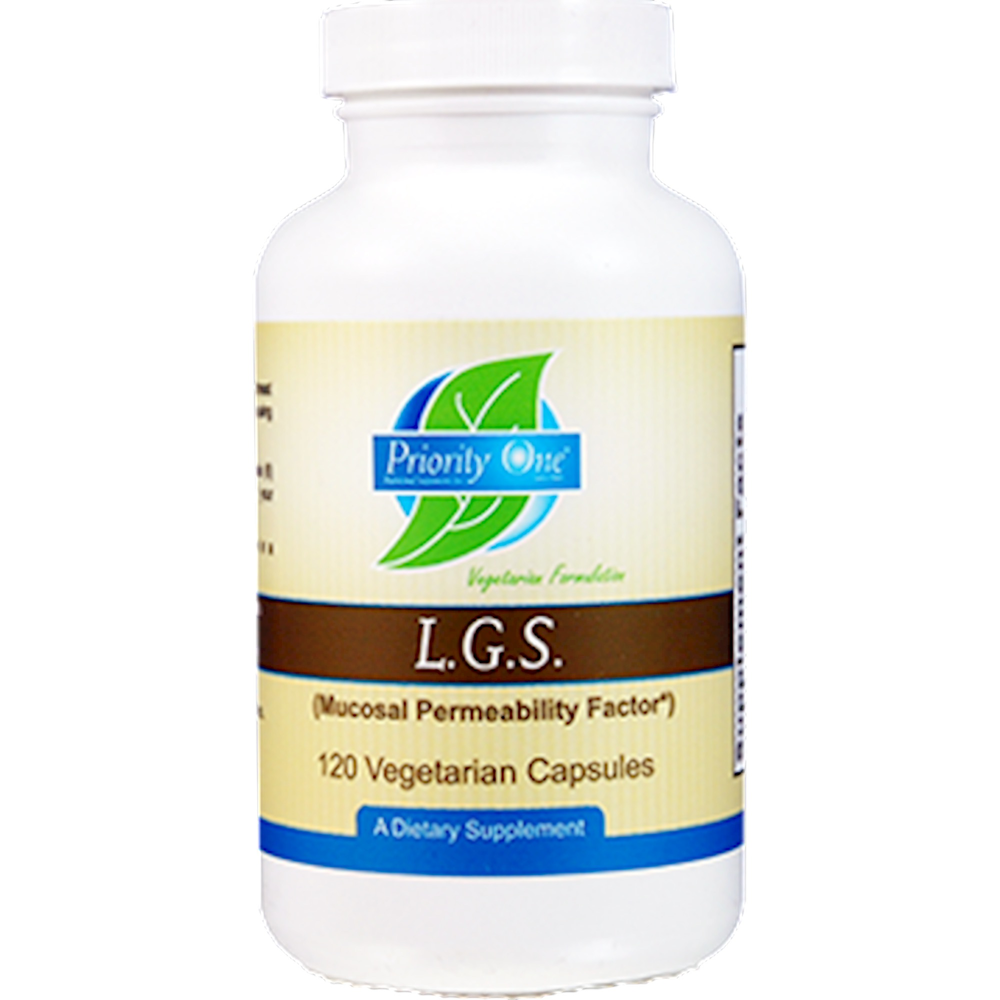 SKU: PR7-1154
L.G.S. is a formula rich in nutrients beneficial to healthy mucosal cells' it is designed to support healthy mucosal permeability.
Take two (2) capsules three times daily' or as directed by your physician.
Serving Size: Two (2) Capsules
Amount Per Serving
Vitamin A ... 8'334 IU
(100% as beta carotene)
Vitamin E ... 60 IU
(As d-alpha and mixed tocopherols)
(Sunvitol®) (Non-GMO from sunflower oil)
Folate ... 260 mcg
(as (6S)-5-methyltetrahydrofolic acid)
(equivalent to 482 mcg of (6S)-5-methyltetrahydrofolic acid' glucosamine salt) (quatrefolic®)
Zinc ... 4 mg
(As picolinate/chloride)
L-Glutamine ... 500 mg
N-Acetyl D-Glucosamine ... 350mg
Gamma Oryzanol ... 120 mg
Cats Claw ... 150 mg
(Bark) (Uncaria tomentosa)

Other Ingredients: Rice chelate' silicon dioixde' silica' cellulose' capsule (hypromellose' purified water).
Contains crustacean (shrimp) (n-acetyl d-glucosamine).
-BPA Free
-GMO Free
-GMP Certification
-Phthalate Free
-Preservative Free
Non-GMO.
GMP Certified.
Allergen Caution: Contains crustacean (shrimp) (n-acetyl d-glucosamine)
If you are pregnant or breast feeding' consult your physician before using this product.
KEEP OUT OF REACH OF CHILDREN.
Keep container tightly closed' store in a cool' dry place.
For professional use only.
Please consult your doctor before starting any exercise or nutritional supplement program or before using these or any product during pregnancy or if you have a serious medical condition.
These statements have not been evaluated by the Food and Drug Administration (FDA). These products are not meant to diagnose' treat or cure any disease or medical condition.
This item may contain a chemical known to the State of California to cause cancer, birth defects, or other reproductive harm. Under CA Prop 65, it is required to include an additional labeled warning for the CA public.