Lady Bugs: Women's Probiotic Powder - Apple Raspberry
Ora Organic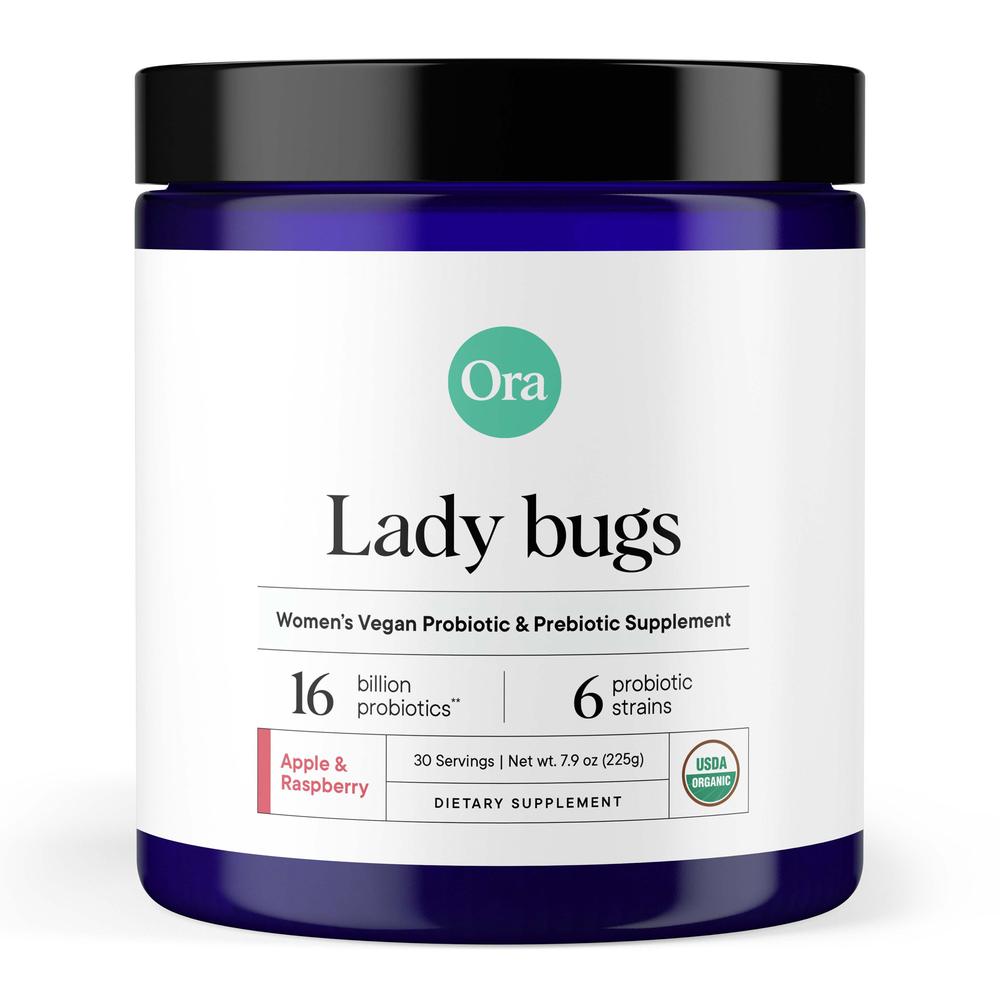 SKU: ORA858-10274
Support optimal vaginal and urinary tract health† through all stages of life with our convenient capsules filled with 16 billion CFU of probiotics from 6 research-backed strains, plus organic prebiotics.

Research-backed Lactobacillus bacteria strains
-L. crispatus may help protect the epithelial (skin-type) cells of the vaginal wall from stress and support the healing of damaged epithelial cells
-L. acidophilus and L. plantarum are well-known probiotics that may increase the presence of anti-inflammatory signaling molecules and decrease the presence of pro-inflammatory signaling molecules
-L. rhamnosus makes its way into Lady Bugs because of its potential to support digestive health and regularity after taking antibiotics

Having a healthy balance of Lactobacillus probiotics in the vagina during pregnancy is important - an unbalanced vaginal microbiome may relate to adverse pregnancy outcomes like preterm labor
-A higher prevalence of L. crispatus probiotics was associated with fewer symptoms of vaginal dryness in postmenopausal women
-Includes a significant amount of prebiotics from organic Jerusalem artichoke
-Breastfeeding- and pregnancy-friendly
-Third-party tested to be free from dairy, soy, and other major allergens

Suggested Use:
Mix one scoop (7.5 g) with a shot (1.5 oz) of water or add to a smoothie. Aim to take your probiotic at the same time every day with food. (Time of day does not matter. Choose a time the works for you and aim for consistency). Enjoy right away!


Serving Size: 1 scoop (7.5 g)

Amount Per Serving
Calories ... 30
Total Carbohydrates ... 7 g
Total Sugars ... 1 g
Sodium ... 10 mg
Ora Organic Prebiotic Blend ... 4.2 g
Organic Jerusalem Artichoke Inulin
Organic Tapioca Oligosaccharide
Ora Probiotic Blend ... 179 mg
Total Cultures ... 16 Billion CFU
Lactobacillus plantarum (UALp-05™)
Lactobacillus acidophilus (DDS-1®)
Lactobacillus rhamnosus (LGG®)
Lactobacillus crispatus (UALcr-35™)
Lactobacillus reuteri (UALre-16™)
Lactobacillus fermentum (UALf-32™)

Other Ingredients: Organic apple, organic raspberry, organic rice hulls, maltodextrin.


Contains NO: Dairy, gluten, soy, tree nuts, added sugars, filler ingredients, artificial colors, flavors, sweeteners or preservatives.

This product is USDA Organic, Certified Vegan, Certified NSF Gluten Free and Non GMO Project Verified.

DDS-1®, LGG® and UA-formative marks are trademarks of Chr. Hansen A/s and used under license.
Storage: Store in a cool, dry place.

It looks like there are no similar
products available