HerbaLozenge® Organic - Lemon Honey
Zand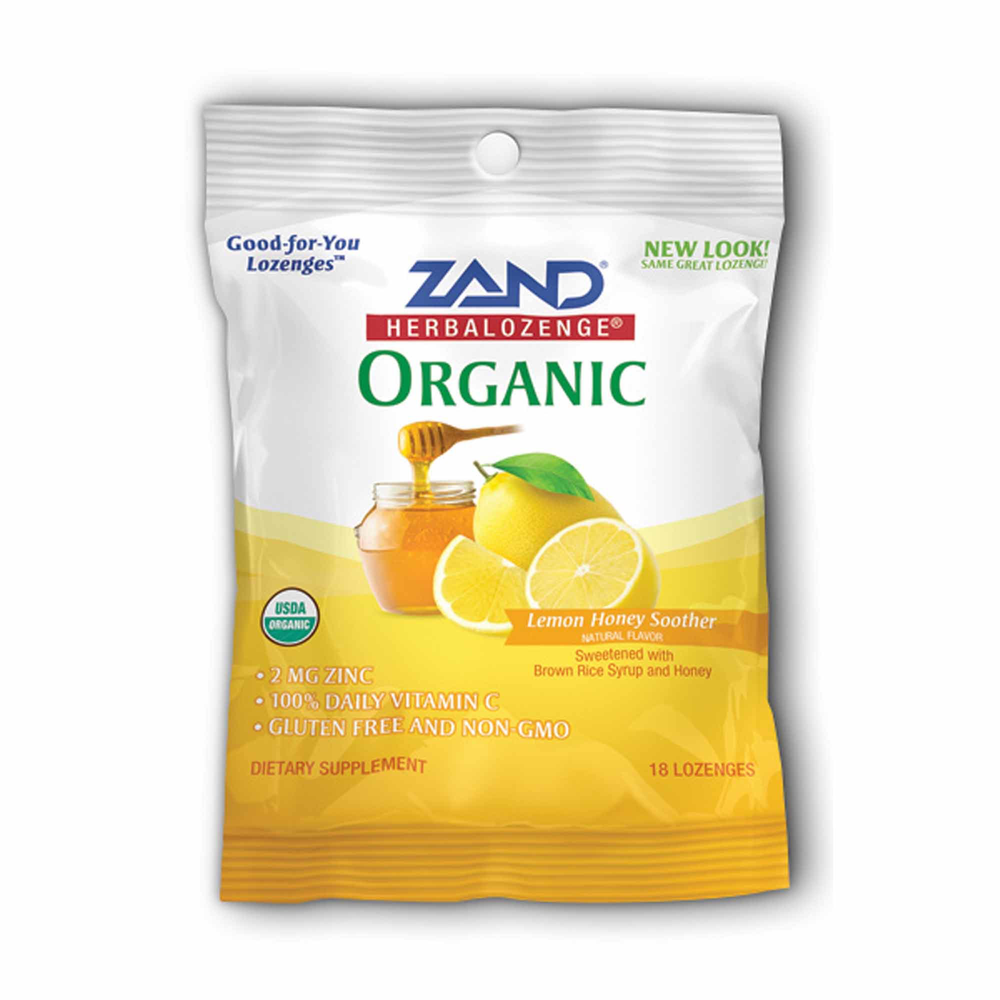 SKU: ZND-Z0027
Soothing, Organic & Great-Tasting

Hardworking lozenges help soothe the throat and support your immune system and your health.

Zand founder, Dr. Janet Zand, formulated our HerbaLozenge Organic Lemon Honey Soother by combining organic Honey and pure Lemon Oil with 100% the recommended daily allowance of Vitamin C, plus 2 mg of Zinc for healthy immune function support. A special blend of organic herbal extracts provides added support and is designed to help soothe and refresh a dry throat.</p>

Perfect for the winter months, Organic HerbaLozenges are sweetened with organic honey and brown rice syrup, and naturally flavored for a cool, refreshing lemon zing. Now available in a handy 80-lozenge size to last you all season long!
Use only as directed. Use 1 lozenge every 1 to 2 hours. Repeat as needed. Allow lozenge to slowly dissolve in the mouth. Do not use more then 6 lozenges in 1 Day. Store in a cool dry place.

Serving Size: 1 lozenge (2.7g)

Amount Per Serving
Calories ... 10
Total Carbohydrate ... 3 g
Sugars ... 1 g
Vitamin C ... 60 mg
(as Ascorbic Acid)
Zinc ... 2 mg
(as Zinc Gluconate)
Proprietary Blend ... 2.7 g
Organic Brown Rice Syrup, Organic Honey, Natural Lemon Oil, Natural Lemon Flavor and extracts of Organic Mullein Leaf, Organic Marshmellow Root, Organic Eucalyptus Leaf, Organic Peppermint Leaf, Organic Sage Herb, Organic Thyme Herb and Organic Stevia Leaf.

Other Ingredients: None.
Do not use if you if bag has been opened or printed lozenge wrapper is missing. Keep out of reach of children. Keep your licensed health care practitioner informed when using this product.