Libido Boost for Him Herb Pack
Pacific Herbs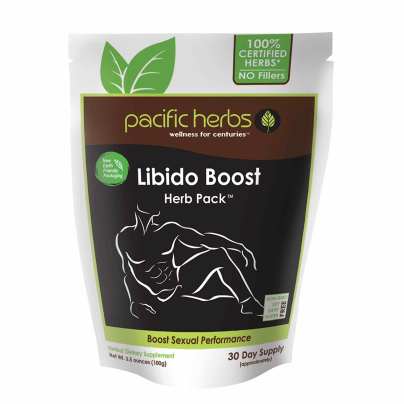 SKU: PAC316-L101M
This combination of herbs is a highly effective natural sexual enhancement herbal supplement used successfully by men and women for generations. Results will be noticed quickly, most people experience a change within the first week of taking Libido Booster.*
Satisfaction within a week of use and 90 percent of customers report a noticeable difference in their desire and fulfillment within 2 weeks.*
The 100% natural herbal ingredients in their natural sexual booster have been tested by the largest supplier in the world of herb granules to ensure quality control. This product is made by a GMP and ISO certified manufacturer, and packaged in California.*
There are no hormones, drugs, or unlisted substances in this herbal formula.*
Recommended Use:
Mix in warm water and enjoy, or place granules in mouth and swallow with water or juice.
Serving Size ½ tsp
Amounts Per Serving
Horny Goat Weed/Epimedium … 400mg
(Yin Yan You)
Cooked Rehmannia Root … 400mg
(Shu Di)
Eucommia Bark … 330mg
(Du Zhong)
Schisandra Berry … 250mg
(Wu Wei Zi)
Propreitary Extract Blend … 620mg
(Cuscata seed (Tu Si Zu), Achyranthes root (Niu Xi), Cornus fruit (Shan Zhu Yu), Goji berry/lyceum (Gou Qi Ji), Cinnamon Bark (Rou Gui), Flowery Knotweed root/Fo-Ti (He Shou Wu), Cistanche (Rou Cong Rong)
Other Ingredients: None
Pacific Herbs only solvent is purified water
Libido Booster Herb Pack is Gluten Free – Dairy Free – Soy Free
No necessary fillers or binders

No magnesium stearate

No coloring agents

No gelatin

No preservatives

No yeast, corn, wheat, alcohol, sugar or salt.
If taking medication, consult a health professional before use. Adults use only. Individual results may vary.
It looks like there are no similar
products available