Licorice Root-V 500mg
Douglas Labs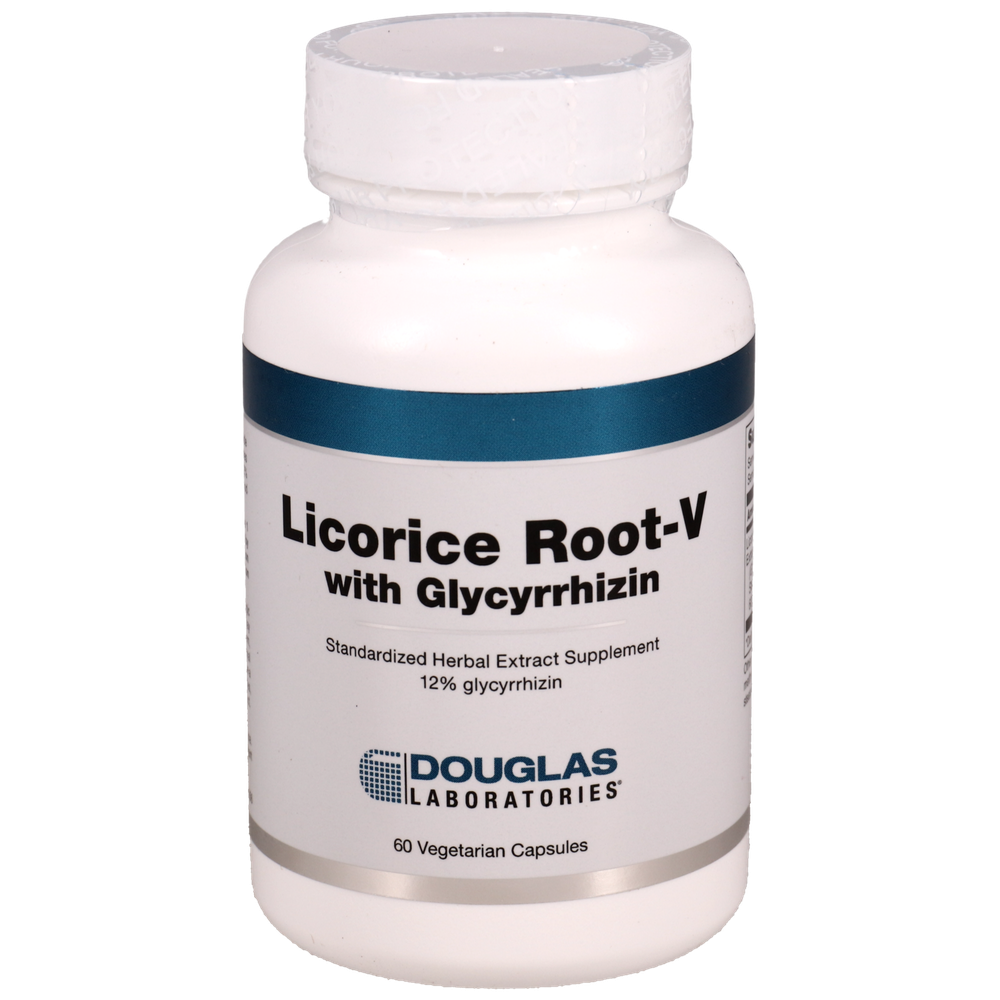 SKU: DL-7735660X
Licorice Root-V, provided by Douglas Laboratories, supplies 500 mg of licorice root standardized to 12% glycyrrhizin per each vegetarian capsule.
FUNCTIONS Licorice has been used in Traditional Chinese Medicine for hundreds of years to support the body, including the gastrointestinal system. It was often used as a demulcent, to soothe and coat the stomach and throat. This product is standardized to provide glycyrrhizin for those who wish to supplement with this natural ingredient. Licorice Root (Glycyrrhiza glabra L.) contains a glycoside (glycyrrhizin), flavonoids, asparagine, isoflavonoids, chalcones and coumarins. This extract is standardized to contain 12% glycyrrhizin. If you have or are susceptible to high blood pressure, the deglycyrrhizinated form is recommended
INDICATIONS Licorice Root-V may be a useful dietary adjunct for individuals wishing to supplement with this popular herb.
As a dietary supplement, adults take 1 capsule, 1 to 2 times daily between meals or as advised by your healthcare professional. Potassium supplementation
recommended with prolonged use. If digestive irritation occurs, take with meals.
Serving Size: 1 Capsule
Amount Per Serving
Licorice Herbal Extract (root) ...500mg *
(Glycyrrhiza glabra L.)
Standardized to provide
60mg glycyrrhizin
Other ingredient: Cellulose, hydroxypropyl methylcellulose (capsule) and vegetable stearate.
Stop use and consult your health care professional if allergic reactions occur.
Cautions: Prolonged use of large amounts may lead to higher blood levels of sodium and lower potassium, causing edema, hypertension and heart problems; adrenal depletion may also occur.
If you are pregnant or nursing, have a history of renal failure or are currently using cardiac glycosides, consult your health care professional before using this product.
Tamper resistant package, do not use if outer seal is broken or missing.
Keep out of reach of children.
Store in a cool, dry place.
*This statement has not been evaluated by the Food and Drug Administration. This product is not intended to diagnose, treat, cure or prevent any disease.