LigaZyme
Allergy Research Group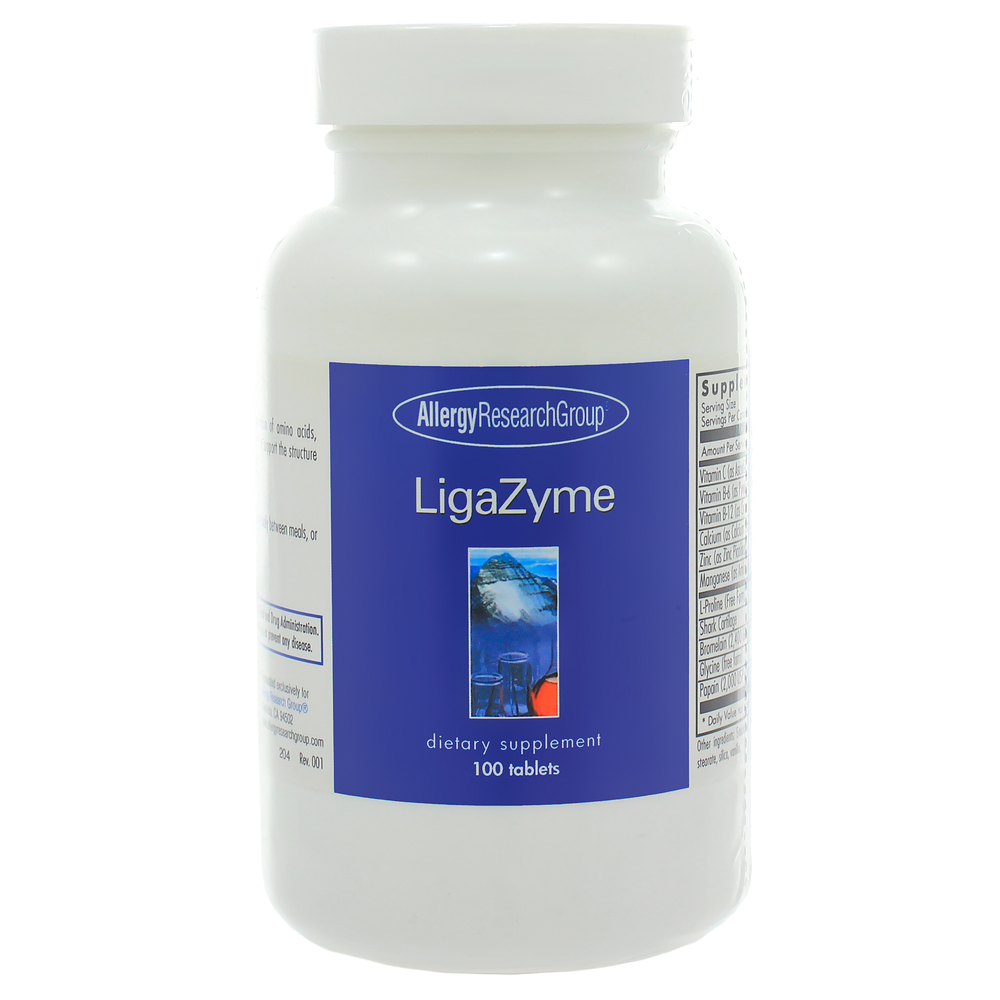 SKU: ARG-76340
LigaZyme is a synergistic combination of L-proline, glycine, bromelain, papain, shark cartilage, manganese and other minerals, and key vitamins. These nutrients are involved in the structure and function of ligaments and tendons.
As a dietary supplement, 1 tablet three times daily between meals, or as directed by a healthcare practitioner.
Serving Size: 1 Tablet
Amount Per Serving:
Vitamin C ... 75mg
(as ascorbic acid)
Vitamin B-6 ... 7.5mg
(as pyridoxine HCL)
Vitamin B-12 ... 100mcg
(as cyanocobalamin)
Calcium ... 31mg
(as calcium carbonate)
Zinc ... 7.5mg
(as zinc picolinate)
Manganese ... 10mg
(as amino acid chelate)
L-Proline ... 250mg
(free form)
Shark Cartilage ... 150mg
Bromelain ... 125mg
(2, 400 GDU**/g)
Glycine ... 100mg
(free form)
Papain ... 50mg
(2, 000 USP*** units/mg)
Other ingredients: Stearic acid, microcrystalline cellulose, cellulose & glycerin coating, magnesium stearate, silica, vanilla.
GDU-Gelatin Digestive Units
USP-United States Pharmacopoeia
These nutrients are of the highest quality and purity obtainable, and do not contain preservatives, diluents, or artificial additives.
This statement has not been evaluated by the U.S. Food and Drug administration. The product is not intended to diagnose, treat, cure, or prevent any disease.
It looks like there are no similar
products available