Liquid B Complex
Seroyal/Genestra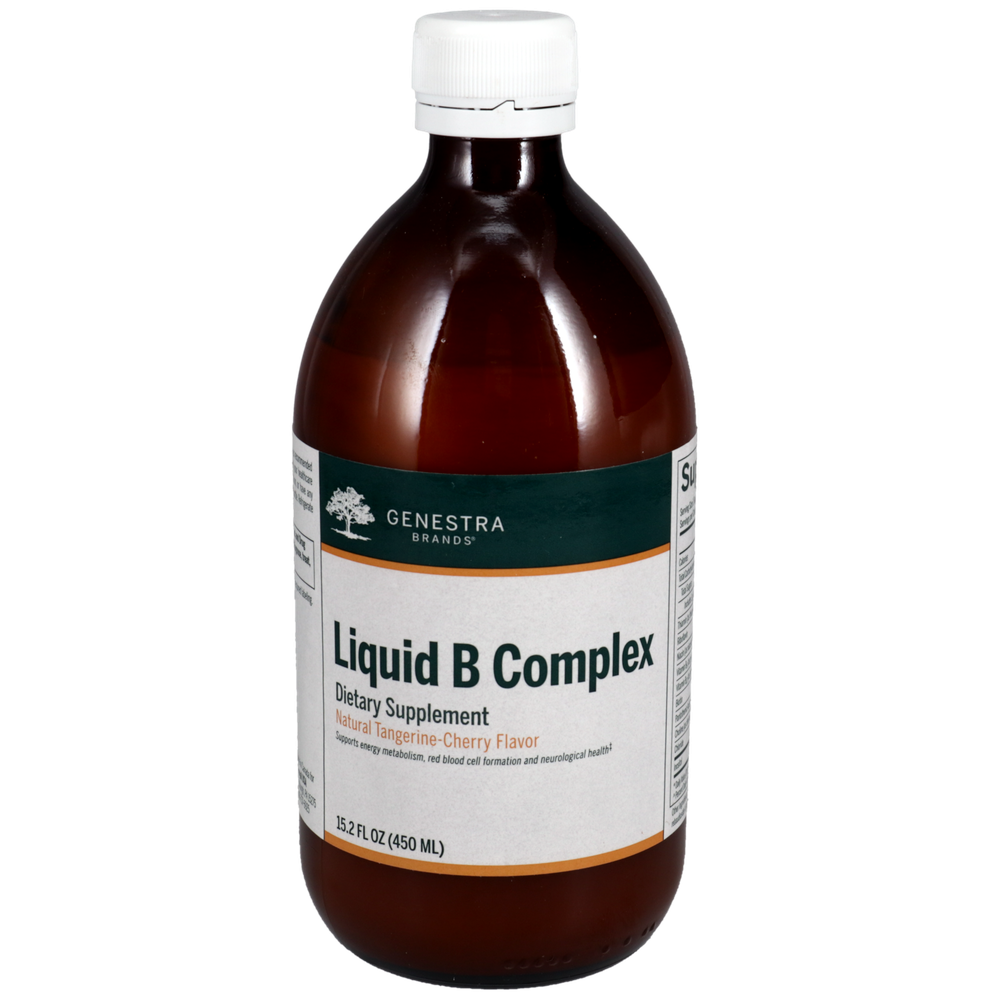 SKU: GN-02131A
Broad-spectrum B-vitamin complex
Helps to maintain cognitive function, normal immune function and energy production*
Aids in the maintenance of healthy hair, nails and skin*
Convenient liquid format
Great-tasting, natural tangerine-cherry flavor
Liquid B Complex is a delicious combination of seven B vitamins, plus choline and inositol. It provides the daily requirements for thiamin, riboflavin, niacinamide, vitamin B6, vitamin B12, biotin and pantothenic acid. B vitamins play an important role in energy metabolism as cofactors for numerous biochemical reactions in the body. Vitamins B6, B12 and riboflavin are particularly critical in the metabolism of the amino acid metabolite homocysteine. Vitamin B12 has an additional role supporting immune system function and is involved in red blood cell formation alongside vitamin B6. In addition, biotin helps maintain cognitive functions as well as healthy hair, nails, mucous membranes and skin. Liquid B Complex also provides choline, a lipotrope that helps support liver function, plus inositol, an important second messenger and component of the phospholipid membrane.*
Adult Dose:
Take one teaspoon two times daily with meals, or as recommended by your healthcare practitioner. Shake well before each use.
Serving Size:
1 Teaspoon (5 ml)
Amount Per ServingCalories
... 10
Total Carbohydrate
... 3g
Total Sugars
... 1g
Included Added Sugars
... 1g
Thiamin
... 50mg
(as thiamin hydrochloride)
Riboflavin
... 50mg
Niacin
... 75mg
(as niacinamide)
Vitamin B6
... 50mg
(as pyridoxine hydrochloride)
Vitamin B12
... 75mcg
(as hydroxocobalamin acetate/methylcobalamin)
Biotin
... 200mcg
Pantothenic Acid
... 75mg
(as d-panthenol)
Choline
... 50mg
(as choline chloride)
Chloride
... 60mg
Inositol
... 50mg
Other Ingredients:
Purified water, concentrated apple juice, glycerin, natural flavors, citric acid, rebaudioside A (stevia leaf extract), potassium sorbate, xanthan gum.
Warning: Consult your healthcare practitioner prior to use if you are pregnant, breastfeeding, taking any medication, or have any health condition. Use only if safety seal is intact. Do not drink directly from the bottle. Refrigerate after opening. Keep out of reach of children.