Liquid Cal-Mag Blueberry
Protocol for Life Balance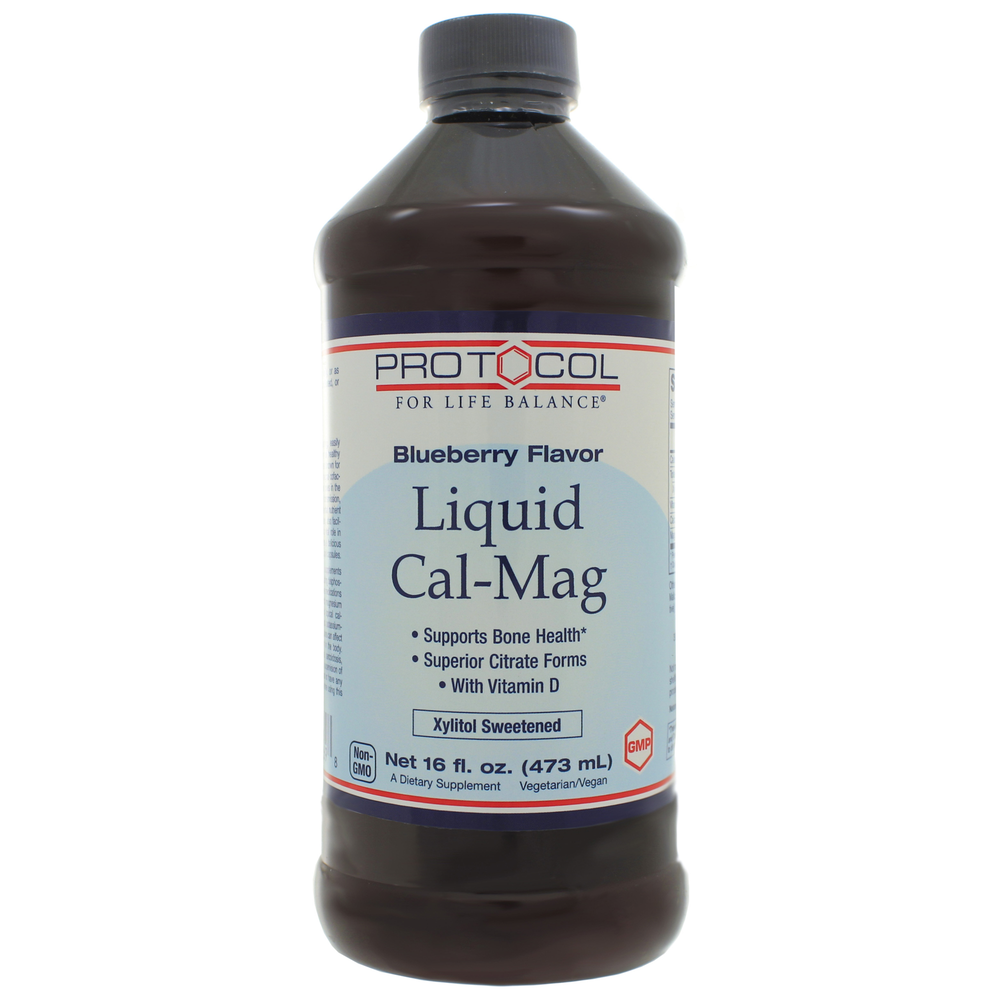 SKU: PROT-P1269
-Blueberry Flavor
-Supports Bone Health*
-Superior Citrate Forms
-With Boron and Vitamin D
-Xylitol Sweetened
-A Dietary Supplement
-Vegetarian Formula
Liquid Cal-Mag Blueberry is a high potency and highly absorbable liquid calcium and magnesium formula for the support of healthy bones and teeth.* Although Calcium and Magnesium are best known for their roles in bone health, both of these minerals are also integral cofactors in hundreds of biochemical reactions, and help the body to maintain proper muscular contraction, nerve transmission, acid/base balance, blood clotting functions, and fluid balance.* Vitamin D, an essential nutrient for skeletal health due to its critical role in bone mineralization, is included since it facilitates the absorption and utilization of Calcium and plays a vital role in healthy immune system function.* Boron, another mineral known for its role in bone health, has also been included.* This liquid formula offers a delicious tasting dairyfree and vegetarian alternative to large tablets and capsules.
As a dietary supplement, take 1 tablespoon 1 to 2 times daily or as directed by your healthcare practitioner. Can be taken undiluted, or mixed with water or juice.
SHAKE VIGOROUSLY BEFORE USE.
REFRIGERATE AFTER OPENING TO PRESERVE FLAVOR.
Serving Size: 1 Tablespoon (15 mL)

Amount Per Serving
Calories ... 40
Total Carbohydrate ... 9g
Sugar Alcohol ... 2g
(as Xylitol)
Vitamin D ... 400IU
(as Ergocalciferol)
Calcium ... 500mg
(from Calcium Citrate)
Magnesium ... 250mg
(from Magnesium Citrate)
Boron ... 1mg
(from Boron Amino Acid Chelate)
Other Ingredients: De-ionized Water, Glycerin, Xylitol, MalicAcid, Xanthan Gum, Natural Blueberry Flavor, PotassiumSorbate (as preservative), Grape Skin Extract, Cellulose andMixed Tocopherols (soy).
Contains No: salt, yeast, wheat, gluten, milk, egg, shellfish, or artificial colors or flavors.
Not manufactured with wheat, gluten, soy, milk, egg, fish or tree nut ingredients. Produced in a GMP facility that processes other ingredients containing these allergens.
MCHA = Microcrystalline Hydroxyapatite
CAUTIONS AND INTERACTIONS: Calcium and magnesium supplements may affect the absorption of a number of medications, including bisphosphonates, thyroid medications, sotalol, and antibiotics. These medications should be taken at least 1 to 2 hours apart from calcium and magnesium supplements. Calcium may interact with verapamil and topical calcipotriene. Magnesium may interact with certain antibiotics, potassium-sparing diuretics, and muscle relaxants. Numerous medications can affect the absorption and retention of calcium and magnesium in the body. Individuals with hyperparathyroidism, hyperphosphatemia, sarcoidosis, and renal insufficiency should take calcium only under the supervision of a healthcare practitioner. If you are taking any medications or have any medical conditions consult your healthcare practitioner before using this product.
*These statements have not been evaluated by the Food and Drug Administration. This product is not intended to diagnose, treat, cure or prevent any disease.