Liquid Cal/Mag/Zinc - Natural Strawberry
Trace Minerals Research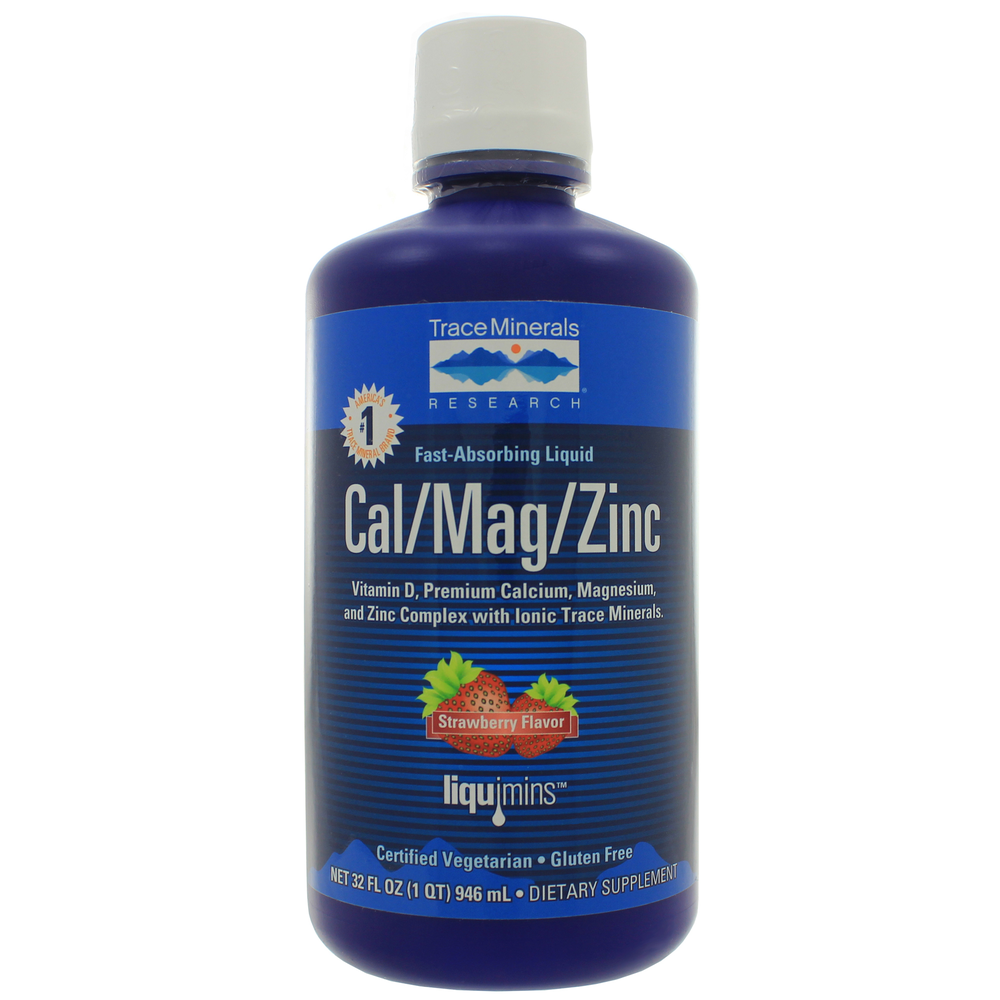 SKU: TRM-LCM04
Liquid Cal/Mag/Zinc is a complementary blend of premium forms of calcium, magnesium, and zinc that has been supercharged with Ionic Trace Minerals to help support the assimilation and absorption of these minerals in the body.† We've also included vitamin D to create a formula that provides complete nutrition to maintain bone, muscle, and connective tissue health.†
Consuming diets with adequate magnesium may reduce the risk of high blood pressure (hypertension). However, the FDA has concluded that the evidence is inconsistent and inconclusive.†


Suggested Use:
SHAKE VIGOROUSLY. Take 1 to 2 tbsp. daily (one capful = 2 tbsp.) to top off or fully supplement your diet. Since this is a highly concentrated product, we recommend starting with 1 tablespoon and increase as needed, ideally spread throughout the day. We also recommend taking this product mixed into or with a large glass of liquid for the best isotonic balance. Excess magnesium may cause a laxative effect. Rinse cap after each use. REFRIGERATE AFTER OPENING.
Serving Size: 2 tbsp (30mL) (1 capful=2 tbsp.)
Amount Per Serving
Calories ... 40
Total Carbohydrate ... 10g
Sugars ... 7g
Glycerol ... 3g
Vitamin D3 ... 425IU
(as Cholecalciferol)
Calcium ... 1200mg
(as Tri-Calcium phosphate, Citrate, Calcium Gluconate)
Iron ... 0.4mg
(from ITM)
Phosphorus ... 675mg
(as Tri-Calcium Phosphate)
Magnesium ... 600mg
(as Magnesium Citrate, ITM)
Zinc ... 15mg
(as Zinc Gluconate)
Chloride ... 75mg
(from ITM)
Sodium ... 5mg
Ionic Trace Minerals Complex ... 435mg
(ITM)
Boron ... 275mcg
(from ITM)
Other Ingredients: Purified water, natural vegetable glycerin, natural strawberry flavor, citric acid, phosphoric acid, xanthan gum, potassium benzoate, potassium sorbate (for freshness).

GLUTEN FREE.