CoQ10 Liquid 100mg
Protocol for Life Balance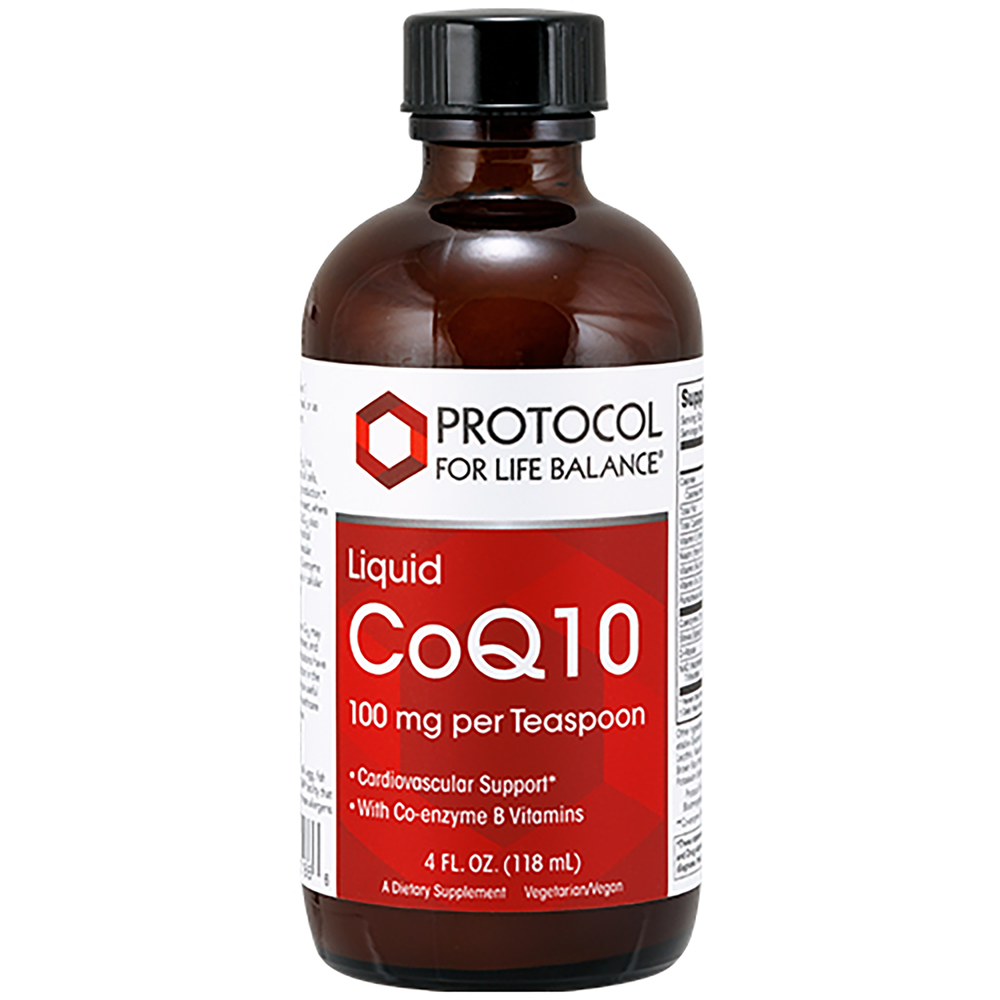 SKU: PROT-P3186
Coenzyme Q10, also called ubiquinone, is present in almost all cells, where it is necessary for mitochondrial energy production. The body?s highest concentrations of Coenzyme Q10 (CoQ10) are found in the heart, where constant chemical energy availability is imperative. In addition to its benefits for cardiac function through energy production, CoQ10 also functions as a powerful fat soluble antioxidant, providing protection against free radical attack for vascular structures, as well as for other tissues.*


As a dietary supplement, take 1 teaspoon (5 mL) 1 or more times daily, or as recommended by your healthcare practitioner..
Serving Size: 1 Teaspoon (5 mL)
Amount Per Serving
Calories ... 20
Calories from Fat ... 15
Total Fat ... 1.8g
Trans Fat ... 0g
Total Carbohydrate ... 1g
Vitamin E ... 30IU
(from Mixed Tocopherols)
Vitamin B-3 ... 0.7mg
(from NAD)
Vitamin B-6 ... 7mg
(from P-5-P Monohydrate)
Vitamin B-12 ... 100mg
(as Cyanocobalamin)
Vitamin B-5 ... 5mg
(as Pantethine)
Coenzyme Q10 ... 100mg
(CoQ10)
Stevia Extract ... 20mg
(Leaf)(Stevia rebaudiana)(min 80% Rebaudioside-A)
D-Ribose ... 10mg
NAD ... 5mg
(B-Nicotinamide Adenine Dinucleotide)
Other Ingredients: De-ionized Water, Rice Bran Oil, Vegetable Glycerin, Xylitol, Soy Lecithin, Hydroxylated Soy Lecithin, Natural Flavors, Brown Rice Protein, Rosemary Extract (Rosmarinus officianalis) (Leaf), Citric Acid, Potassium Sorbate, Guar Gum and Maltodextrin.
Contains No: salt, yeast, wheat, gluten, milk, egg or shellfish.


Vegetarian/Vegan Product.
Refrigerate After Opening.
Although CoQ10 is found naturally in the human body, especially in heart and liver cells, low levels of CoQ10 have been found in a wide variety of animal and human subjects during clinical studies. It is believed that as we get older our ability to produce CoQ10 decreases.
CAUTIONS AND INTERACTIONS: CoQ10 may reduce the anticoagulant effect of warfarin. In addition, CoQ10 may increase the effectiveness of certain blood pressure medication, including diltiazem, metoprolol, enalapril, and nitrate. Statin medications have been shown to decrease CoQ10 levels in the body and CoQ10 supplementation may be beneficial when taking these drugs.