L-Carnitine Liquid 3000mg Citrus Flavor
NOW Sports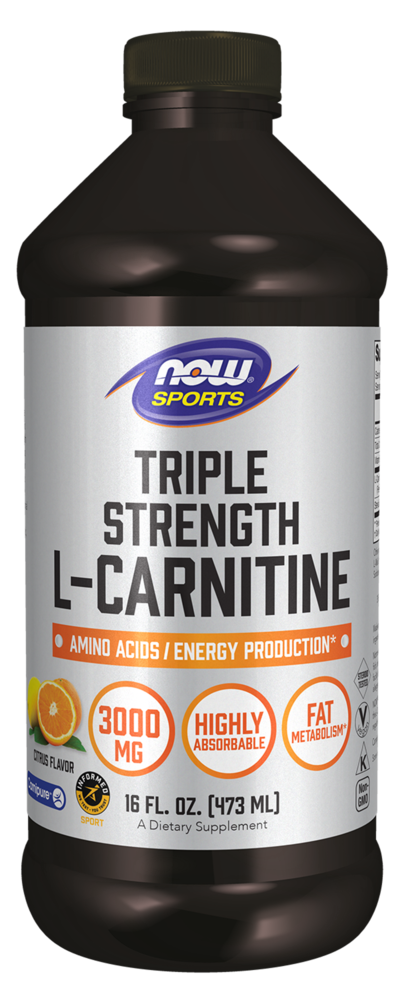 SKU: NOW-0064
NOW® L-Carnitine Liquid provides all of the extensive benefits of Carnitine in a highly absorbable liquid form. L-Carnitine is a non-essential amino acid that helps to maintain overall good health by facilitating the transfer of fatty acid groups into the mitochondrial membrane for cellular energy production.* It naturally occurs in red meat and other animal-source foods, but we recommend supplementation to obtain optimal levels of this excellent amino acid. NOW® L-Carnitine is the purest form, clinically tested, and vegetarian (non-animal sourced).



Shake well before using. As a dietary supplement, take one tablespoon daily, preferably on an empty stomach.
Serving Size: 1 Tablespoon (15mL)
Amount Per Serving:
Calories ... 15
Total Carbohydrate ... 4.5 g
Vitamin B-12 ... 50 mcg
(as Cyanocobalamin)
Vitamin B-5 ... 25 mg
(from D-Calcium Pantothenate)
Calcium ... 2.5 mg
Potassium ... 14 mg
L-Carnitine ... 3.0 g
(L-Carnipure™) (Free-Form Base)
Stevia rebaudiana Extract ... 15 mg
(Leaf) (min. 80% Rebaudioside-A)

Other Ingredients: Distilled Water, Vegetable Glycerin, Malic Acid, Citric Acid, Natural Orange Flavor, Natural Vanilla Flavor, Potassium Sorbate (as preservative) and Lemon (Citrus limon) Oil.
Contains no: sugar, salt, starch, yeast, wheat, gluten, corn, soy, milk, egg, shellfish or artificial colors/flavors. Vegetarian/Vegan Product.


NOW® L-Carnitine 3X Liquid provides 3 to 6 times (3g) the potency of competing brands per serving size.
Carnipure™ offers purest L-Carnitine and is a trademark of Lonza, Ltd., Switzerland.
Store in a cool, dry place. Please Recycle.