Liv Complex
Seroyal/Genestra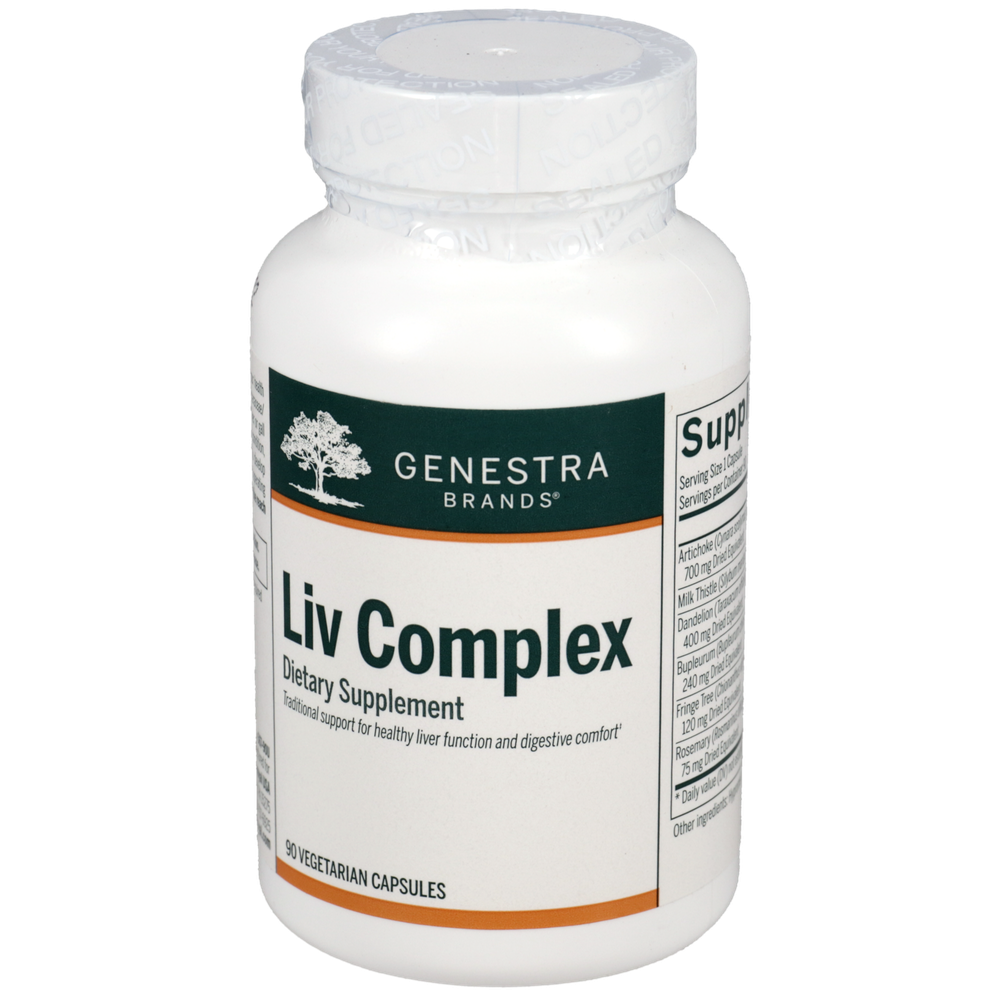 SKU: GN-07567
This synergistic formula is traditionally used to support one of the key emunctories the liver hile respecting the bodys natural physiology. The liver plays several key roles: removing and excreting body wastes; synthesizing plasma proteins, including those necessary for blood clotting; and the production of bile to aid in fat digestion and absorption.
Adults: Take one capsule three times daily or as recommended by your healthcare practitioner.
Serving Size: 1 Capsule
Amount Per Serving
Globe Artichoke Leaf Extract ... 175mg
(Cynara scolymus)(4:1) 700mg Dried Equivalent
Milk Thistle Fruit Std. Extract ... 125mg
(Silybum marianum)(80% Silymarin)
Dandelion Root Extract ... 100mg
(Taraxacum officinale)(4:1)400 mg Dried Equivalent
Bupleurum Root Extract ... 60mg
(Bupleurum chinense)(4.5:1)270 mg Dried Equivalent
Fringe Tree Stem Bark Extract ... 30mg
(Chionanthus virginicus)(5:1)150 mg Dried Equivalent
Rosemary Leaf Extract ... 10mg
(Rosmarinus officinalis)(5:1)50 mg Dried Equivalent
Other Ingredients: Cellulose, hypromellose, silica
Guaranteed to contain no added wheat, starch, yeast, gluten, soy, sodium, sugar, artificial coloring or flavoring, antimicrobial preservatives, dairy or animal products. Ideal for vegans. The capsules are made from 100% pure vegetable sources, free of preservatives and additives.
If you are pregnant or breastfeeding; if you are allergic to plants of the Asteraceae/ Compositae/Daisy family; or if you have a bowel or bile duct obstruction, gallstones, liver or gall bladder disorders, do not use. Discontinue use if you develop symptoms of liver trouble. Bupleurum can cause sedation; use caution when taking other sedatives and operating a vehicle or hazardous machinery. Hypersensitivity to globe artichoke and milk thistle has been known to occur; in which case, discontinue use.
Safety-sealed for your protection and for product freshness. Do not use if outer seal is missing or broken. Store in a cool, dry place.