LivComplete
Nutritional Frontiers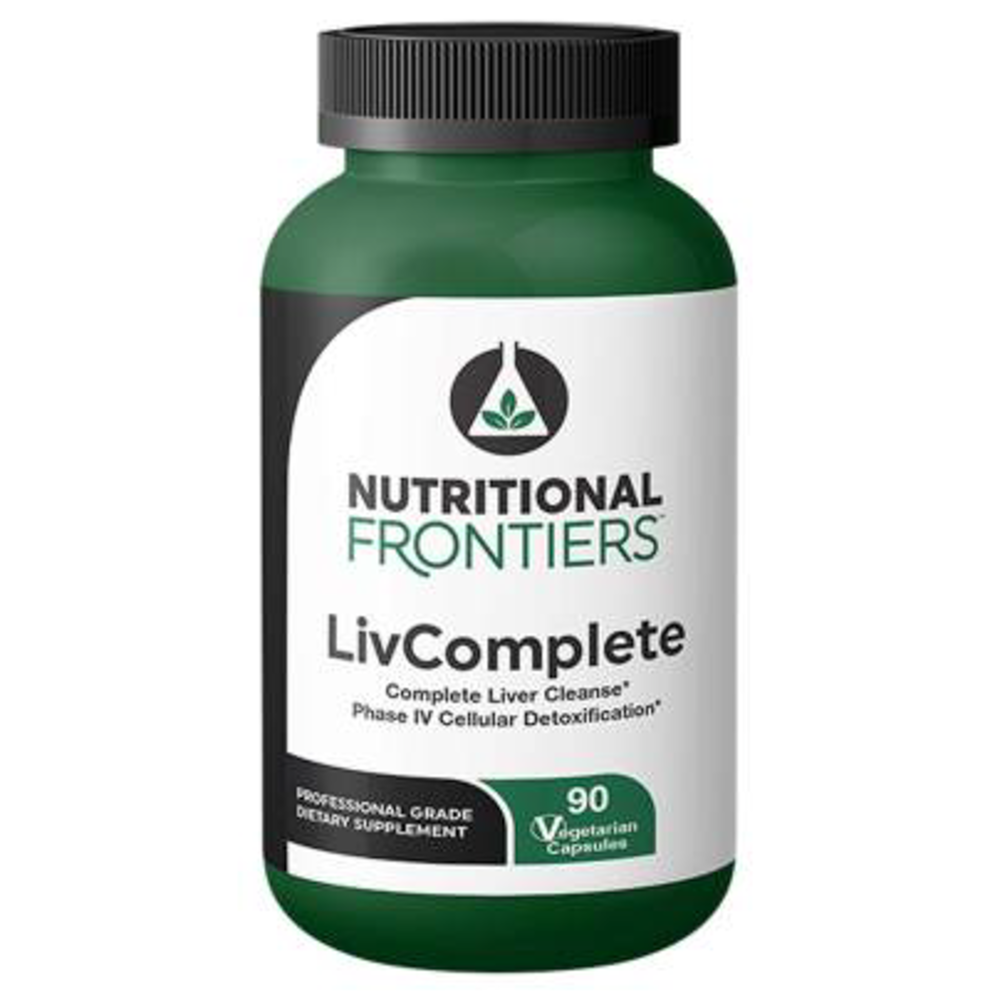 SKU: NUT412-17NF45B090
LivComplete was formulated to provide complete support for liver function and detoxification. Along with herbs and nutrients to enhance the liver's ability to perform detoxification,* LivComplete contains an array of nutrients to support the body's ability to repair oxidative stress.
Our bodies may become overwhelmed by overexposure to the toxins found in air and water sources, chemicals and hormones added to food, as well as chemicals in household goods, fabrics, plastics, and personal care products. Symptoms of fatigue, frequent headaches, lack of mental clarity, allergies, food intolerance, mood imbalances, hormonal problems, and more, may be the result of toxic burden and could induce someone to decide to embark on a detoxification program. The liver is the primary organ responsible for modifying toxins so that they can be excreted from the body. This occurs in a 2-step process called Phase 1 and Phase 2 detoxification, in which fat-soluble substances are modified to make them water soluble for easier elimination by the kidneys into the urine, and out of the body.
LivComplete is appropriate for people searching for gentle toxin cleansing, individuals on a weight-loss program, people exposed to chemical solvents (painters, dry cleaners, construction workers, printers, office workers, auto mechanics, manicurists, and beauticians), people who experience continuing fatigue, and people with chemical sensitivities.*
Suggested Use:
As a dietary supplement, adults take 3 capsules per day with food, or as directed by your healthcare practitioner.


Serving Size: 3 Capsules

Amount Per Serving
Vitamin C ... 125 mg
(from Acerola Fruit Extract)
Choline ... 55 mg
(as Choline L(+) Bitartrate) (VitaCholine™)
Selenium ... 30 mcg
(as L-Selenomethionine)
Chlorella Cracked Cell Wall Powder ... 250 mg
N, N-Dimethylglycine HCl ... 250 mg
Bacillus coagulans Complex ... 166.67 mg
Emothion® S-Acetyl L-Glutathione ... 150 mg
CurcuWIN® Turmeric Root Extract Complex ... 125 mg
Activin® Grape Seed Extract ... 100 mg
Milk Thistle Seed Powder ... 100 mg
Uva Ursi Leaf Extract ... 75 mg
Burdock Root Extract ... 50 mg
Other Ingredients: Hypromellose (Capsule), Maltodextrin, Povidone, Rice Flour, Magnesium Stearate.
Caution: Not for use in pregnancy and lactation. If you are taking any medications or have bile duct obstruction (like gallstones) or cholecystitis, please consult your health care practitioner before taking this or any herbal product.