Live Cell Sprouted Food Complex (Type AB/B)
D'Adamo Personalized Nutrition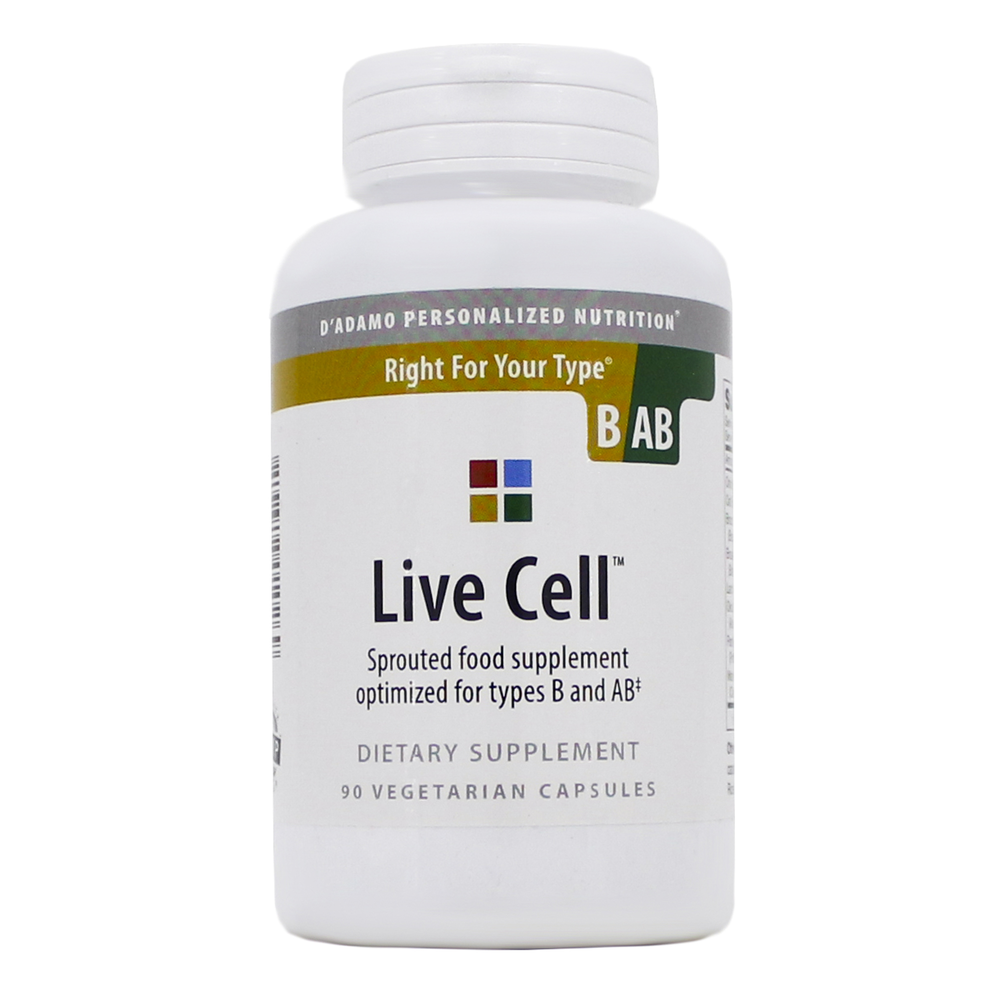 SKU: NAP-BT006BAB
Plant foods, blended at their nutritional peak.
You may know that all plant foods provide nourishment for the body, but but did you know that few foods have more impact on a nutritional level than young, sprouted plants?
The nutritional content of sprouted vegetables and legumes is many times greater than the original food value of the seeds and beans from which they sprout. In this early growth stage, sprouts have the greatest concentration of vitamins and minerals, proteins, enzymes and phytonutrients than at any other point in the plant's life.
For Blood Type Bs and ABs, Dr. Peter D'Adamo has created an individualized Live Cell B/AB formula containing specific vitamins, minerals, enzymes and phytonutrients from beneficial Blood Type B and AB foods.
Modern studies have shown that sprouted foods may provide the following benefits:
Defend against DNA destruction
Protect against the ongoing effects of aging
Support a healthy immune system
Promote healthy detoxification enzymes
Live Cell B/AB caps contain sprouts from only the most beneficial vegetables and legumes.
Live Cell B/AB's key ingredients include:
Onion Sprouts
Contain a high volume of vitamins, minerals, nutrients and enzymes to help manage cholesterol levels and blood pressure.
Oat Sprouts
Support digestive health and are full of immune supportive beta-glucans and B vitamins.
Broccoli Sprouts
Provide a powerful mix of vitamins, minerals, fiber and antioxidants. The sulforaphane in broccoli sprouts is renowned for its health benefits and can directly increase glutathione (antioxidant) levels.
Suggested Use:
Take (2) two capsules twice daily or as directed by a physician.
Serving Size: 2 Capsules
Amount Per Serving
Onion Sprouts ... 225mg
(Allium cepa)
Oat Sprouts ... 200mg
(Avena sativa)
Broccoli Sprouts ... 100mg
(Brassica oleracea italica)
Brussels Sprouts ... 75mg
(Brassica oleracea gemmifera)
Larch Arabinogalactan ... 50mg
Okra Sprouts ... 50 mg
(Abelmoschus esculentus)
Parsley Leaf ... 50mg
(Petroselinum crispum)
Watermelon Fruit ... 50mg
Other Ingredients: Vegetable Cellulose (from capsule shell), Organic Rice Extract, Organic Rice Concentrate, and Silica.


Does not contain: sugar, salt, gluten, wheat, yeast, corn, soy, eggs, dairy, preservatives, color, flavors or artificial ingredients.
It looks like there are no similar
products available