Liver Optimizer
Jarrow Formulas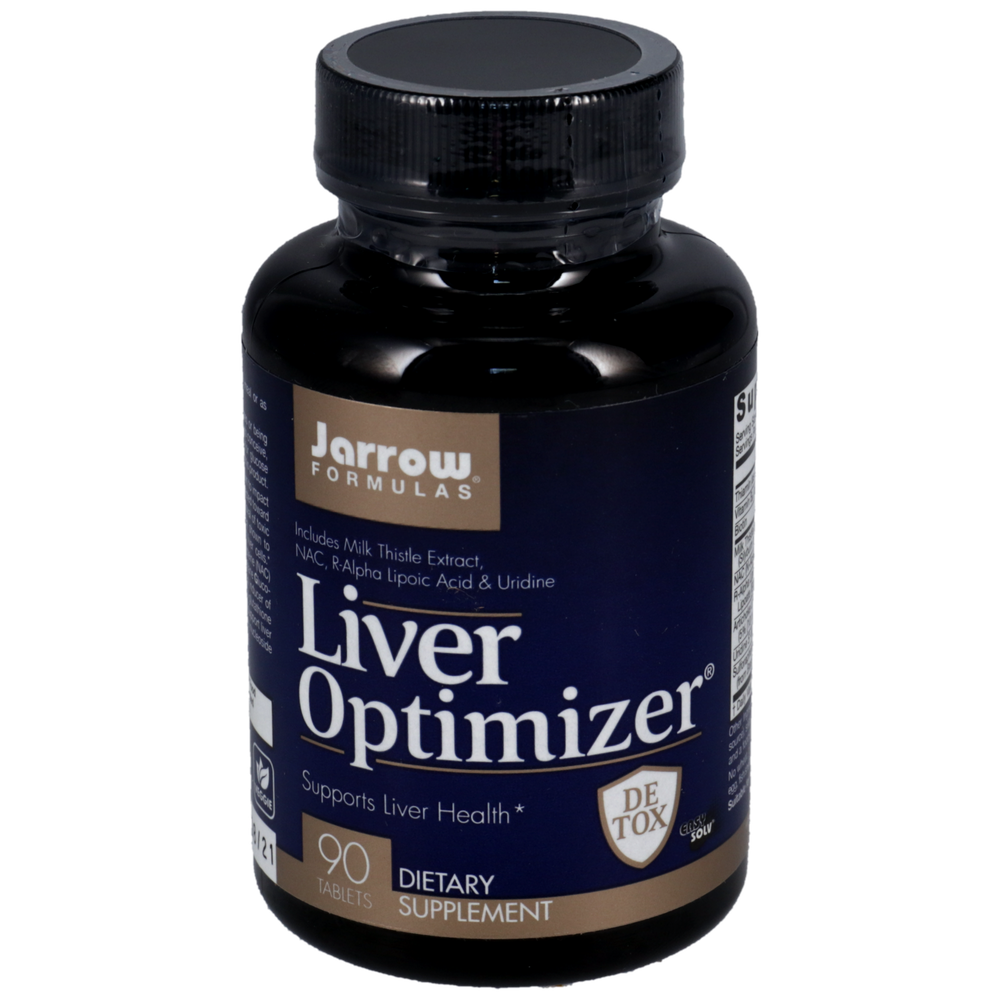 SKU: JAR-LIVER
Liver Optimizer
Supports Liver Health*
-Liver-Health Vitamins, Nutrients and Herbs*
-Supports Liver Detoxification, Protection and
Regeneration*
-250 mg of 30:1 Milk Thistle Extract Per Serving
-Activates Alcohol Metabolizing Enzymes*
Liver Optimizer™ combines herbs and other nutrients known to impact detoxification and overall liver function.* It is especially directed toward Phase?2 enzymes, which assist in the processing and removal of toxins from the body.* Artichoke and milk thistle extracts have been shown to affect bile action and glutathione levels. The sulfur-containing compounds alpha lipoic acid and N-acetyl-L-cysteine (NAC) are also involved in the regulation of glutathione. Additionally, NAC conjugates acetaldehyde, a toxic intermediate of alcohol metabolism. PicroMax® is a proprietary, standardized extract of Picrorhiza kurroa, an herb well-regarded in Ayurveda. Sulforaphane glucosinolate, from BroccoMax® (broccoli seed extract), is a precursor to sulforaphane, an inducer of Phase 2 detoxifying enzymes. B complex vitamins are indispensable components of enzymes in the liver.
Take 3 tablets per day, preferably one with each meal or as directed by your qualified healthcare professional.
Serving Size: 3 Tablets

Amount Per Serving
Vitamin B1 ... 15 mg
(as thiamine mononitrate)
Vitamin B6 ... 10 mg
(as pyridoxine HCI)
Folic Acid ... 400 mcg
Biotin ... 100 mcg
Pantethine ... 300 mg
(vitamin B5)
Chromium ... 100 mcg
(from Saccharomyces cerevisiae)
Artichoke Leaf Extract ... 600 mg
(Cynara scolymus)
Milk Thistle Seed 30:1 Extract ... 250 mg
(silybum marianum)(80% total flavonoids)
NAC ... 250 mg
(N-acetyl-L-cysteine)
Alpha Lipoic Acid ... 100 mg
PicroMax® ... 100 mg
(Picrorhiza kurroa) (4% kutkin)(root)
Uridine 5-Monophosphate ... 50 mg
Sulforaphane Glucosinolate ... 50mg
(from BroccoMax®, Brassica oleracea italica) (seed extract)
Other Ingredients: Cellulose, calcium phosphate, stearic acid (vegetable source), silicon dioxide, magnesium stearate (vegetable source), maltodextrin and a food grade coating.
Contains: Soy (in trace amounts).
No wheat, no gluten, no dairy, no egg, no fish/shellfish, no peanuts/tree nuts.
If you have a medical condition (especially diabetes or being treated for glucose control), are pregnant, lactating, trying to conceive, under the age of 18, or taking medications (especially for glucose control), consult your healthcare professional before using this product.

KEEP OUT OF REACH OF CHILDREN.
These statements have not been evaluated by the Food and Drug Administration. This product is not intended to diagnose, treat, cure, or prevent any disease.