Liver Support & Detoxification
Seroyal/Genestra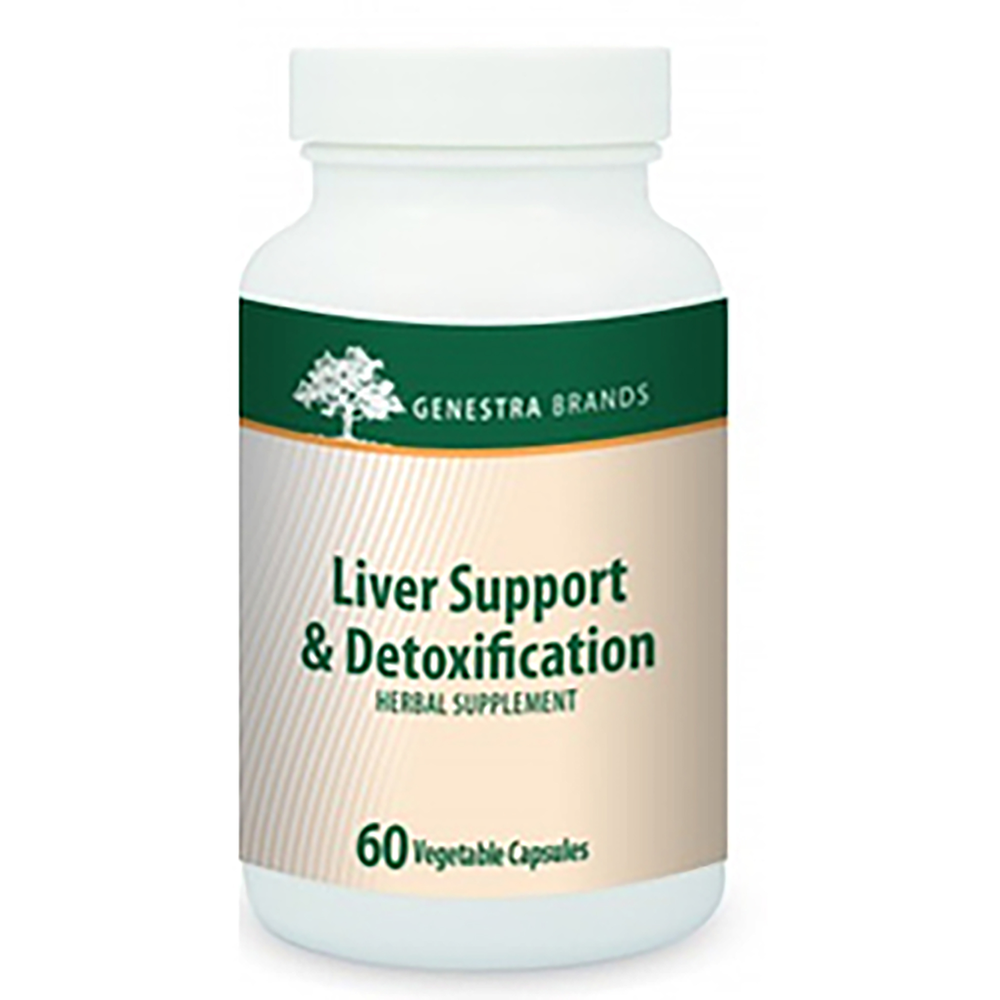 SKU: GN-06368
Supports healthy liver function and detoxification*
Milk thistle seed extract and curcumin promote antioxidant support by increasing levels of the endogenous antioxidant glutathione (GSH) and decreasing lipid peroxidation*
Provides standardized extracts from milk thistle seed, turmeric rhizome, and licorice root
Also includes lipotropes choline and L-methionine
Liver Support and Detoxification* provides a combination of nutrients and herbs that promote liver health. The liver is the primary site for the detoxification of metabolic waste products. Certain waste products, along with reactive oxygen species, can be toxic to liver cells. Research demonstrates that milk thistle promotes liver health by increasing the activity of detoxifying enzymes in the liver. Along with active ingredients in turmeric and licorice, milk thistle supports and enhances the body's antioxidant defense system. Milk thistle and licorice also promote a healthy cytokine balance to further maintain liver health. In a randomized, placebo-controlled trial, daily supplementation with 140 mg of silymarin (the primary bioactive in milk thistle) for two months significantly promoted healthy levels of the liver enzymes alanine transaminase (ALT) and aspartate transaminase (AST), two important clinical markers of liver health. Lipotropic compounds, including choline and L-methionine, are also included to support healthy lipid metabolism in the liver.*
Recommended Adult Dose:
Take one capsule two times daily with a meal or as recommended by your healthcare practitioner.
Serving Size: 1 Capsule
Amount Per Serving
Biotin … 50 mcg*
Choline Bitartrate … 200 mg*
Inositol … 25 mg*
Calcium-D-Glucarate … 50 mg*
Indole-3-Carbinol … 25 mg*
L-Methionine … 25 mg*
L-Glycine … 25 mg*
Milk Thistle … 100 mg*
(Silybum marianum) Seed Std. Extract (80% silymarin)
Turmeric … 80mg*
(Curcuma longa) Rhizome Std. Extract (95% curcuminoids)
Licorice … 50 mg*
(Glycyrrhiza glabra) Root Std. Extract (20% glycyrrhizin)
Limonene … 25 mg*
(from Citrus sinensis peel oil)
Other Ingredients: Hypromellose, silica, magnesium stearate.
Guaranteed to contain no added wheat, yeast, gluten, soy, sodium, sugar, artificial coloring or flavoring, antimicrobial preservatives, dairy or animal products. Ideal for vegans. The capsules are made from 100% pure vegetable sources, free of preservatives and additives.
Risk Information: If you are pregnant or breastfeeding; if you have hypokalemia, high blood pressure, a kidney or cardiovascular disorder; or if you are taking thiazide diuretics, cardiac glycosides, corticosteroids, stimulant laxatives or any other medications which may aggravate electrolyte imbalance, do not use. If you are attempting to conceive, consult your healthcare practitioner prior to use. If you develop liver related symptoms or symptoms of low estrogen, discontinue use and consult your healthcare practitioner. Hypersensitivity such as allergy has been known to occur; in which case, discontinue use.
Do not use if outer seal is missing or broken. Store in a cool, dry place.