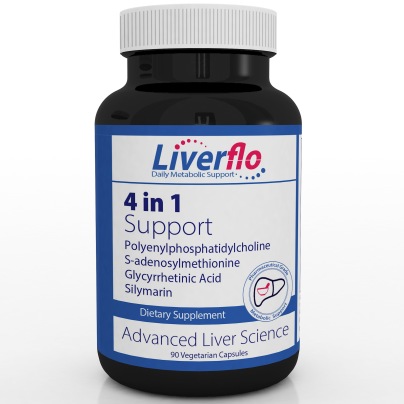 SKU: AM2-LIVERFLO90CT
LiverFlo was designed, formulated, and manufactured with our steadfast commitment to uncompromising quality and exceptional results. LiverFlo is produced in ISO certified and cGMP certified facilities. We adhere to stringent specifications and place a premium on purified, pharmaceutical grade ingredients.
LiverFlo: The Most Advanced Liver Health Supplement
US Patent Pending
4 in 1 Support w/ Synergistic Actives
Pharmaceutical Grade and Therapeutically Dosed
Micronized Liposome Delivery System - Delayed Release Dual Capsule Technology (enteric coated capsule inside a capsule)
Over 500 clinical studies confirm synergistic activity of the active ingredients
Active ingredients have been administered world wide with great acceptance and proven efficacy.
3 LiverFlo Capsules Deliver Pharmaceutical Grade Ingredients:
900mg PPC
250mg S-Adnenosylmethionine
250mg Glycyrrihiza glabra L. (Glycerrhetinic Acid 65mg)
135mg Milk Thistle (108mg Silymarin)
As a dietary supplement, take 3 capsules 1-3 times daily, or as directed by a healthcare practitioner.
Serving Size: 3 capsules
Amount Per Serving
Calories ... 10
Calories from Fat ... 10
Total Fat ... 1g
Saturated Fat ... 0g
Polyunsaturated Fat ... 0.5g
Monounsaturated Fat ... 0.5g
Phosphatidylcholine ... 900mg
(As Polyenylphosphatidylcholine-PPC)
S-adenosylmethionine ... 250mg
(SAMe from S-adenosyl-L-methionine disulphate tosylate)
Glycyrrihiza glabra L ... 250mg
(standardized (26%) to provide 65mg of glycyrrihizin)
Milk Thistle ... 135mg
(Standardized (80%) to provide 108mg of Silymarin)
Other Ingredients: vegetable cellulose, safflower oil, neutral spirits, purified water
Contains No: wheat, gluten, corn, soy protein, yeast, dairy products, artificial colors, sweeteners, or preservatives.
Keep tightly closed in a cool dry place, out of the reach of children.
It looks like there are no similar
products available