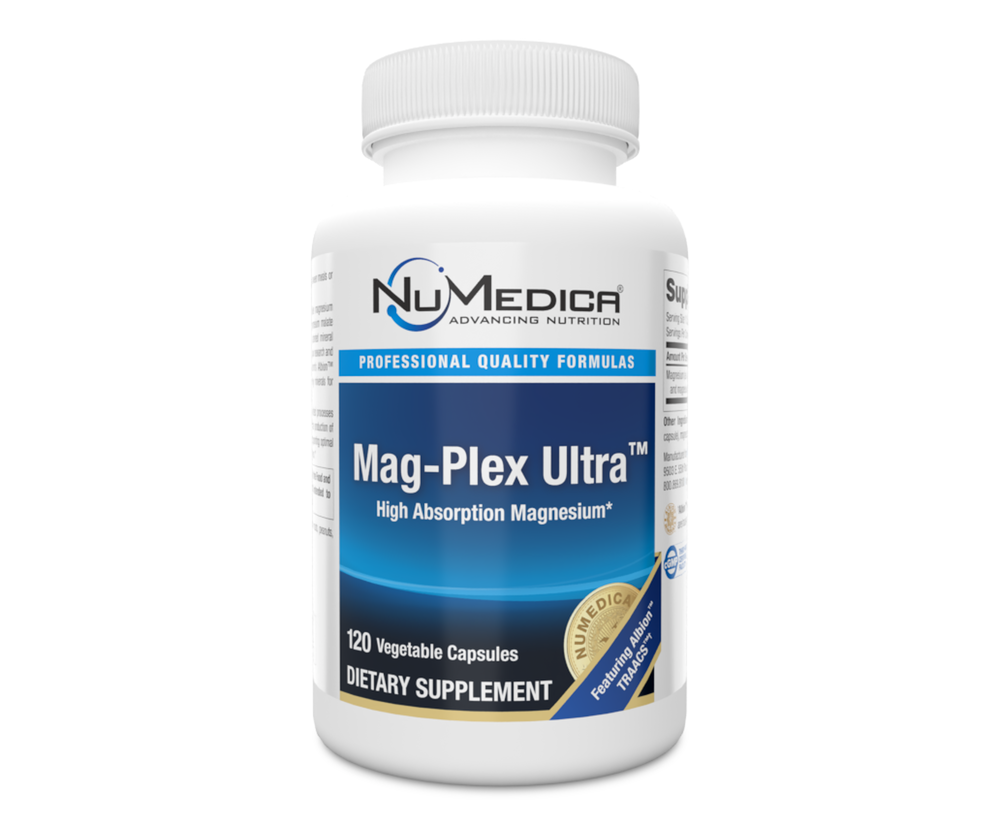 SKU: NMA-NM18
Mag-Plex Ultra™
Mag-Plex Ultra™ features the highly absorbable magnesium lysyl glycinate chelate and the patented di-magnesium malate from Albion® Laboratories, Inc., the world leader in patented mineral amino acid chelate and organic mineral acid complex research and development.* NuMedica® has chosen Albion® Laboratories, Inc. mineral technology to provide the highest quality minerals for optimal absorption and utilization.*
Magnesium is involved in over 300 enzyme-related processes including cardiac, muscle and nerve function and the production of ATP for energy.* Magnesium also plays a role in supporting optimal bone density and maintenance of blood glucose levels.*
Serving Size: 1 Capsule
Servings Per Container: 240
One Capsule Contains:
| | |
| --- | --- |
| Magnesium ................................................... | 125 mg |
| (TRAACS® magnesium lysinate glycinate chelate and | |
| di-magnesium malate) | |
Other Ingredients: Hydroxypropyl methylcellulose (vegetable capsule), microcrystalline cellulose, rice flour, ascorbyl palmitate, silica.
Does Not Contain: Milk, eggs, fish, shellfish, tree nuts, peanuts, wheat, soy.
TRAACS® and The Albion Gold Medallion design are registered trademarks of Albion Laboratories, Inc. Malate covered by U.S. Patent 6,706,904 and patents pending.
Directions: Take one capsule 2-3 times per day between meals or as directed by your healthcare practitioner.


*These statements have not been evaluated by the Food & Drug Administration. These products are not intended to diagnose, treat, cure or prevent any disease.