Magnesium Citrate Softgels
Protocol for Life Balance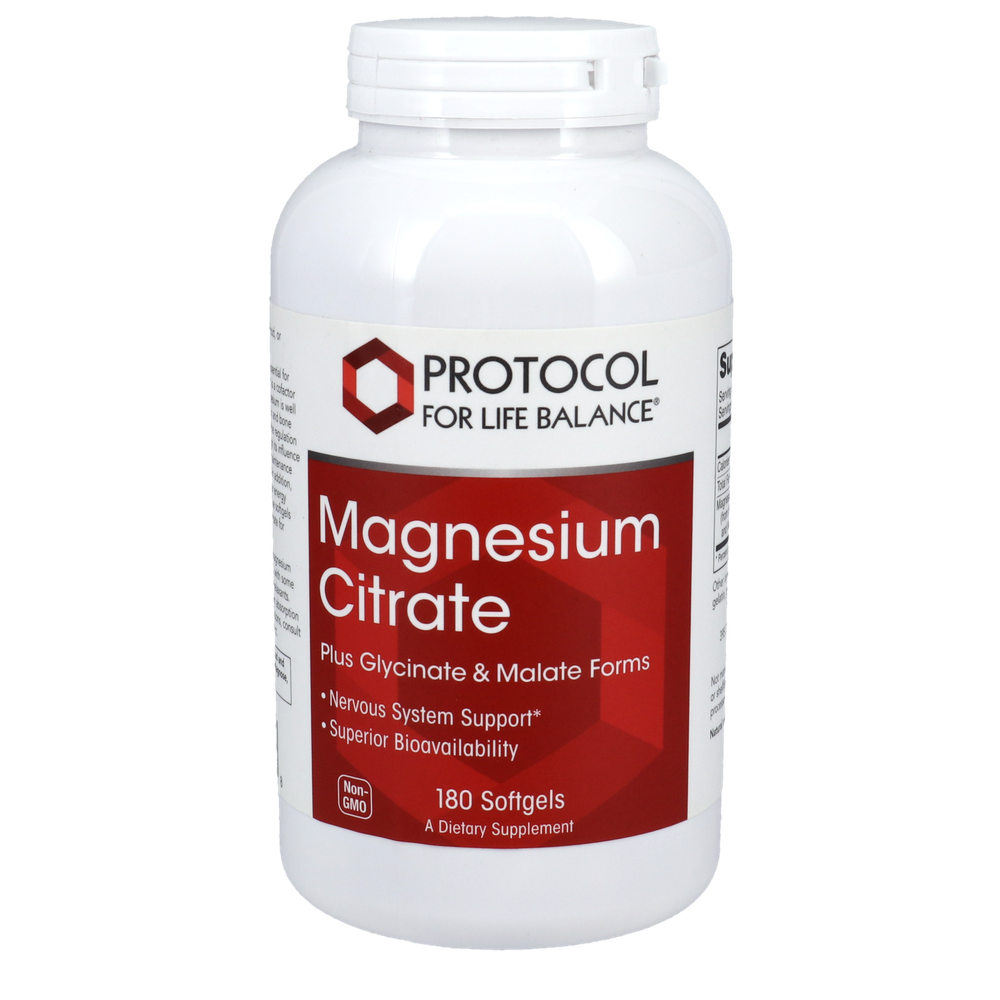 SKU: PROT-P1298
Nervous System Support*
Superior Bioavailability*
Magnesium acts as a mineral cofactor in an estimated 300 enzymatic reactions and is necessary for the healthy function of every organ in the body.* Magnesium is a mineral that is critical for energy production and metabolism, muscle contraction, nerve impulse transmission, and bone mineralization.* Magnesium status is important for regulation of calcium balance through its effects on the parathyroid gland.* In addition, Magnesium is essential for the maintenance of normal vascular tone and healthy cardiac function.* Easily absorbed Magnesium Citrate, Magnesium Glycinate and Magnesium Malate are combined in softgels capsule for superior bioavailability.*
As a dietary supplement, take 3 softgels daily, preferably with food, or as directed by your healthcare practitioner.
Serving Size: Three Softgels
Amount Per Serving
Calories ... 20
Calories from Fat ... 20
Total Fat ... 2g
Trans Fat ... 0g
Magnesium ... 400mg
(from Magnesium Citrate, Magnesium Glycinate and Magnesium Malate)
Other Ingredients: Rice Bran Oil, Softgel Capsule (gelatin, glycerin, water), Beeswax and Sunflower Lecithin.
This product does not contain
sugar
salt
starch
yeast
wheat
gluten
corn
soy
milk
egg
shellfish
preservatives
Caution
Magnesium can interact with some antibiotics, diuretics, bisphosphonates, and muscle relaxants. In addition, many medications can affect magnesium absorption and excretion.
Store in a cool, dry place.