Magoroku Skin Lotion
Ecological Formulas/Cardiovascular Research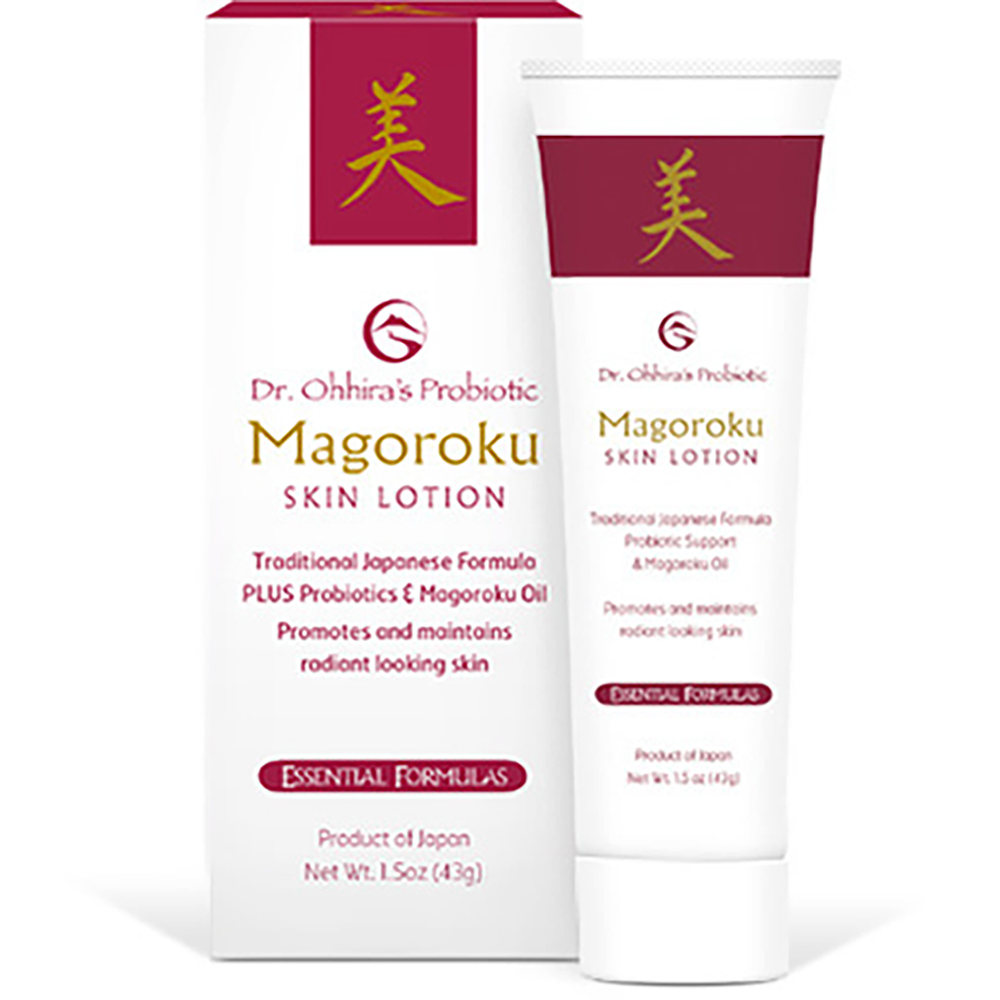 SKU: EFI-121435
Dr. Ohhira's Probiotic Magoroku™ Skin Lotion combines the rejuvenating powers of natural ingredients, ancient Japanese fermentation skills, and 21st century technology to create a superior clarifying, moisturizing and revitalizing experience. This exclusive formula, created by award-winning microbiologist Dr. Iichiroh Ohhira, melds probiotic and prebiotic nutrients along with wild plant and fruit extracts. The proprietary blend supports the balanced ecology necessary for healthy skin. Magoroku™ is formulated for daily whole body moisturizing and highly effective as a hand cream. While perfect for very dry skin, it is not heavy and is gentle enough for use on the face.
Your skin easily absorbs the natural ingredients, which are carried by traditional skin-friendly Japanese Magoroku (equine oil). Modern science now confirms that Dr. Ohhira's Magoroku oil contains essential fatty acids that are similar to human dermal oils. This gives it a high degree of absorbency to support natural dermal rejuvenation.
Great for use after shaving! Our all-natural ingredients help to keep your freshly shaved skin soothed and hydrated to help prevent razor rash.
Balance is the Key to Healthy-Looking Skin
There is a circular relationship between dermal pH balance and probiotic balance: both Magoruku™ and Hadayubi™ include Dr. Ohhira's botanical blend to provide pH-balancing effects along with vital saccharides, amino acids, and antioxidants. The probiotic extract in both products also produces pH-balancing and soothing organic acids—continuing the cycle of dermal health.
Supporting dermal probiotic balance can help:
Maintain the appearance and integrity of collagen fibers
Promote healthy skin cell rejuvenation
Hydrate and replenish the skin
Support the skin's healthy barrier function
Maintain radiant looking skin
Together, these effects help maintain skin vitality, which translates into a radiant-looking appearance!
It's always best to care for the skin with products that encourage the healthiest probiotic and pH balance. Skin science is rapidly transforming in response to probiotic discoveries, and Dr. Ohhira's Probiotic Skin Lotions are at the forefront.
Directions:
Apply and massage in wherever dry skin is an issue, as often as needed. Provides immediate and lasting hydrating effects.
Ingredients: Probiotic and botanical extract; Aloe barbadensis leaf extract; Prunis persica (peach) fruit extract; Eriobotrya japonica leaf extract; octyldo-decanol; stearyl glycyrrhetinate; Magoroku (equine oil).
Free of synthetic fragrances, stabilizers, deodorants, preservatives, chemicals, artificial colors and animal testing.
Warnings:
For external use only. Avoid contact with eyes. If contact occurs, flush eyes with water thoroughly. Do not ingest. Reactions to Dr. Ohhira's products are very rare, but if a reaction occurs, cease use and consult your physician.
The product packaging you receive may contain additional details or may differ from what is shown on our website. We recommend that you reference the complete information included with your product before consumption and do not rely solely on the details shown on this page.