Brain Boost™
Jigsaw Health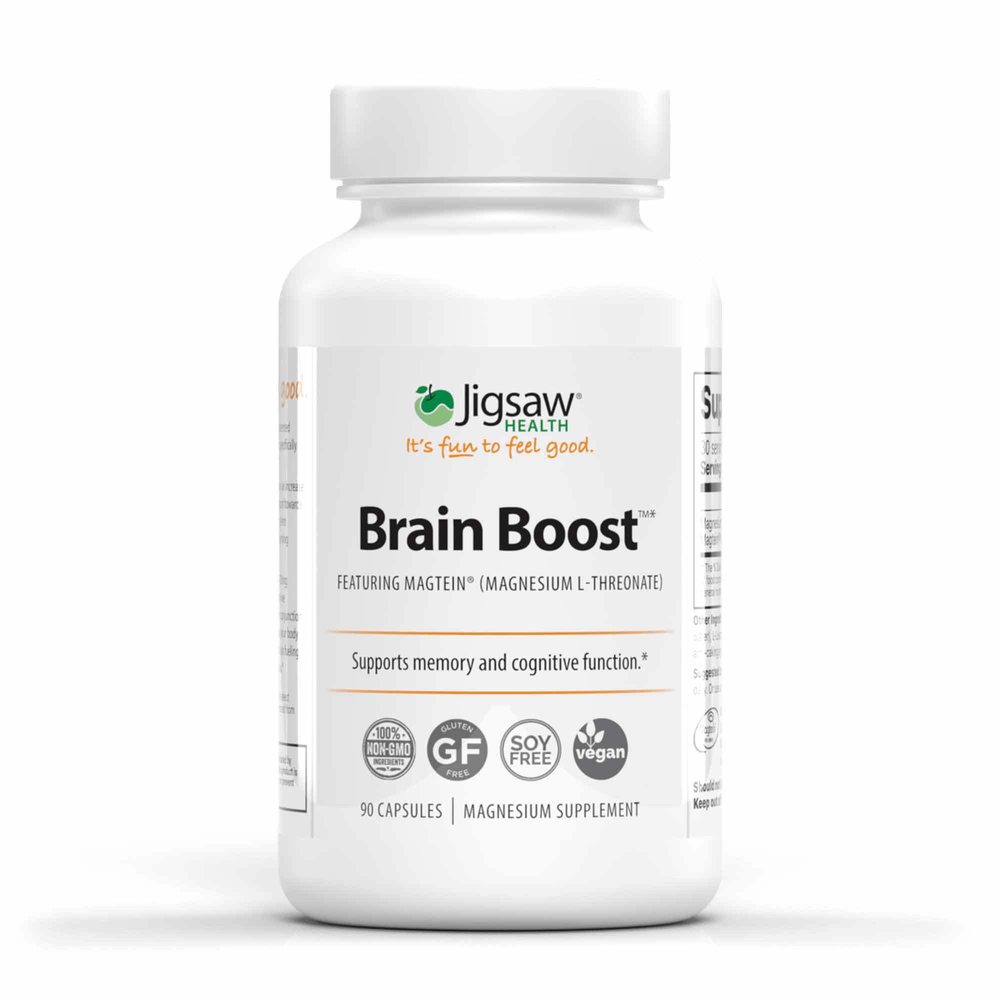 SKU: JIG-MAGPUREBRAINBOOST
Jigsaw Brain Boost utilizes the patented Magtein® Magnesium L-Threonate specifically designed to support brain health.*
Magnesium is a critical mineral for your overall health.
Published studies on Magtein® Magnesium L-Threonate show an increase in brain magnesium levels and promotes healthy and normal short and long-term memory, cognitive function, and learning ability.*
MagSRT™ utilizes Albion Lab's premier patented Dimagnesium Malate, and slowly releases it over an extended period of time. Brain Boost utilizes Magtein® Magnesium L-threonate, and does not have the Sustained Release Technology (SRT) that MagSRT™ uses. They are both great forms of magnesium, and we recommend using Brain Boost in conjunction with MagSRT™ to give your body ample supply of magnesium while fueling your brain with this targeted formula.
No GMO ingredients
No Gluten
No Soy
No Animal Products
As a dietary supplement, take 3 capsules daily. Or use as directed by your healthcare professional.
Serving Size:
3 Capsules
Amount Per ServingMagnesium
... 144mg
(from 2000mg Magtein® L-threonate)
Other Ingredients:
Vegetarian Capsule (as hypromellose and water), L-Leucine and Nu-Mag® Rice Extract Blend (synergistic anti-caking agents.
Magtein® is protected under US patents 8,178,118; 8,142,803;8,163,301; and other pending patents. Magtein® is a trademark of Magceutics®, Inc and is distributed exclusively by AIDP, Inc
Should not be used if tamper evident seal is broken. Keep out of reach of children. Store in a cool dry place.