Marrow Matters
Kan Herb Company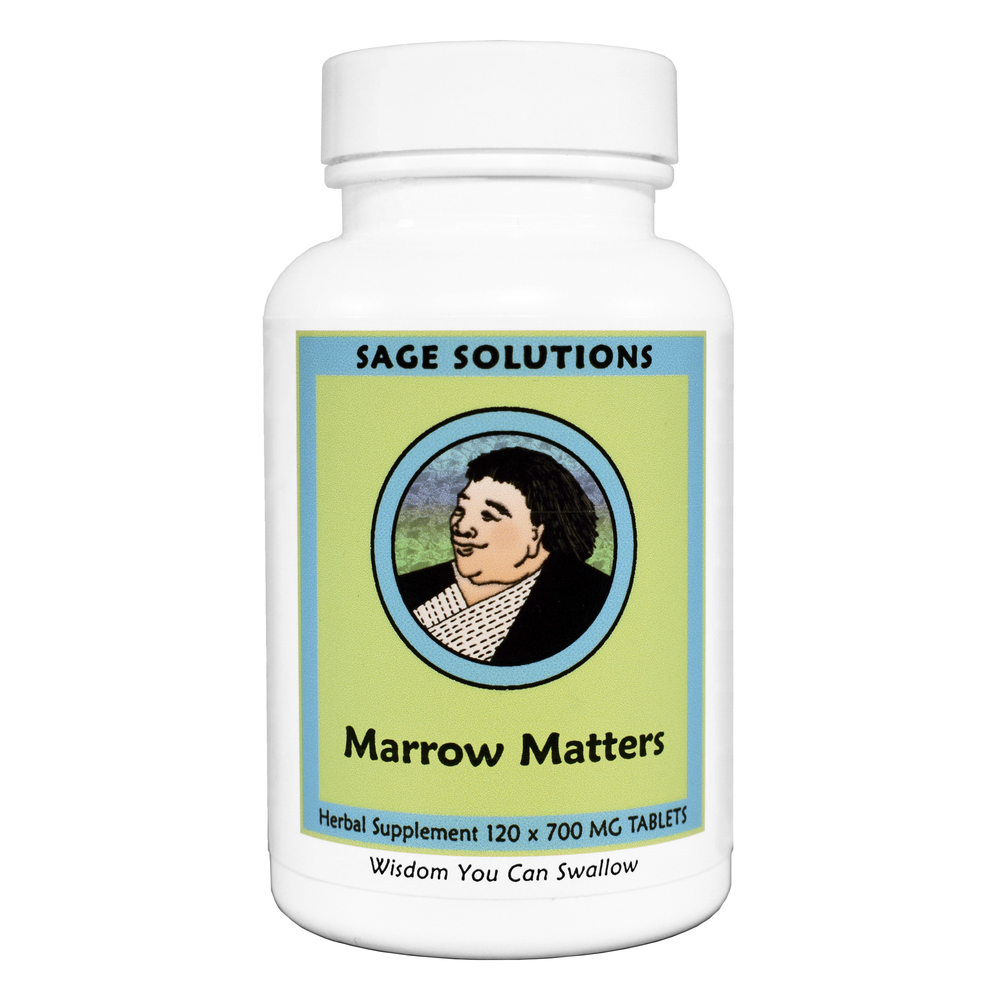 SKU: KA3S-MMA120
Functions:
This formula invigorates the Kidney, replenishes Essence, fortifies Yang, and vitalizes Blood, thereby supporting strong bones and tendons

Indications (Symptoms):
-Helps support healing of bone fractures or tooth implants
-Supports healing of menopausal or age-related stress fractures
-Supports healthy bones and cartilage
Take 1-2 tablets, 2-3 times daily
Pinyin Name
-Common Name

Sheng di huang
-Raw rehmannia root
Yin yang huo
-Epimedium herb
Du zhong
-Eucommia bark
Xu duan
-Sichuan teasel root
Gu sui bu
-Drynaria rhizome
Xue jie
-Dragons blood palm resin
Dan shen
-Chinese salvia root & rhizome
Xian mao
-Curculigo rhizome
Lu jiao jiao
-Deer horn gelatin (soybean)
Long gu sheng
-Dragon bone
Han lian cao
-Eclipta herb
Duan mu li
-Oyster shell
Bai zhu
-White atractylodes rhizome
Lu xian cao
-Pyrola herb
Nu zhen zi
-Ligustrum fruit
Lao guan cao
-Cranesbill herb
Qian nian jiang
-Homalomena rhizome
Huai niu xi
-Achyranthes root
Wu jia pi
-Eleutherococcus gracilistylus root bark
Zhi mu
-Anemarrhena rhizome
Huang bai
-Phellodendron bark

50mg excipients and binders: silicon dioxide
(glidant/dehydrant), stearic acid
(lubricant/binder), microcellulose (coating).
Cautions & Contraindications:
-Acute infection or inflammation of the genito-urinary tract
-Acute stage of injury to bones and cartilage
-Acute exacerbation of inflammatory bone or joint disease
-Pregnancy or nursing

Use only under the direct supercision of a qualified health care practitioner, seek their advice if pregnant or nursing. Keep out of reach of children. Keep tightly capped and out of direct sunlight. Store at room temperature.