Maternal Symmetry
Vitanica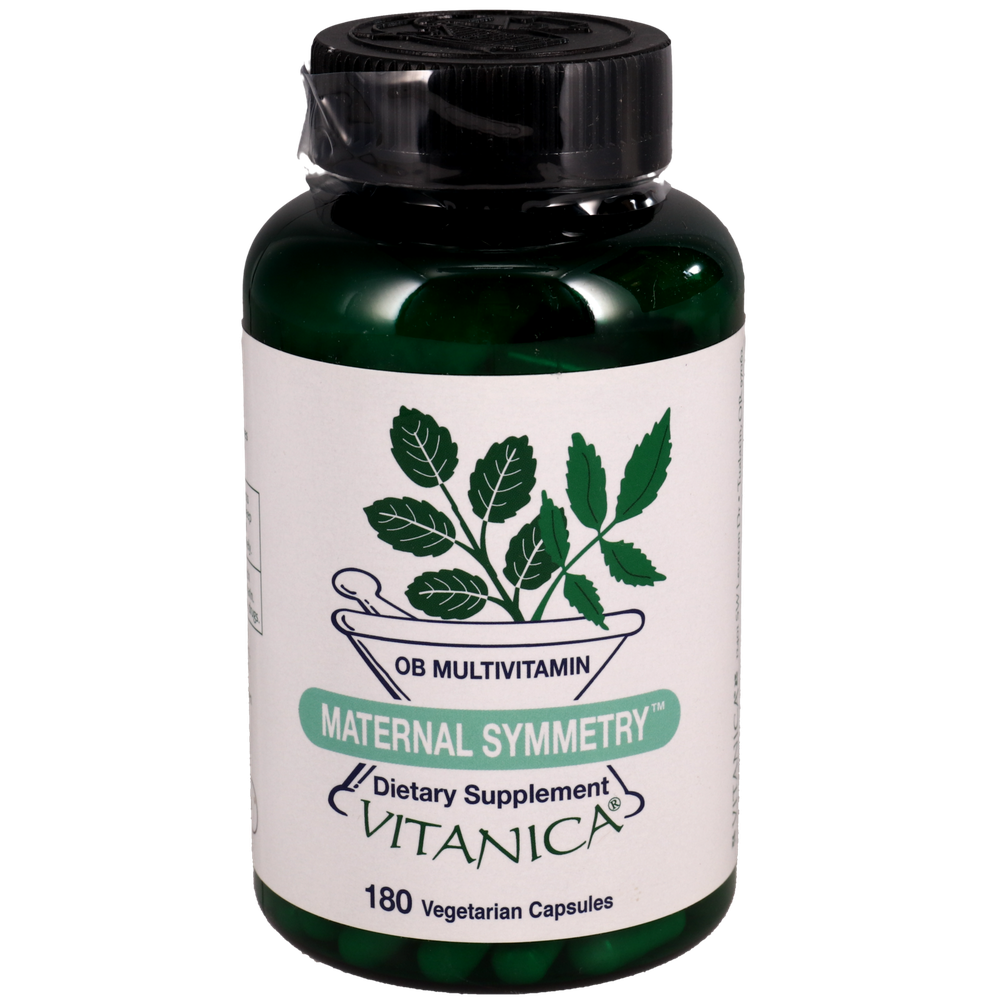 SKU: VTC-01095
A high quality, high potency multivitamin and mineral supplement formulated for pregnancy support - before, during and after childbirth. AS always, hypoallergenic and preservative-free.

Featured Ingredients:

- Includes gentle forms of iron; because iron is important during prenancy, but it doesn't have to be uncomfortable
- Pro Vitamin A is a blend of natural mixed carotenoids yielding a safe source of vitamin A for pregnant women, without retinyl palmitate
- Higher amount of folic acid supports mother and fetus in development; we use the more bioavailable Methylated folate (L-5-MTHF)
- Botanicals included are safe during pregnancy and have a long tradition of use by midwives and herbalists to support uterine tone, healthy digestion, additional nourishment from mineral rich herbs, and promote calming: Partridge berry, Ginger, Nettles leaf, Lemon balm, Oatstraw, and Dandelionroot
Take two (2) capsules with food three (3) times per day during pregnancy and lactation, or as directed by your physician.
Serving Size: 2 Capsules
Vitamin A ...3400 IU
(as natural mixed carotenoids)
Vitamin C ...170mg
(as calcium ascorbate, buffered)
Vitamin D2 (as ergocalciferol) ...130 IU
Vitamin E ...130 IU
(as d-alpha tocopheryl succinate)
Vitamin K (as d-phylloquinone) ..50mcg
Thiamin ...8mg
(as Vitamin B1, Thiamin HCL)
Riboflavin ..533mcg
(as Vitamin B2, riboflavin-5-phosphate)
Vitamin B3 ...8mg
(as inositol hexaniacinate)
Vitamin B6 (as pyridoxine HCL) ...16mg
Folate (as L-5-Methylfolate) ...260mcg
Vitamin B12 (as methylcobalamin) ...34mcg
Biotin ... 100mcg
Pantothenic Acid ...16mg
(as Vitamin B5, d-Cal Panthenate)
Calcium (as citrate-malate) ...170mg
from 791 mg. calcium citrate-malate)
Iron ...9mg
(as aspartate, ferrous succinate, ferrous fumarate)
Iodine (from kelp) ...50mcg
Magnesium (as citrate-malate) ...85mg
from 448 mg. magnesium citrate-malate
Zinc (as picolinate) ...10 mg
Copper (as gluconate) ..500mcg
Selenium (as selenomethionine) ...22mcg
Manganese (as citrate) ...1700mcg
Chromium (as polynicotinate) ...50mcg
Boron (as boron chelates) ...1mg
Ginger root (Zingiber officinale) ...17mg
Red raspberry leaves ...7mg
(Rubus idaeus)
Nettles leaf ...7mg
(Urtica dioica)
Partridge berry ...7mg
(Mitchella repens)
Lemon balm ...7mg
(Melissa officinalis)
Oat Straw ...4mg
(Avena sativa)
Dandelion root ...4mg
(Taraxacum officinale)
Contains - Vegetable cellulose and water
Does Not Contain - Preservatives, binders, artificial colorings or flavorings, sucrose, glucose, starch, lactose, salt, corn, wheat, milk derivatives
Keep in a cool, dry place and out of reach of children.
Accidental overdose of iron-containing products is a leading cause of fatal poisoning in children under 6. Keep this product out of reach of children. In case of accidental overdose, call a doctor or poison control center immediately. Maternal Symmetry contains Vitamin K, which interferes with the prescription drugs Coumadin and Warfarin. Do not take Maternal Symmetry if taking either of these drugs.