Max B-ND™
Premier Research Labs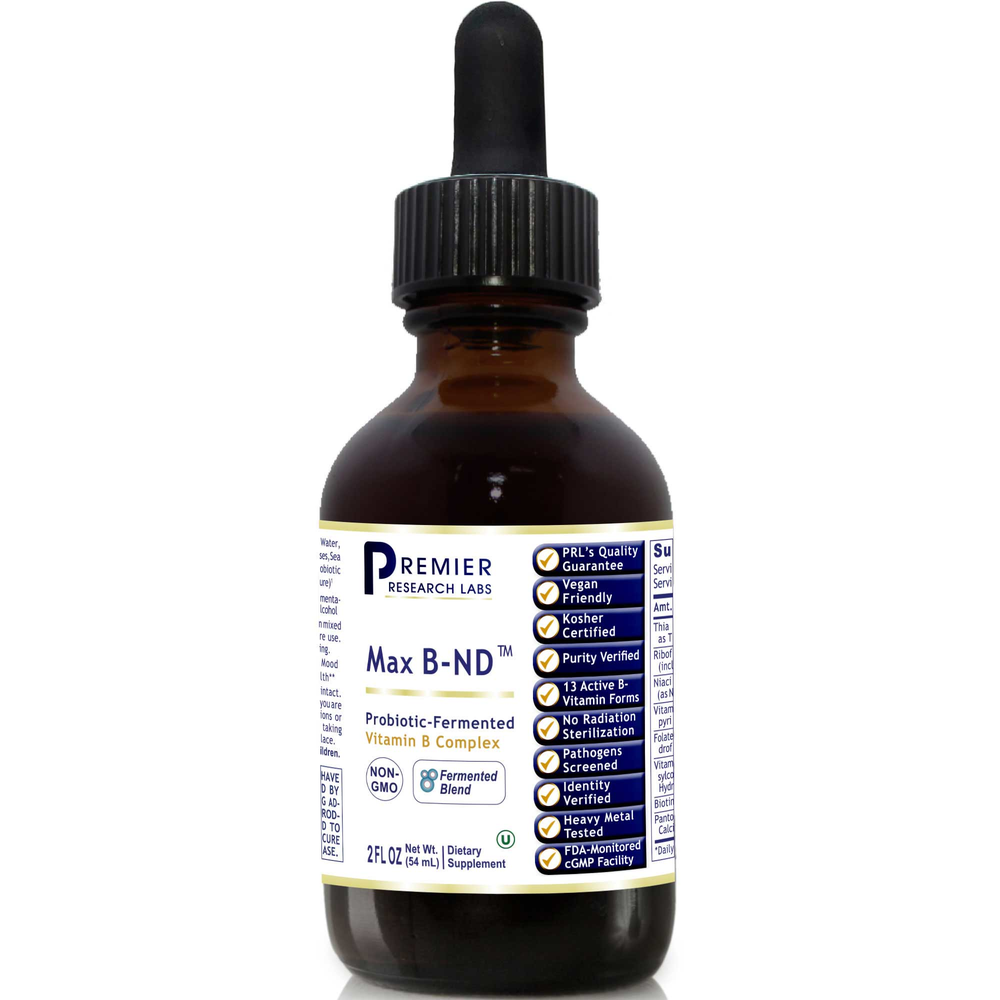 SKU: PRE512-2352
Max B-ND™, Dietary Supplement, 8 fl oz (235 mL). Probiotic-Fermented Vitamin B Complex is part of the FERMEXCEL-100TM line of dietary supplements. Advanced support for liver, brain, and energy health. Promotes adrenal, immune system, and cardiovascular system health. Contains 13 active B-vitamin forms.*

ND Technology™ (Novel Micro-cultured Delivery)
This premier quality formula is fermented using a unique probiotic culture which allows rapid oral delivery with superior bioenergetic properties.


Suggested Use:
Take 1/2 teaspoon mixed in 1/4 cup water or other liquid, once daily. Shake gently before use. Refrigerate after opening.
Serving Size:
1/2 Teaspoon (2.5ml)
Amount Per ServingThiamin
... 1mg
(Vitamin B1 as Thiamine HCl)
Riboflavin
... 1.6mg
(Vitamin B2) (including R-5-P)
Niacin
... 30mg
(Vitamin B3)(as Niacinamide)
Vitamin B6
... 3mg
(including pyridoxine HCl, P-5-P)
Folate
... 1665mcg DFE
(5-formyltetrahydrofolate Calcium)
Vitamin B12
... 263mcg
(including Adenosylcobalamin, Methylcobalamin, Hydroxycobalamin)
Biotin
... 334mcg
Pantothenic Acid
... 3.3mg
(Vitamin B5 as Calcium-d-Pantothenate)
Other Ingredients:
Purified Water, Organic Cane Alcohol, Organic Molasses, Sea Mineral Concentrate, Fermented Probiotic Media (fermented in a probiotic culture)¹.
Probiotic Media¹ Inactivated after fermentation; preserved with organic alcohol)
Vegan. Kosher Certified. Non-GMO.
Warning
: Consult your health care practitioner if you are nursing/lactating, taking medications or have a medical condition, before taking this or any other product. Store in a cool, dry place.