Maxum Multi Vite
Seroyal/Genestra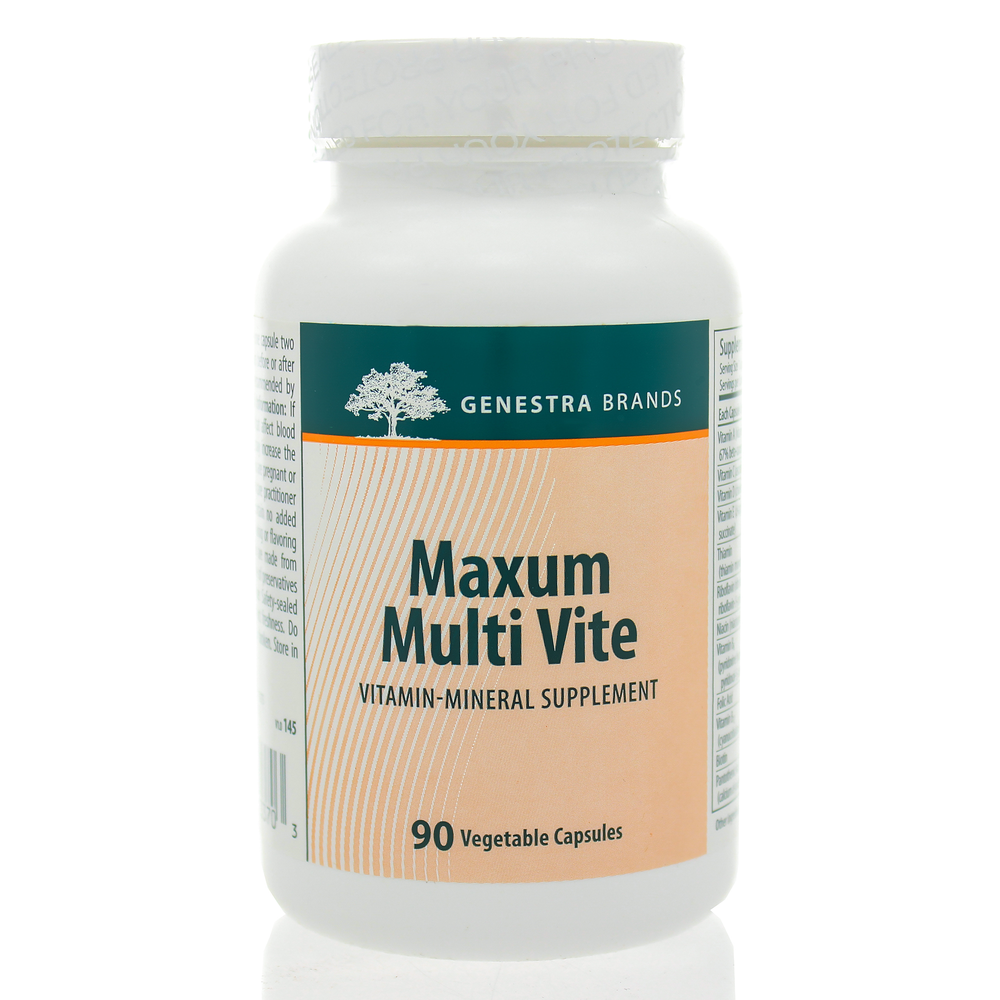 SKU: GN-0314590
Maxum Multi Vite provides a well-balanced combination of vitamins and minerals along with a wide range of antioxidants to assist and promote overall health. The capsules are 100% pure vegetable-sourced.
Adults: Take one capsule two times daily with meals, or as recommended by your healthcare practitioner.
Serving Size: 1 Capsule
Amount Per Serving:
Vitamin A ... 4500IU
(vitamin A palmitate)
Vitamin C ... 100mg
(ascorbic acid)
Vitamin D ... 5IU
(cholecalciferol)
Vitamin E ... 50IU
(d-alpha tocopheryl succinate)
Thiamine ... 15mg
(thiamine mononitrate)
Riboflavin ... 17mg
(riboflavin/ riboflavin-5-phosphate)
Niacinamide ... 20mg
Vitamin B6 ... 17mg
(pyridoxine hydrochloride/ pyridoxal-5-phosphate)
Folate ... 100mcg
Vitamin B12 ... 30mcg
(cyanocobalamin)
Biotin ... 50mcg
Pantothenic Acid ... 50mg
(calcium d-pantothenate)
Calcium ... 54.5mg
(calcium citrate/ d-pantothenate)
Iodine ... 40mcg
(potassium iodide)
Magnesium ... 20mg
(magnesium citrate)
Zinc ... 5mg
(zinc oxide)
Selenium ... 40mcg
(selenomethionine)
Manganese ... 4mg
(manganese sulfate)
Chromium ... 40mcg
(chromium HVP ? chelate/ chloride)
Molybdenum ... 10mcg
(molybdenum Krebs ? complex)
Potassium ... 10mg
(potassium chloride)
Ginkgo ... 27mg
(Ginkgo biloba) Leaf
Inositol ... 15mg
Betaine Hydrochloride ... 10mg
Choline ... 10mg
(choline bitartrate)
L-Cystine ... 10mg
L-Glutamic Acid ... 10mg
L-Glutathione ... 2mg
Rutin ... 2mg
(from Dimorphandra mollis seed pod)
Coenzyme Q10 ... 1mg
(bacterial fermentation)
Green Tea ... 1mg
(Camellia sinensis) Leaf Std. Extract (50% polyphenols)
Vanadium ... 10mcg
(vanadium Krebs ? complex)
? Hydrolyzed vegetable (rice) protein
? Citrate/ fumarate/ malate/ succinate/ alpha-ketoglutarate
Other Ingregients: Hypromellose, cellulose, magnesium silicate, magnesium stearate, silica
Guaranteed to contain no added wheat, yeast, gluten, artificial coloring or flavoring or dairy products.
The capsules are made from 100% pure vegetable sources, free of preservatives and additives.
If you are taking health products that affect blood coagulation, do not use, as this may increase the risk of spontaneous bleeding. If you are pregnant or breastfeeding, consult your healthcare practitioner prior to use.