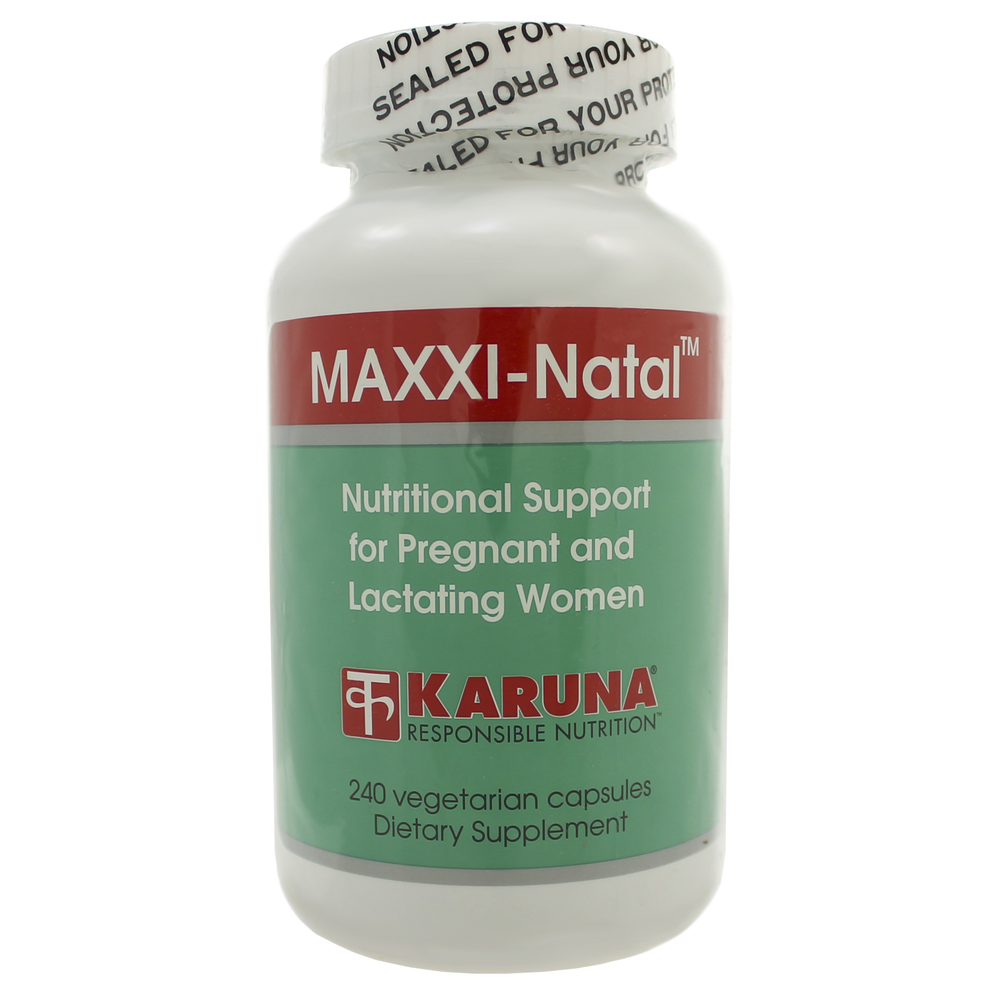 SKU: KAR-1120
Nutritional support for pregnant and lactating women
MAXXI-Natal is formulated to provide an optimal combination of vitamins and minerals to support proper fetal development, as well as milk production in post-partum women.

Insufficient levels of folic acid have been demonstrated to play a role in the potentially serious spinal birth defect known as spina bifida.

MAXXI-Natal was designed for doctors seeking a capsule delivery system and a 2:1 calcium:magnesium ratio, utilizing the optimal citrate:malate blend for calcium, as found in clinical studies.
4-8 capsules daily, taken in divided doses with meals, or as directed.
Eight capsules provide:
MAXXI-Natal - Eight capsules provide

Vitamin A (natural beta-carotene)

8, 000 IU

160%

Vitamin C (ascorbic acid)

300 mg

500%

Vitamin D3 (cholecalciferol)

400 IU

100%

Vitamin E
(natural d-alpha-tocopheryl succinate)

200 IU

667%

Vitamin K1 (phylloquinone)

120 mcg

150%

B1 (thiamine)

15 mg

1, 000%

B2 (riboflavin)

15 mg

882%

B3 (niacinamide)

15 mg

75%

B6 (pyridoxine HCl) granulated

50 mg

2, 500%

Folic Acid

800 mcg

200%

B12 (methylcobalamin)

450 mcg

7, 500%

Biotin (d-biotin)

400 mcg

133%

B5 (d-calcium pantothenate)

20 mg

200%

Calcium (citrate/malate 2:1)

800 mg

80%

Iron (glycinate)

15 mg

84%

Iodine (potassium iodide)

150 mcg

100%

Magnesium (citrate/malate)

400 mg

100%

Zinc (citrate)

20 mg

.css-9avzrm{display:inline-block;width:1rem;display:block;height:1.5rem;}

It looks like there are no similar
products available