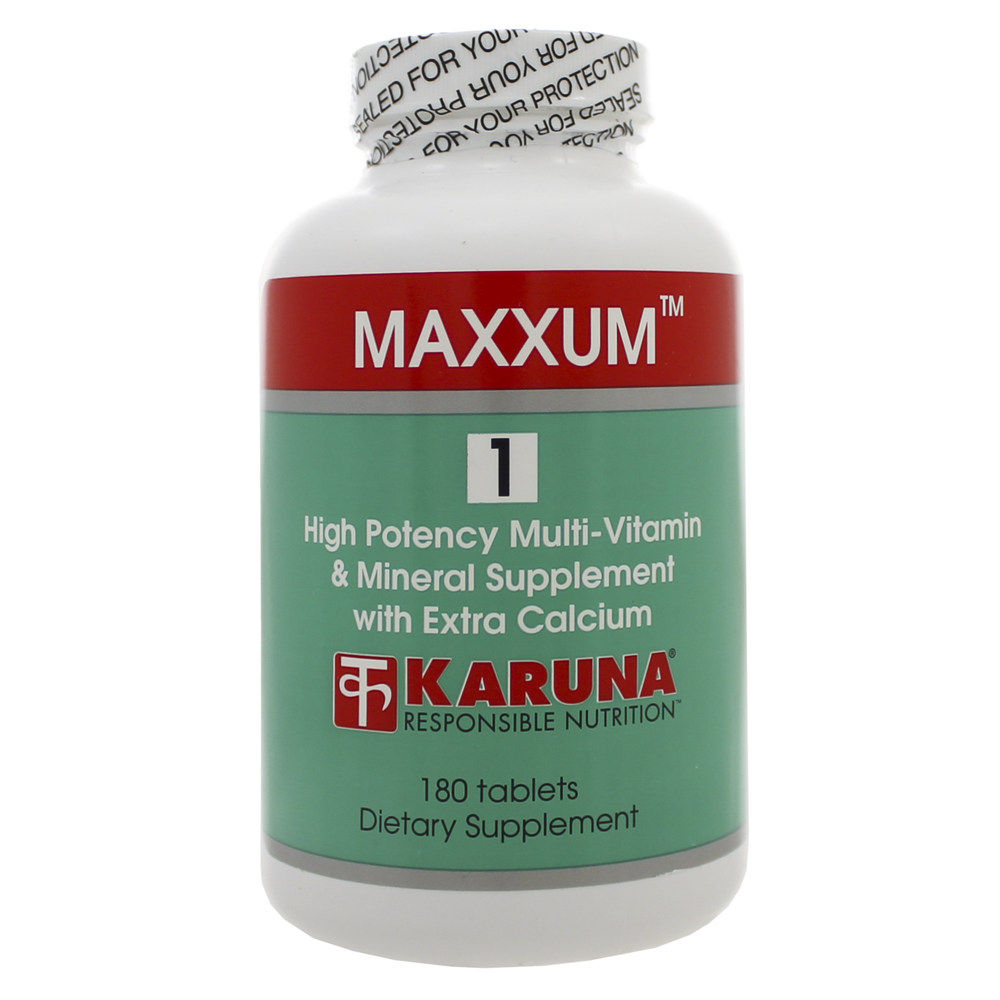 SKU: KAR-1101
Tableted multi providing nutrients in the optimal forms and amounts based on human research trials
MAXXUM 1 is formulated to incorporate the latest research findings, combining optimal forms and amounts of nutrients with affordable cost.

MAXXUM 1 is iron-free, contains a 10:1 zinc:copper ratio, uses only natural beta-carotene and vitamin E, and delivers calcium in the same citrate:malate ratio found optimal in clinical studies.

Tablets are medium-sized, easy-to-swallow and homogeneous.

Selenium and chromium levels included are in line with current health maintenance research.

Excessive amounts of inexpensive vitamins, as well as lesser amounts of superfluous ingredients, sometimes added as window-dressing to inferior multis, have been avoided.

Coating on these all-vegetable tablets is guaranteed to dissolve easily, allowing complete release of nutrients.
Six tablets daily, taken with meals, or as directed.
MAXXUM 1 - Six tablets provide

Vitamin A (natural beta-carotene)

20, 000 IU

400%

Vitamin C (ascorbic acid)

1, 000 mg

1, 667%

Vitamin D3 (cholecalciferol)

400 IU

100%

Vitamin E
(natural d-alpha-tocopherol succinate)

400 IU

1, 333%

Vitamin K1 (phylloquinone)

120 mcg

150%

B1 (thiamine)

40 mg

2, 667%

B2 (riboflavin)

40 mg

2, 353%

B3 (niacinamide)

40 mg

200%

B6 (pyridoxine HCl)

40 mg

2, 000%

Folic Acid

800 mcg

200%

B12 (methylcobalamin)

450 mcg

7, 500%

Biotin (d-biotin)

400 mcg

133%

B5 (d-calcium pantothenate)

40 mg

400%

Calcium (citrate/malate 2:1)

800 mg

80%

Iodine (potassium iodide)

75 mcg

50%

Magnesium (aspartate)

400 mg

100%

Zinc (amino acid chelate)

15 mg

100%

Selenium (l-selenomethionine)**

200 mcg

286%