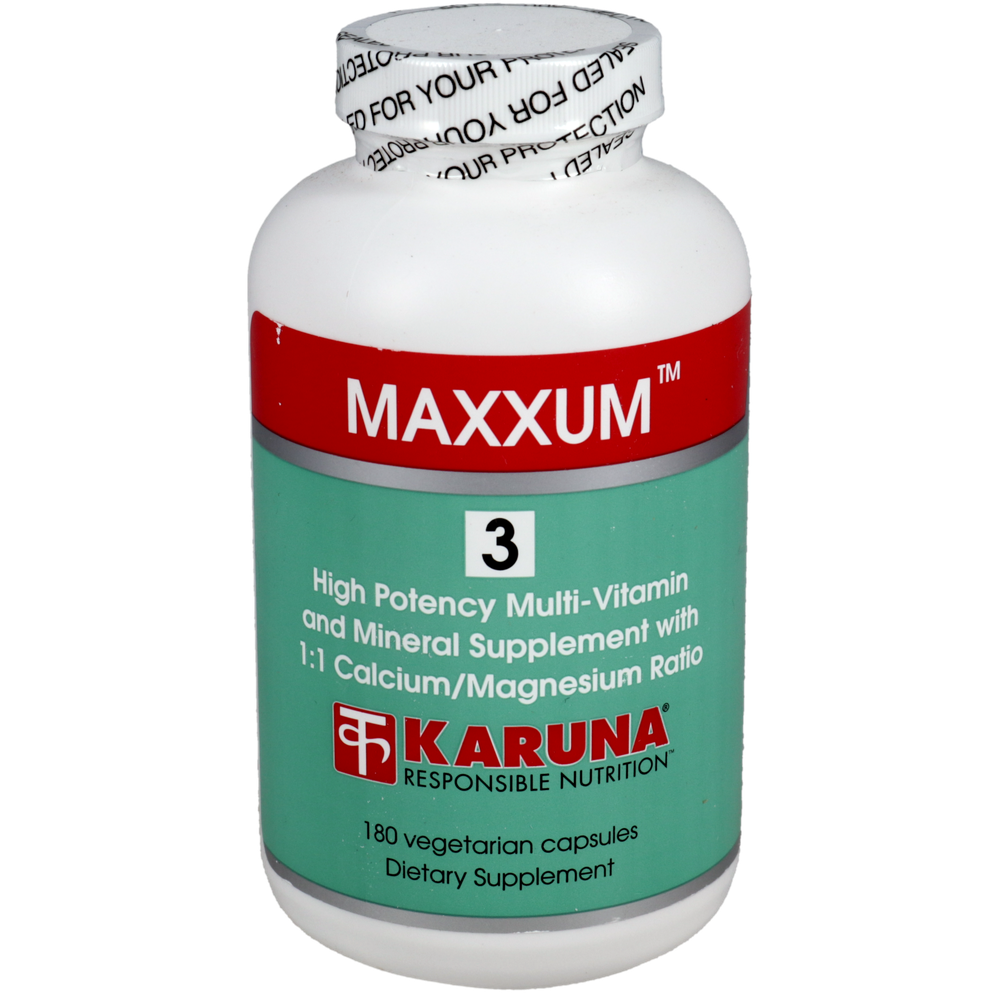 SKU: KAR-1103
Multi in capsules, with a 1:1 cal/mag ratio, providing nutrients in clinically validated forms and amounts
MAXXUM 3 was designed for doctors seeking a capsule delivery system and a 1:1 calcium:magnesium ratio, utilizing the optimal citrate:malate ratio for calcium, as found in clinical studies.

Vitamin K is added in levels sufficient to affect bone metabolism, not merely trace amounts.

Folate is included to the maximum allowable amounts, and selenium and chromium levels are in line with current health maintenance research.
Six capsules daily, taken with meals, or as directed.
MAXXUM 3 - Six capsules provide

Vitamin A (natural beta-carotene)

20, 000 IU

400%

Vitamin C (ascorbic acid)

1, 000 mg

1, 667%

Vitamin D3 (cholecalciferol)

400 IU

100%

Vitamin E
(natural d-alpha-tocopherol succinate)

400 IU

1, 333%

Vitamin K1 (phylloquinone)

120 mcg

150%

B1 (thiamine)

40 mg

2, 667%

B2 (riboflavin)

40 mg

2, 353%

B3 (niacinamide)

40 mg

200%

B6 (pyridoxine HCl)

40 mg

2, 000%

Folic Acid

800 mcg

200%

B12 (methylcobalamin)

450 mcg

7, 500%

Biotin (d-biotin)

400 mcg

133%

B5 (d-calcium pantothenate)

40 mg

400%

Calcium (citrate/malate 2:1)

500 mg

50%

Iodine (potassium iodide)

75 mcg

50%

Magnesium (aspartate)

500 mg

125%

Zinc (amino acid chelate)

15 mg

100%

Selenium (l-selenomethionine)**

200 mcg

286%