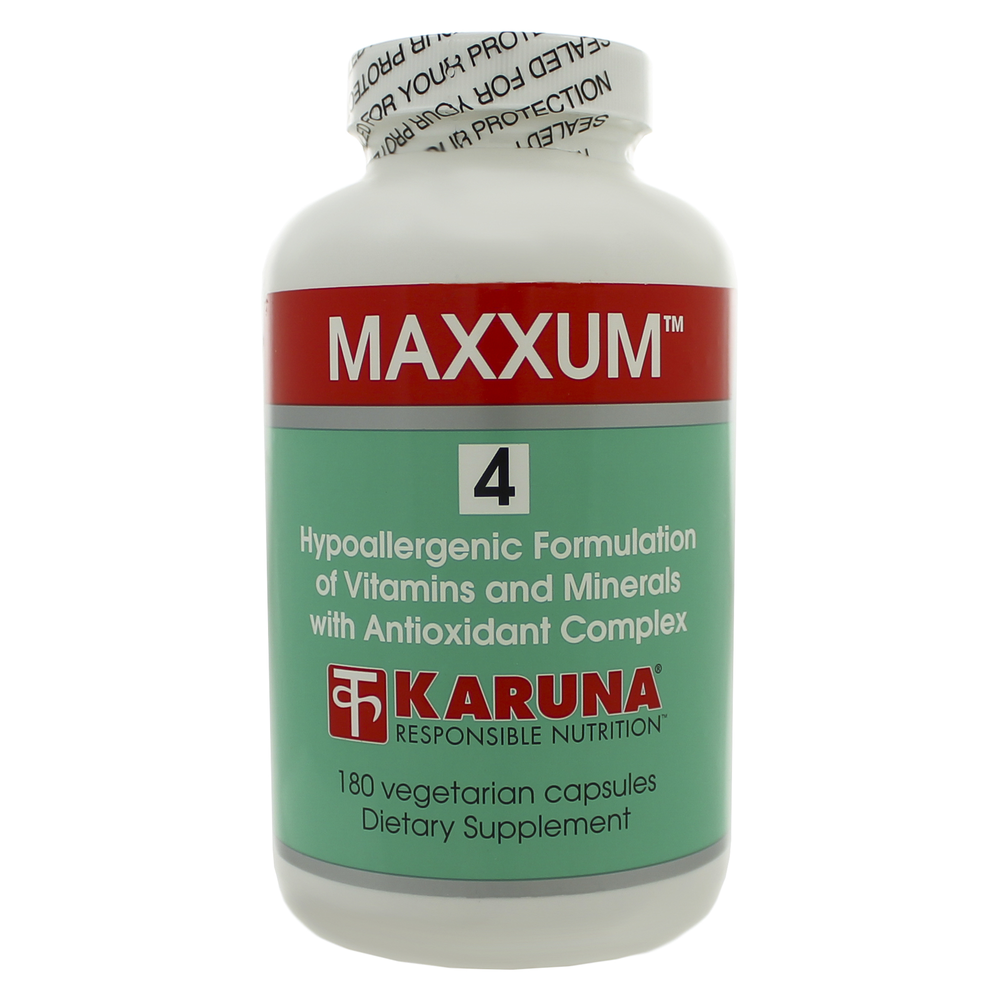 SKU: KAR-1104
Advanced antioxidant multi in capsules including natural mixed carotenoids
MAXXUM 4 is designed to combine the benefits of a quality vitamin-mineral supplement with additional antioxidants such as alpha-carotene, lutein and lycopene, as well as several bioflavonoids, whose levels match those recommended by European heart research.

As with MAXXUM 1 and MAXXUM 3, this product is iron-free, contains a 10:1 zinc:copper ratio, uses only natural sources of beta-carotene and vitamin E and is free of potential allergens and antigens.

Folate is included to the maximum allowable level, and selenium and chromium amounts are in line with recent health maintenance research.
Six capsules daily, taken with meals, or as directed.
MAXXUM 4 - Six capsules provide

Vitamin A (natural beta-carotene)

20, 000 IU

400%

Vitamin C (ascorbic acid)

1, 000 mg

1, 667%

Vitamin D3 (cholecalciferol)

400 IU

100%

Vitamin E
(natural d-alpha-tocopherol succinate)

400 IU

1, 333%

Vitamin K1 (phylloquinone)

120 mcg

150%

B1 (thiamine)

50 mg

3, 333%

B2 (riboflavin)

50 mg

2, 941%

B3 (niacinamide)

100 mg

500%

B6 (pyridoxine HCl) granulated

100 mg

5, 000%

Folic Acid

800 mcg

200%

B12 (methylcobalamin)

450 mcg

7, 500%

Biotin (d-biotin)

400 mcg

133%

B5 (d-calcium pantothenate)

300 mg

3, 000%

Calcium (citrate/malate 2:1)

300 mg

30%

Iodine (potassium iodide)

75 mcg

50%

Magnesium (aspartate)

300 mg

75%

Zinc (amino acid chelate)

15 mg

100%

Selenium (l-selenomethionine)**

200 mcg

.css-9avzrm{display:inline-block;width:1rem;display:block;height:1.5rem;}