Mega MultiVitamin Drink Mix (Berry)
Integrative Therapeutics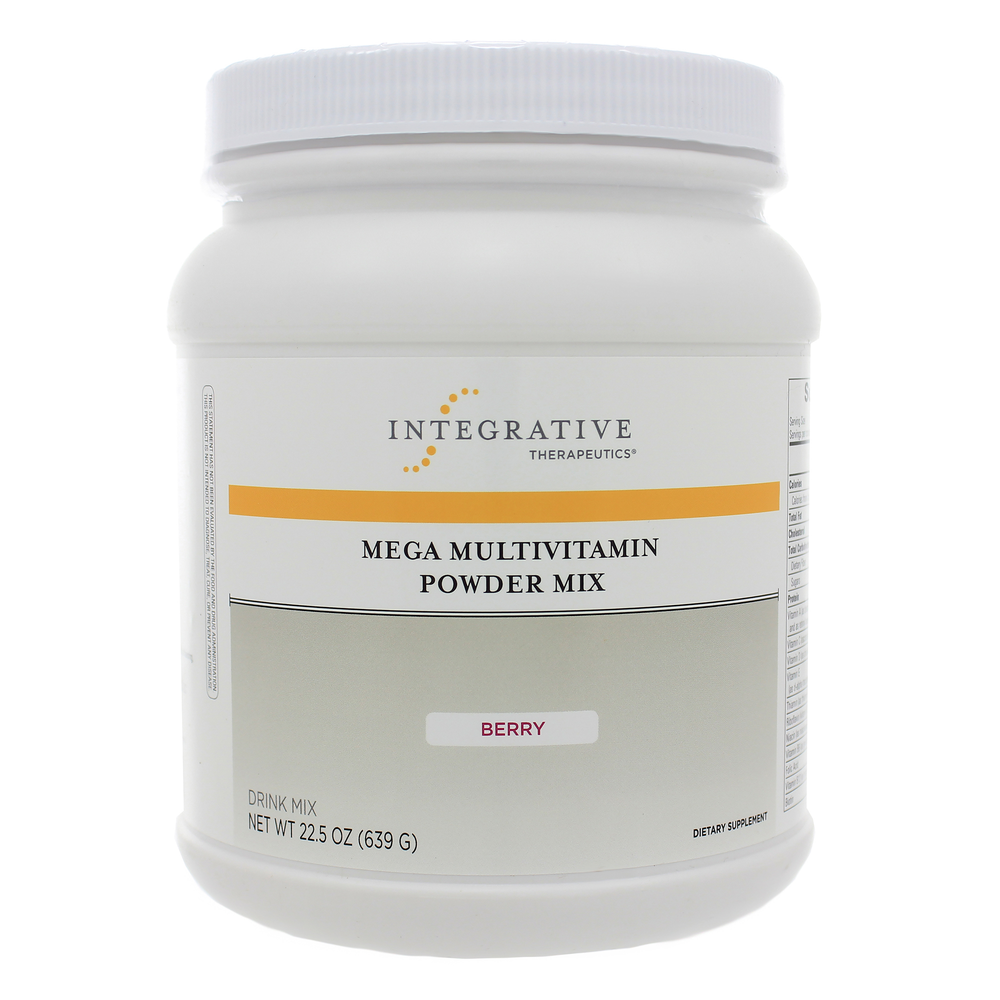 SKU: ITI-176001
Berry Mega MultiVitamin Powder Mix – Daily Nutritional Support*
Mega MultiVitamin Powder Mix is a dietary supplement designed to conveniently supply 100 percent or more of the Recommended Daily Allowances of most essential vitamins and minerals. Featuring a combination of 23 vitamins and minerals, this formula contains protein, amino acids, fiber, calcium and antioxidants including Vitamin C, E and selenium, to support optimal health and energy levels.* Mega MultiVitamin was designed for those who need a complete multivitamin in a versatile powder mix.
Mega MultiVitamin Powder Mix:
Convenient, once-daily multivitamin and mineral supplement
Berry flavored powder mix in an iron-free formula
Includes potent antioxidants—vitamin c, e and selenium
Contains high levels of all B vitamins for healthy cellular energy production*
Includes whey protein which provides a broad range of amino acids–both essential and non-essential
Especially rich in L-cysteine and L-glutamic acid, two amino acids which are precursors of glutathione*
Supports healthy immune system functioning*
Includes inulin, a fiber source that promotes calcium absorption*
Adults: Mix one level scoop (21.2 g) daily with 8-10 ounces of cold water;
Children age 4-12: Mix one-half scoop (10.6 g) daily with 4 to 5 ounces of cold water;
Children age 2-<4: Mix 3/4 level teaspoon (2.1g) daily with 2 ounces of cold water, or as recommended by your healthcare professional.
Mix well for 30 seconds. Drink within 30 minutes of preparation.
Serving Size: One Level Scoop (21.2g) Powder Mix
Amount Per Serving
Calories ... 70
Calories from fat ... 5
Total Fat ... 0.5g
Cholesterol ... 15mg
Total Carbohydrate ... 8g
Dietary Fiber ... <1g
Sugars ... 1g
Protein ... 6g
Vitamin A ... 7, 000IU
(as beta carotene and as retinyl acetate)
Vitamin C ... 750mg
(ascorbic acid)
Vitamin D ... 600IU
(as cholecalciferol)
Vitamin E ... 100IU
(as d-alpha tocopheryl acetate)
Thiamin ... 3.7mg
(vitamin B1)
Riboflavin ... 4.2mg
(vitamin B2)
Niacin ... 50mg
(as niacinamide)
Vitamin B6 ... 5mg
(as pyridoxine HCl)
Folic Acid ... 800mcg
Vitamin B12 ... 15mcg
(as cyanocobalamin)
Biotin ... 750mcg
Pantothenic Acid ... 25mg
(as calcium D-pantothenate)
Calcium ... 500mg
(as calcium lactate)
Iodine ... 150mcg
(as potassium iodide)
Magnesium ... 200mg
(as magnesium glycinate)
Zinc ... 15mg
(as zinc sulfate)
Selenium ... 200mcg
(as L-selenomethionine)
Copper ... 250mcg
(as copper gluconate)
Manganese ... 4mg
(as manganese citrate)
Molybdenum ... 250mcg
(as sodium molybdate)
Sodium ... 20mg
Potassium ... 50mg
(from whey protein, potassium citrate, potassium iodide)
Whey Protein ... 7.5g
(milk)
Malic Acid ... 900mg
Betaine ... 750mg
Inositol ... 750mg
Inulin ... 750mg
(from chicory root)
Taurine ... 500mg
Glycine ... 390mg
L-Tyrosine ... 377mg
N-Acetylcysteine ... 250mg
(NAC)
L-Serine ... 240mg
Rutin Flower Bud Extract ... 120mg
(Sophora japonica)
Stevia Leaf Extract ... 55mg
(Stevia rebaudiana)
Sweet Cherry Fruit ... 50mg
(Prunus avium)
Cranberry Fruit ... 25mg
(Vaccinium macrocarpon)
Bilberry Fruit Extract ... 10mg
(Vaccinium myrtillus)
Boron ... 2mg
(as sodium borate)
Lutein ... 1.5mg
(from Aztec Marigold)
Zeaxanthin ... 75mcg
Other Ingredients: natural flavors, soy lecithin, radish root extract color, xanthan gum
Contains milk and soy.
This product does not contain
artificial flavoring
gluten
preservatives
wheat
yeas


If pregnant, nursing, or taking prescription drugs, consult your healthcare professional prior to use.

CAUTION
This product contains the amino acid phenylalanine. If pregnant, nursing or taking prescription drugs, consult your healthcare professional prior to use.