Baby & Me 2™ Prenatal Probiotic + Prebiotic
MegaFood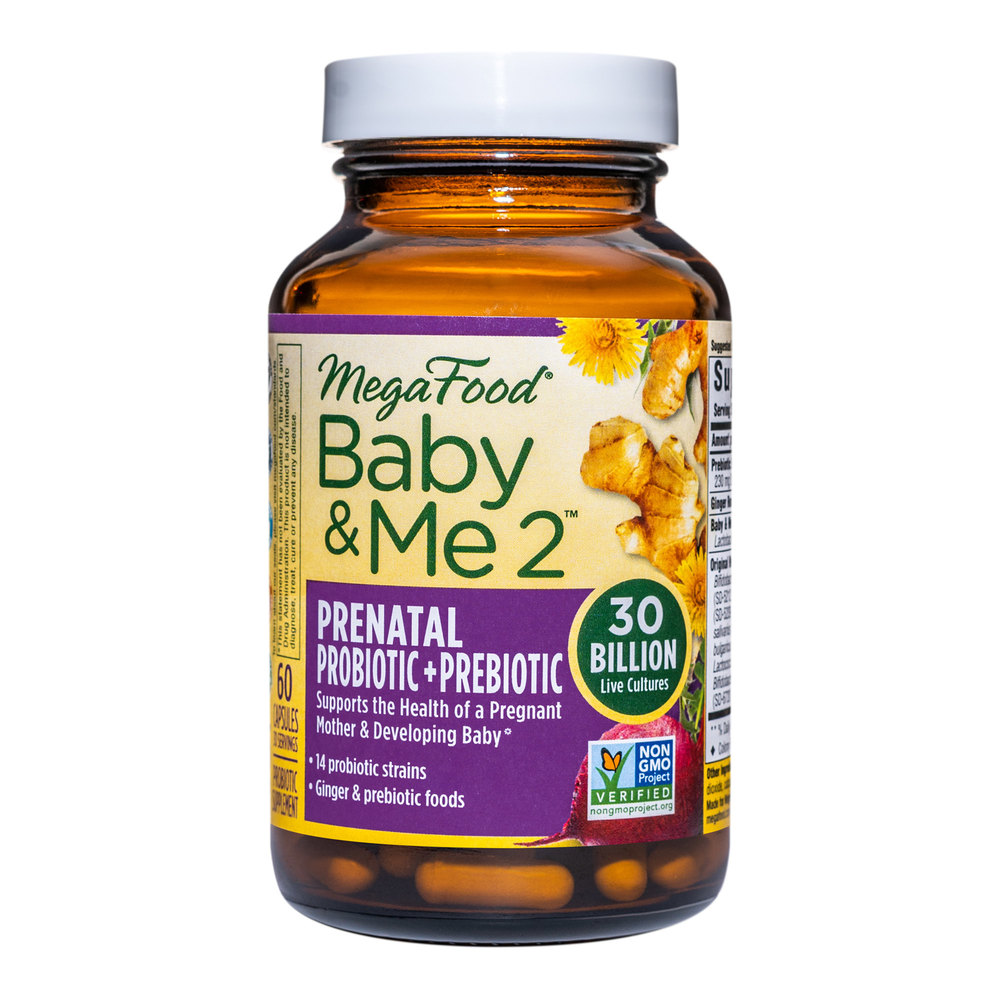 SKU: MEG-10027
Baby & Me 2 Prenatal Probiotic + Prebiotic
Supports the health of a pregnant mother and developing baby*
Benefits
Go pro(biotic) during pregnancy & new-mom life
Supports the health of moms-to-be & developing baby*
Contains 14 unique strains of 30 billion probiotics & prebiotics to promote the health & well-being of pregnant & breastfeeding women*
Includes ginger to soothe upset tummies & support healthy digestive function*
Probiotics support nutrient absorption, and studies have shown that intake of Lactobacillus rhamnosus (HN001) during the last trimester & early breastfeeding supports baby's developing immune system*
Help nurture your body & baby with our Prenatal Multivitamin and support baby's healthy brain development* with Prenatal DHA & Choline
Suggested Use:
Take 2 capsules at any time of the day with food.
Serving Size:
2 Capsules
Amount Per ServingPrebiotic Blend
... 380mg
230 mg Dandelion Root, 150 mg Beet Root
Ginger Root
... 230mg
Baby & Me™ Healthy Microbiome
... 10 Billion
Lactobacillus rhamnosus (HN001)
Original MegaFlora® Blend
... 20 Billion
Bifidobacterium lactis (SD-5219), Lactobacillus acidophilus (SD-5212), Lactobacillus casei (SD-5213), Lactobacillus plantarum (SD-5209), Lactobacillus rhamnosus (SD-5217), Lactobacillus salivarius (SD-5208), Lactobacillus brevis (SD-5214), Lactobacillus bulgaricus (SD-6833), Lactobacillus gasseri (SD-5585), Lactococcus lactis (SD-5584), Bifidobacterium longum (SD-5588), Bifidobacterium bifidum (SD-6575), Bifidobacterium infantis (SD-6720), Streptococcus thermophilus (SD-5207).
Other Ingredients:
Microcrystalline cellulose, hypromellose, silicon dioxide, l-leucine, guar gum.
This product is certified vegan, dairy free, soy free and Non-GMO.
Storage
: Keep refrigerated or frozen to maintain potency.
Keep out of reach of children.