Mens Complete Iron Free
Priority One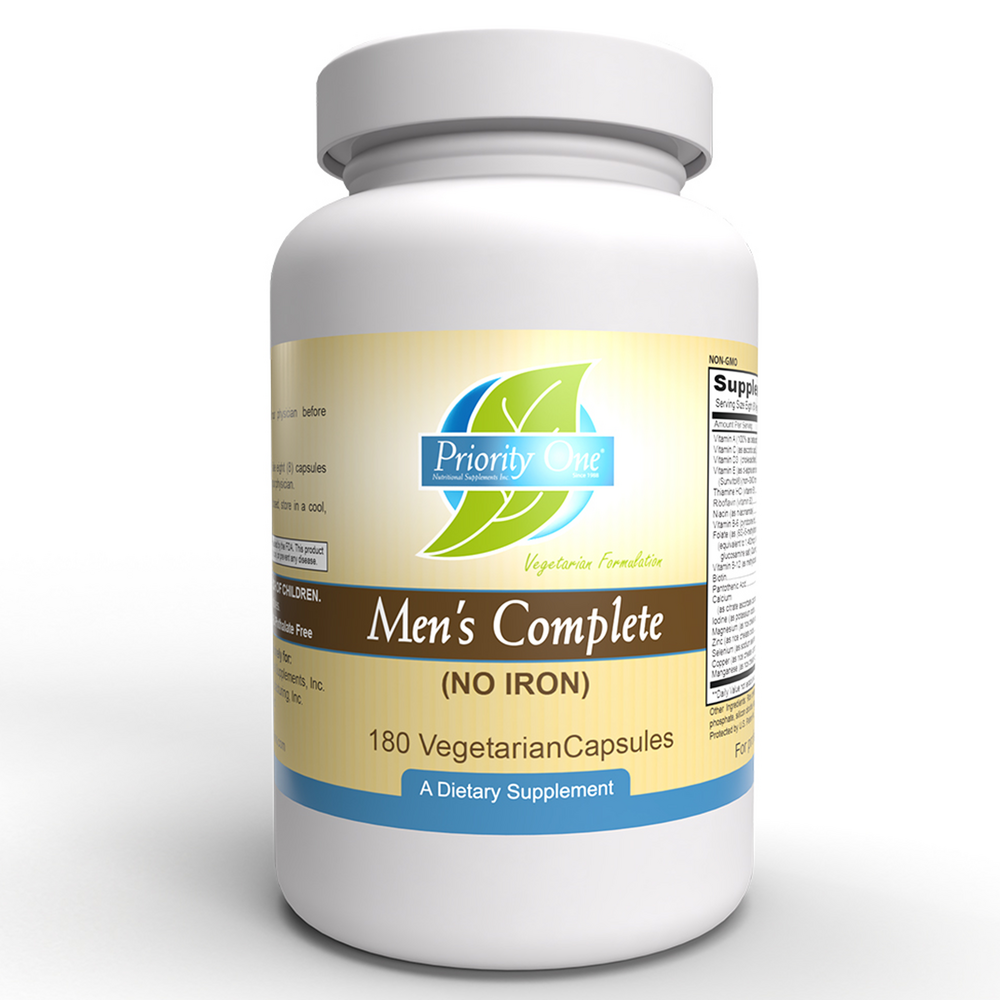 SKU: PR7-1053
NUTRITIONAL BENEFITS
A broad spectrum multi vitamin and mineral supplement formulated for mens overall health and well being.
MAY BE HELPFUL FOR
Providing nutritional support for overall male health with additional herbs for promoting a health reproductive system.
RECOMMENDATIONS: Two (2) Capsules three (3) to four (4) times per day as a dietary supplement, or as directed by physician.
Serving Size: Eight (8) Capsules
Amount Per Serving
Vitamin C (Sago Palm) ...1000mg / 1666% DV
Calcium (Amino Acid chelate) ...900mg / 90% DV
Magnesium ...450mg / 112% DV
(Oxide, Amino Acid Chelate)
Vitamin B-1 ...100mg / 6667% DV
(Thiamine HCI)
Vitamin B-2 ...75mg / 4412% DV
(Riboflavin)
Vitamin B-5 ...150mg / 1500% DV
(Pantothenic Acid)
Vitamin B-6 ...75mg / 3750% DV
(Pyridoxine HCI)
Vitamin B-12 ...150mcg / 2500% DV
Zinc ...45mg / 300% DV
(Amino Acid Chelate)
Manganese ...20mg / 1000% DV
(Amino acid chelate)
Copper ...3mg / 150% DV
(Amino Acid Chelate)
Folic Acid ...800mcg / 200% DV
Iodine (Kelp) ...225mcg / 150% DV
Biotin ...200mcg / 67% DV
Chromium ...150mcg / 125% DV
(Amino Acid Chelate)
Selenium ...150mcg / 214% DV
Beta Carotene ...20, 000 IU / 400% DV
(Pro-Vitamin A)
Vitamin E ...400 IU / 1333% DV
(mixed tocopherols & d-alpha from vegetable sources)
Vitamin D3 ...5000 IU / 1250% DV
(Cholecalciferol)
Vitamin B-10 (PABA) ...75mg**
Niacinamide (B-3) ...150mg**
Inositol ...50mg**
Choline (Bitartrate) ...50mg**
Potassium ...99mg**
(Bitartrate)
Tribulus ...250mg**
Yohimbe ...250mg**
Horny Goat Weed ...160mg**
Muira Puama ...160mg**
Bioflavonoids ...200mg**
Saw Palmetto Oil Extract ...160mg**
(50:1)
Pumpkin Seed ...40mg**
Glutamic acid ...160mg**
L-Alanine ...160mg**
L-Glycine ...160mg**
Lycopene ...20mg**
Betaine (HCI) ...150mg**
Hesperidin ...15mg**
Rutin ...20mg**
** No US Daily Value has been established.
Contains:
Soy, Rice Powder
Supplemental Facts:
Contains no preservatives
KEEP CONTAINER TIGHTLY CLOSED. STORE IN A COOL, DRY TEMPERATURE.

KEEP OUT OF REACH OF CHILDREN.
Contains Yohimbe, should not be taken with antidepressant drugs. Do not use if you have high blood pressure or heart problems. Do not exceed recommended dosage, without physician approval.