Metabolic Nutrition
Restorative Formulations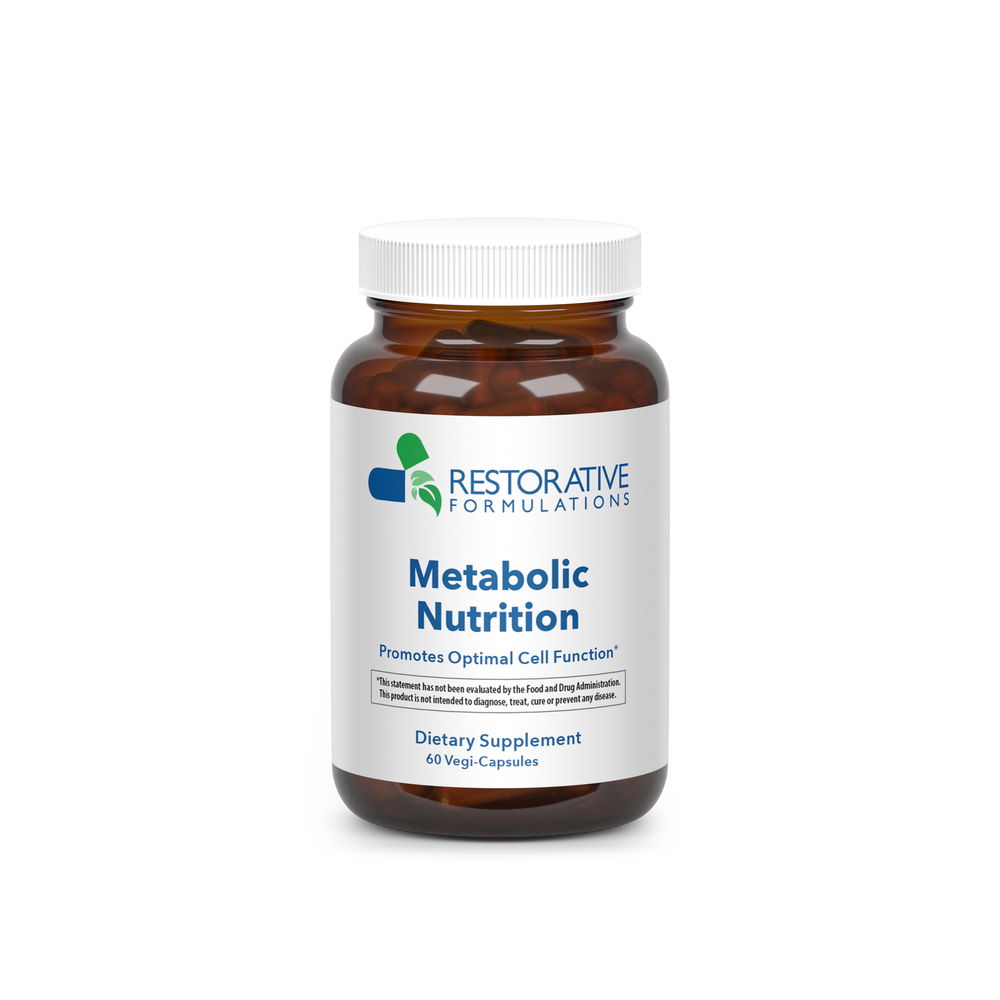 SKU: RF-1185
Promotes Optimal Cell Function
High-Level Multi-Vitamin/Mineral
High dose D3 at 4000 IU
Folic acid with Methyltetrahydrofolic acid (5-MTFH) at 800 mcg
B12 Methylcobalamin at 800 mcg
D-Alpha, Beta, Gamma, Delta Tocopherols 400 IU
Adrenal Metabolism and Energy:
High-nutrient multivitamin to support cellular health, endocrine system health and essential nutritional co-factors.
Cardiovascular Metabolism and Heart:
Supports optimal metabolic function, detoxification, cell growth and function.
Immune Support:
Promotes healthy immune function, mast cell response and oxidative processes.
Suggested Use:
Take 1 to 2 capsules daily, or as recommended by your healthcare practitioner. Can be taken with or without food.
Serving Size: 2 capsules
Amount Per Serving
Vitamin A ... 600mcg RAE
(as Retinyl palmitate) (2,000IU)
Vitamin C ... 150mg
(as Ascorbic Acid)
Vitamin D ... 100mcg
(as cholecalciferol) (4,000IU)
Vitmain E ... 100.5mg
(as D-Alpha-Tocopheryl Acetate & Natural Vitamin E [Covi-ox®]) (150 IU)
Vitamin K2 ... 240mcg
(as Menaquinone MK-7)
Vitamin B1 ... 1,000mcg
(as Thiamin HCI)
Vitamin B2 ... 6mg
(Riboflavin)
Vitamin B3 ... 30mg NE
(Niacin)
Vitamin B6 ... 20mg
(as Pyridoxal-5-Phosphate)
Folate ... 800mcg DFE
(as Calcium L-5 Methyltetrahydrofolate)
Vitamin B12 ... 800mcg
(as Methylcobalamin)
Biotin ... 200mcg
(as D-Biotin)
Vitamin B5 ... 50mg
(as D-calcium Pantothenate)
Calcium ... 40mg
(from Dicalcium Phosphate)
Phosphorus ... 30mg
(from Dicalcium Phosphate)
Iodine ... 150mcg
(as Potassium Iodide)
Magnesium ... 15mg
(from Magnesium-L-Threonate and Magnesium Citrate)
Zinc ... 10mg
(as Zinc Citrate)
Selenium ... 200mcg
(as L-Selenomethione)
Copper ... 1,000mcg
(as Cupric Citrate)
Manganese ... 7mg
(as Manganese Citrate)
Chromium ... 500mcg
(as Chromium Polynicotinate)
Molybdenum ... 100mcg
L-Carnitine Tartrate ... 50mg
Coenzyme Q10 ... 50mg
(Ubidecarenone)
Other Ingredients: Hydroxypropyl Methylcellulose, Rice Concentrate (Nu-Flow®), Food Starch-Modified, Organic Rice Extract Blend (Nu-Mag®), Maltodextrin, Silica DFE-Dietary Folate Equivalent.