Metabolic Synergy™
Designs for Health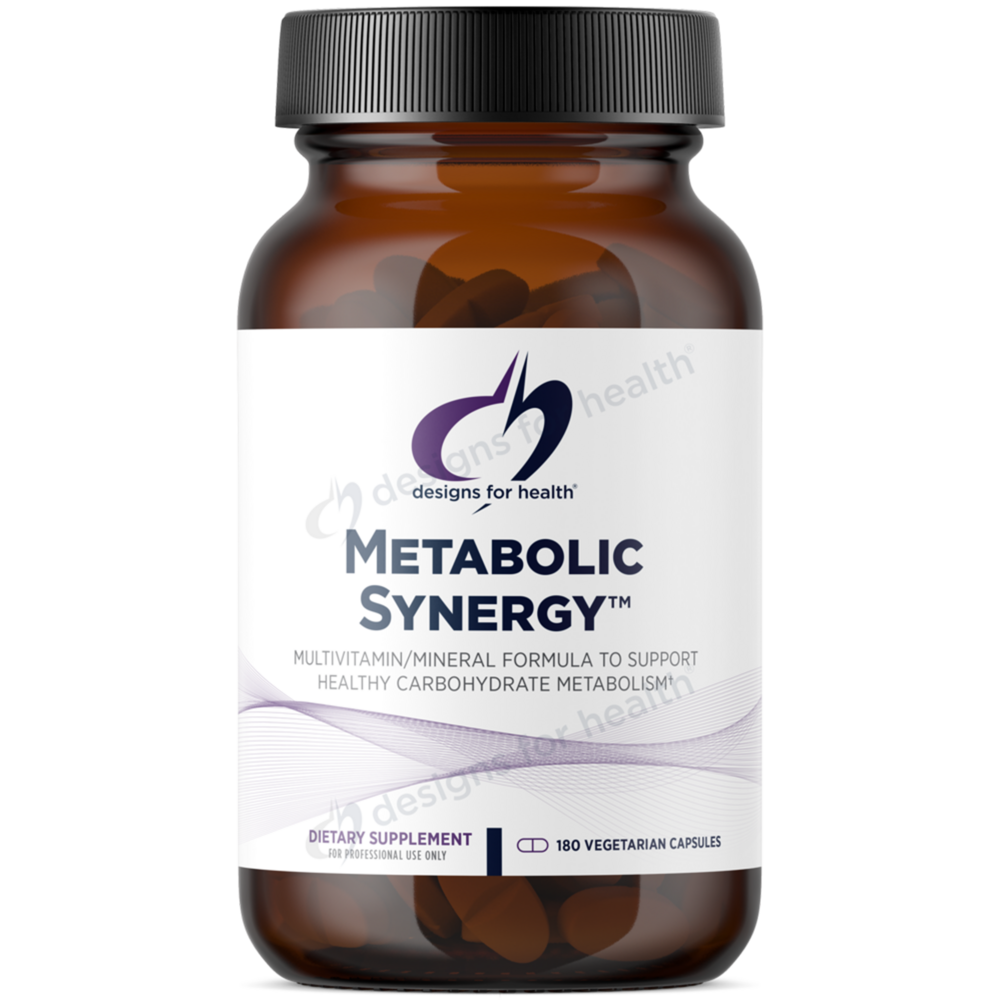 SKU: DFH-MSC180
Metabolic Synergy™ helps maintain healthy glucose and insulin levels, while supporting the conversion of carbohydrates to be used for energy by providing nutrients for the TCA cycle. The chromium, zinc, selenium, manganese, and molydenum are provided as true chelates for maximum absorption and bioavailability. This formula also contains therapeutic levels or R-lipoic acid, taurine and carnosine to support healthy glucose metabolism.


Suggested Use:
Take 6 capsules per day with a meal or as directed by your health-care practitioner (divided dosing recommended)


Serving Size: 6 Capsules

Amount Per Serving
Vitamin A ... 2780 mcg RAE
(from Palmitate and Mixed Carotenoids)
Vitamin C ... 300mg
(as Ascorbic Acid)
Vitamin D ... 12.5 mcg (500IU)
(as Cholecalciferol)
Vitamin K ... 60 mcg
(as K1 Phytonadione)
Thiamin ... 2.3mg
(Vitamin B-1)(as Thiamin HCl)
Riboflavin ... 2.8mg
(Vitamin B-2)(as Riboflavin-5-Phosphate)
Niacin ... 50 mg NE
(as Niacinamide and Niacin)
Vitamin B-6 ... 5.2 mg
(as Pyridoxal-5-Phosphate)
Folate ... 340 mcg DFE
(as Quatrefolic® [6S]-5-methyltetrahydrofolate, glucosamine salt 800 mcg)
Vitamin B-12 ... 500mcg
(as Methylcobalamin)
Biotin ... 500mcg
(as d-Biotin)
Pantothenic Acid ... 10mg
(as d-Calcium Pantothenate)
Iodine ... 75 mcg
(as Potassium Iodide)
Magnesium ... 50mg
(as Di-Magnesium Malate)
Zinc ... 7.5mg
(as Zinc Bisglycinate Chelate)
Selenium ... 100mcg
(as Selenium Glycinate Complex)
Manganese ... 0.5 mg
(TRAACS® Manganese Bisglycinate Chelate)
Chromium ... 200mcg
(TRAACS® Chromium Nicotinate Glycinate Chelate)
Molybdenum ... 50mcg
(TRAACS® Molybdenum Glycinate Chelate)
Taurine ... 750 mg
Carnosine ... 125 mg
R-Lipoic Acid ... 50 mg
Benfotiamine ... 25 mg
Vitamin E Isomers ... 15 mg
(as DeltaGold® delta and gamma tocotrienols)

Other Ingredients: Cellulose (capsule), sunflower lecithin, dicalcium phosphate, microcrystalline cellulose, silicon dioxide, vegetable stearate.


This product does not contain gluten.

TRAACS® and the Albion Medallion design are registered trademarks of Albion Laboratories.


NOTICE
Color, size or shape may appear different between lots.
Store at room temperature. Keep out of reach of children.