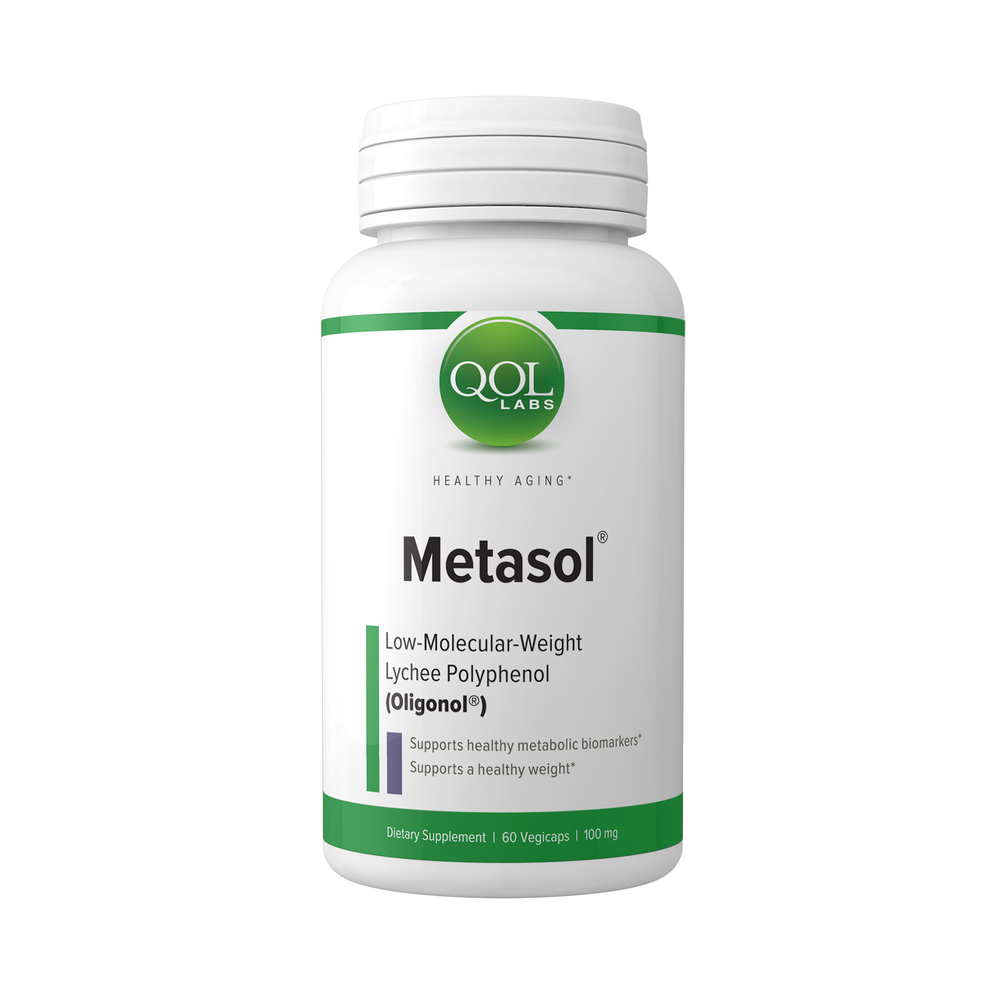 SKU: QUA-FP000105
Enhances circulation with Oligonol, which increases nitric oxide production to relax the blood vessels.*
Supports cardiovascular health with Oligonol's effect on circulation, oxidation, and inflammation.*
Lessens fatigue and increases endurance.* Oligonol could help reduce the perception of exertion.*
Reduces wrinkles and brown spots, especially among those ages 40+ years old.*
Wrinkled skin. Low energy. Stiff arteries. Most people are familiar with these common signs of aging. What they don't realize is that one physiological link underlies all these conditions: poor circulation, or blood flow.
Blood carries life-giving oxygen and nutrients to every cell of the body. Blood flow to the heart is indispensable for cardiovascular health. Blood flow to the skin is important for elasticity. And blood flow to the muscles is important for preventing fatigue.
The main ingredient in Metasol™ is Oligonol®, a breakthrough anti-aging antioxidant that addresses the threemajor causes of aging: poor blood circulation, oxidative stress, and inflammation.* Supported by 30 human clinical trials, Oligonol is a patented, lowmolecular- weight polyphenol derived from lychee fruit and green tea with excellent absorption and multiple anti-aging benefits.*
Clinical research shows that thanks to its low molecular weight, Oligonol can be easily absorbed by the body, giving it unmatched bioavailability.* With the power of Oligonol, Metasol gently and effectively helps relax blood vessels, thereby increasing blood flow throughout the body.*
A healthy metabolism is evidenced by several key biomarkers:
-Minimal amounts of dangerous visceral (belly) fat
-Normal waist circumference
-Healthy body weight
-Normal fasting glucose levels, indicating healthy insulin sensitivity
-Normal cholesterol, triglyceride and blood pressure levels
While the best way to get metabolically fit is through proper diet and exercise, new research indicates Oligonol - a low-molecular-weight polyphenol derived from the Asian superfruit lychee and featured in Metasol - may provide an added advantage.*
A pubished, randomized, double-blind human clinical trial lasting ten weeks found that, compared to placebo, taking 200mg Oligonol daily:
* Reduced visceral fat volume by 15%
* Shrank waist circumference by 3 centimeters
* Caused a significant reduction in body weight
* Increased sensitivity to insulin
In 2008, Oligonol received the prestigious Nutracon Award as the Top Science-Backed Product of the Year.
SUGGESTED USE: Take 2 capsules daily with a meal or as directed by your healthcare professional.
Serving Size: 2 Capsules
Amount Per Serving
Oligonol Proprietary Blend ...200mg +
(Low molecular weight polyphenol derived from
lychee fruit extract and green tea extract)
Other Ingredients: vegetable cellulose, vegetable magnesium stearate (from plant oil).
DO NOT USE IF SEAL IS BROKEN OR MISSING. Keep out of reach of children. Store at room temperature. Consult your healthcare professional before use if you are pregnant or lactating, have or had a medical condition, or are taking prescription drugs, especially blood thinners.