Methyl B-12 & Methyl Folate Lemon
Jarrow Formulas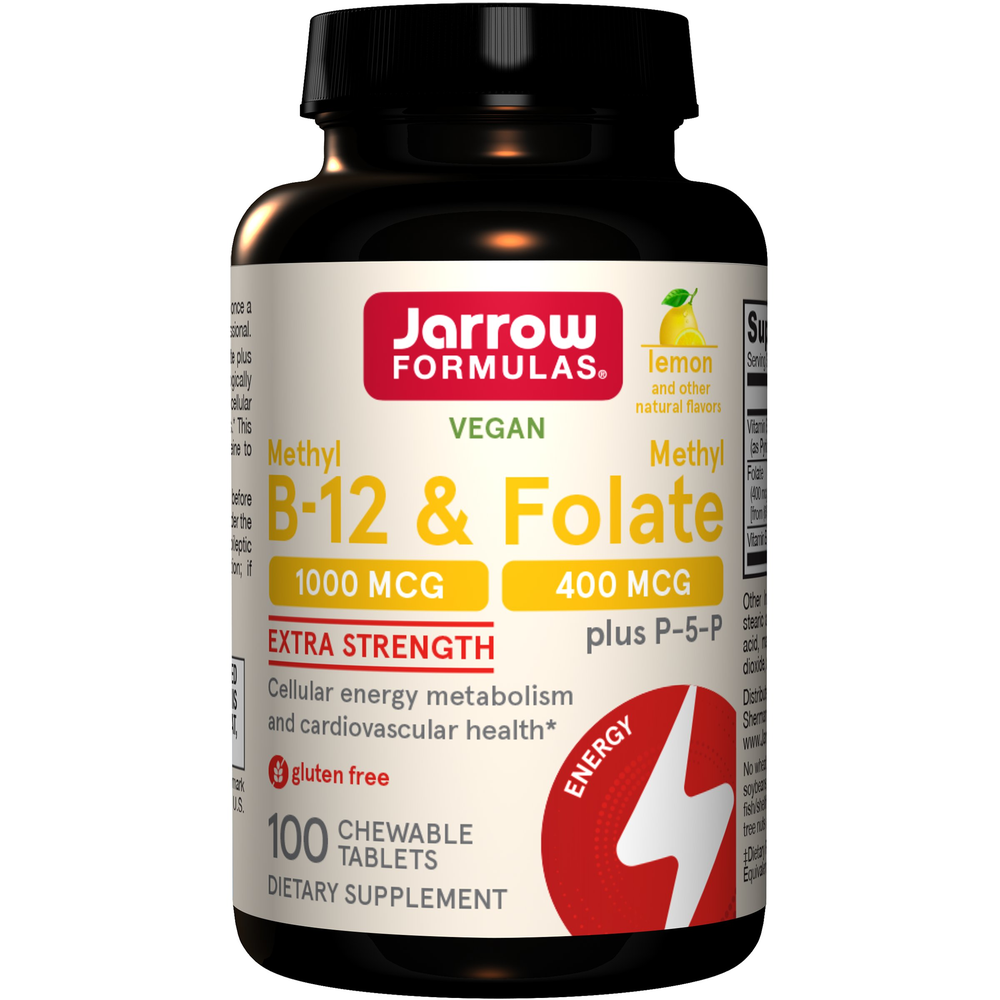 SKU: JAR-BMF14
Jarrow Formulas® Methyl B-12, Methylfolate Plus Pyridoxal-5-Phosphate (P5P) combines the biologically active coenzyme forms of vitamin B-12, B-9 and B-6 to support DNA and neurotransmitter synthesis, and carbohydrate, fat and amino acid metabolism.*
Methyl B-12 & Methyl Folate Lemon Highlights
Methylcobalamin (Methyl B-12) and Methyl Folate are biologically active forms of vitamin B-12 and B-9*
Methyl Folate is unlike synthetic folic acid that may interfere with natural folate metabolism*
Methyl Folate is unlike synthetic folic acid that may mask vitamin B12 deficiency*
Methyl Folate does not have a tolerable upper intake level established*
Pyridoxal 5-Phosphate (P-5-P) Is the Coenzyme Form of Vitamin B6*
Suggested Use:
Dissolve in mouth or chew 1 tablet per day or as directed by your qualified healthcare professional.


Serving Size: 1 Tablet

Amount Per Serving
Vitamin B6 ... 1.5mg
(as Pyridoxal-5-Phosphate)
Folate ... 400mcg
(as (6S)-5-MTHF (from (6S)-5-Methyltetrahydrofolate Glucosamine Salt)
Vitamin B12 ... 1,000mcg
(as Methylcobalamin)

Other Ingredients: Xylitol, cellulose, stearic acid (vegetable source), natural lemon flavor, citric acid, magnesium stearate (vegetable source), silicon dioxide and rebiana (stevia extract).


NO: Wheat, gluten, soybeans, dairy, egg, fish/shellfish, or peanuts/tree nuts.

Quatrefolic® is a registered trademark of Gnosis S.p.A. Protected by U.S. Patent # 7,947,662.
NOTE: Consult a healthcare professional before using this product if you are trying to conceive, pregnant, or lactating, under the age of 18, or have a medical condition; if adverse reactions occur, discontinue use.
Keep out of reach of children.