Mito-Fuel w/ D-Ribose
DaVinci Labs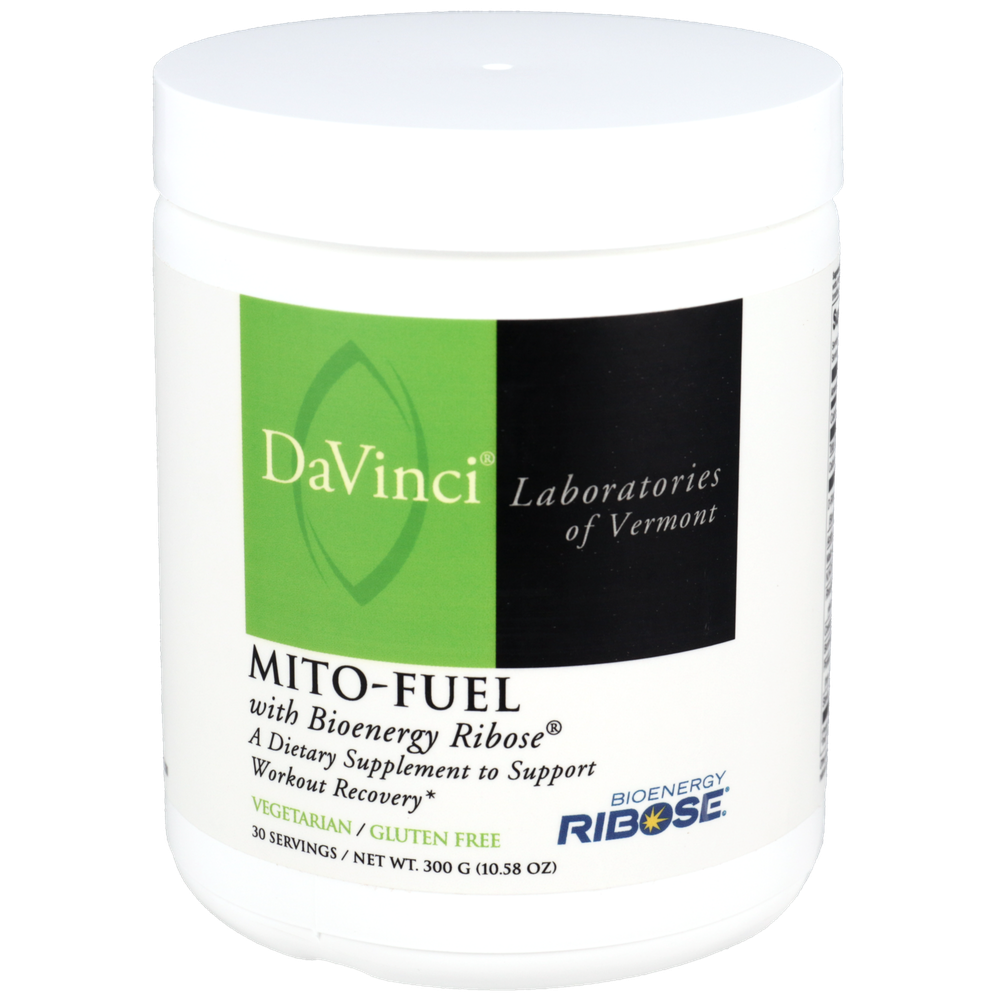 SKU: DAV-0200541030
Mito-Fuel w/ D-Ribose
-Mito-Fuel is a 5, 000 mg D-Ribose based product to support mitochondrial function. Combined with Acetyl L-Carnitine, Malic Acid, DMG, Rhodiola, Coenzyme Q10 and Bromelain, it is a formula that helps reduce fatigue and restore cellular function by promoting the production and recycling of ATP. It can also be used pre and post work out. Mito-Fuel is a great tasting powder drink mix supplement.
As a dietary supplement, mix one scoop (10 g) daily in water, before a workout. On days not exercising, take once daily at breakfast, or as directed by your healthcare practitioner..
Serving Size: 1 (10 g) Scoop
Amount Per Serving
Calories ...35
Total Carbohydrates ...9g
Calcium ...25 mg
D-Ribose ...5000mg
(Bioenergy Ribose Brand)
Acetyl L-Carnitine ...500mg
Malic Acid ...300mg
N, N-Dimethylglycine HCl (DMG) ...100mg
Rhodiola rosea Extract ...75mg
yielding rosavins ...2.25mg
Coenzyme Q10 ...30mg
Bromelain ...1, 000mg
Protease ...1, 000mg
(from Aspergillus niger)
Stevia Leaf Extract ...45mg
Other ingredients: natural orange powder, citric acid, natural orange flavor, silica, tricalcium phosphate.
Color, flavor and sweetness of this product may vary due to variations of natural ingredients.
WARNING:If hypoglycemic, diabetic or pregnant or nursing, consult your healthcare practitioner before taking this product.
CAUTION:Jar contains desiccant to reduce moisture and clumping. Do not eat desiccant.
Keep out of reach of children. Store in a cool, dry place.
If inner seal is broken, do not use.
Do not Refrigerate.
This product is packaged by weight, not by volume. Some settling may occur.
*This statement has not been evaluated by the Food and Drug Administration. This product is not intended to diagnose, treat, cure or prevent any disease.
WARNING: Consuming this product can expose you to chemicals including lead, which is known to the State of California to cause birth defects or other reproductive harm. For more information go to www.P65Warnings.ca.gov/food