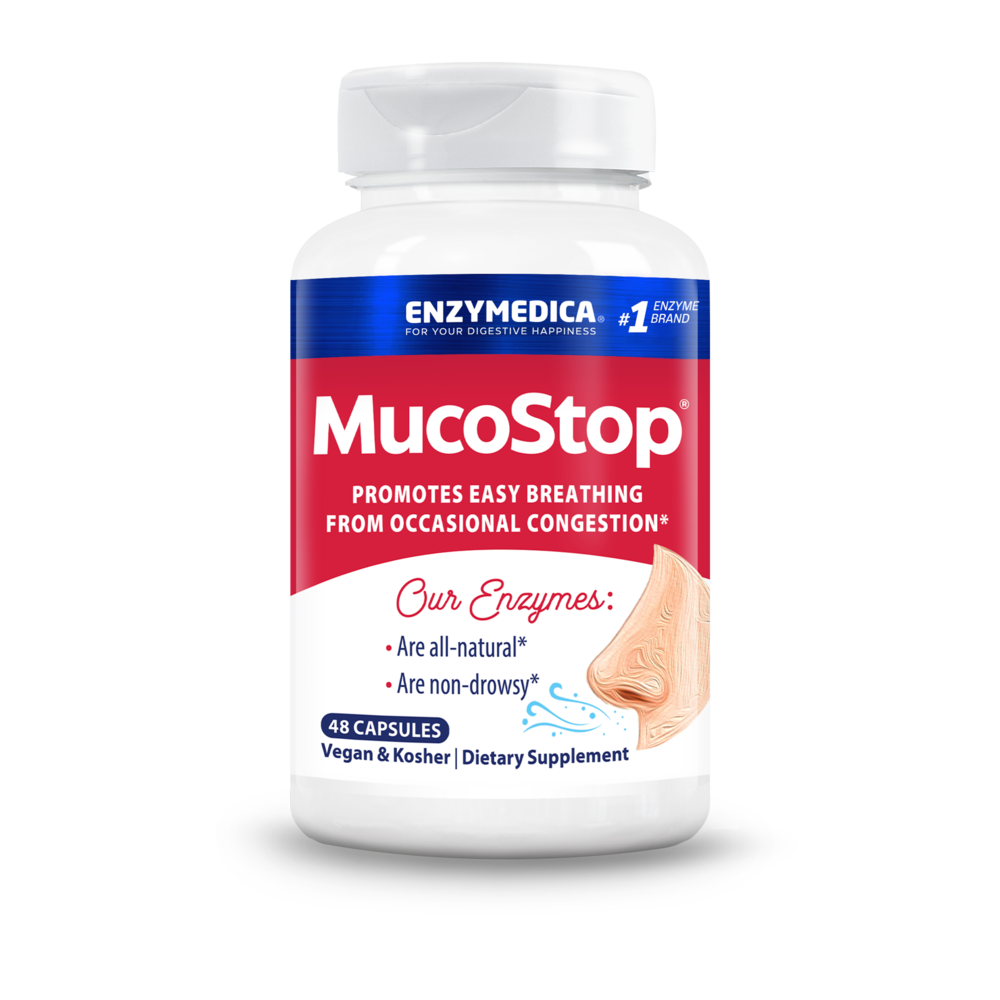 SKU: EZM942-24110
Seasonal or occasional congestion may produce excess mucus, hindering upper and lower respiratory function.
MucoStop™ contains a blend of enzymes specifically formulated to promote easy breathing.* The high-potency enzyme Mucolase™ assists the body's natural ability to break down and eliminate excess mucus in the sinus and nasal passages.*
Thera-blend™ is an exclusive process that combines multiple strains of enzymes that work in specific pH levels, resulting in superior performance in the body.
NO FILLERS ADDED
Take 2 capsules three times daily on an empty stomach, one hour before or two hours after a meal. More may be taken as needed.
Serving Size: 2 Capsules
Amount Per Serving
Amylase Thera-blend™ ... 29, 700 DU
Protease Thera-blend™ ... 90, 000 HUT
Glucoamylase ... 100 AGU
Mucolase™ ... 60mg
Beta Glucanase ... 120 BGU
Alpha Galactosidase ... 200 GaIU
Cellulase Thera-blend™ ... 800 CU
Pectinase ... 700 Endo-PGU
(w/ Phytase)
Xylanase ... 1, 100 XU
Lipase Thera-blend™ ... 1, 140 FCCFIP
Invertase ... 30 SU
Hemicellulase ... 60 HCU
Other Ingredients: 100% Vegetarian Capsule (cellulose, water)
Contains NO egg, dairy, preservatives, salt, sucrose, soy, wheat, yeast, nuts, corn, gluten, casein, potato, rice, artificial colors or flavors.
Keep closed in dry place; avoid excessive heat.