Multi Collagen Peptide Pwdr Kona Coffee
Codeage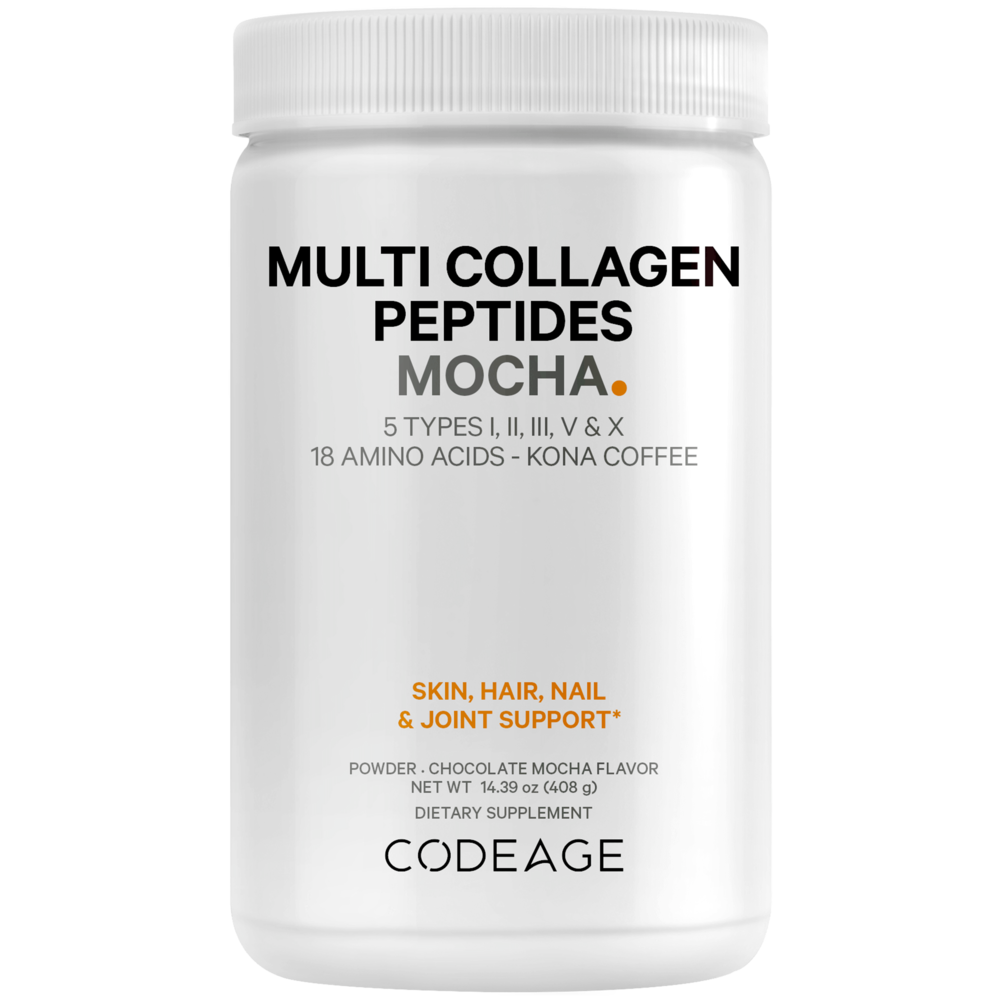 SKU: COD404-853919008359
Codeage Multi Collagen Peptides Powder Mocha offers 5 different types of collagen (type 1, 2, 3, 5 & 10) from 5 different sources. It contains grass-fed beef, free-range chicken bone broth, organic beef bone broth, wild-caught marine collagen and egg shell membrane collagen all-in-one. The Kona coffee beans come from Hawaii and are considered to be one the finest and premium tasting coffees in the world. It has also a low acid profile making it an ideal ingredient for a flavorful collagen coffee drink.
Suggested Use:
Adults mix 1 scoop into 8 oz of hot water 1-2 times daily or as needed. Try it cold! Mix in a blender with ice for a delicious iced coffee treat.


Serving Size: 1 Scoop (Approx. 13.6g)

Amount Per Serving
Calories … 58
Total Fat … 0.75g
Sodium … 50mg
Total Carbohydrates … 4.4g
Fiber … 3.4g
Sugars … 1g
Protein … 8.4g
Multi-Collagen Complex … 10,000 mg
Grass-Fed Hydrolyzed Bovine Collagen Peptides, Organic Beef Bone Broth, Organic Chicken Bone Broth, Wild Caught Hydrolyzed Fish Collagen Peptides, Eggshell Membrane Collagen
Kona Instant Coffee … 815.2 mg

Does not contain: GMO, gluten, dairy, soy, or preservatives.

Warning: If you are pregnant, nursing, allergic, have a medical condition, or are taking any medications, consult a doctor before using this or any other dietary supplement.

Allergen warning: Fish (Cod, Snapper), Egg.

Use this product as a food supplement only. Do not use for weight reduction.

Store in a cool, dry place. Do not use if product has been opened or tampered with in any way. Keep out of reach of children and pets.