Multi for Women 55+
MegaFood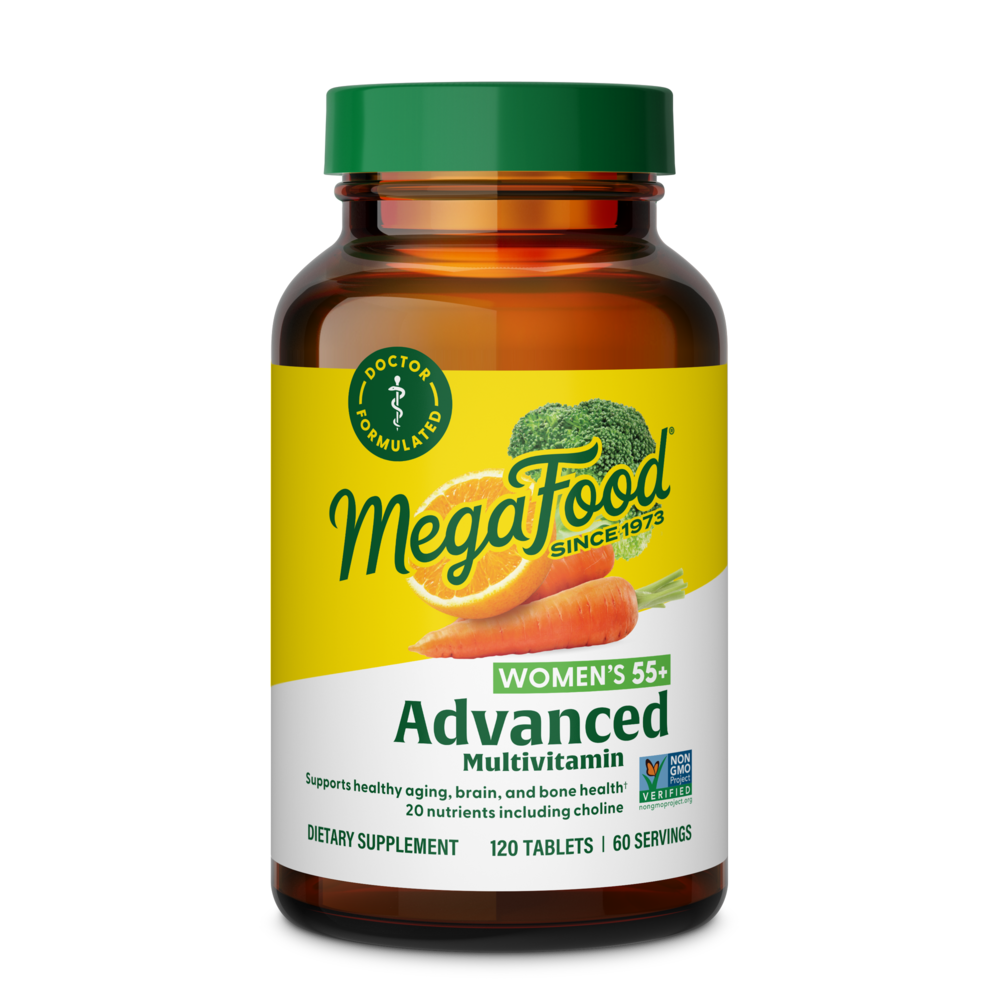 SKU: MEG-10327
MegaFood® Multi for Women 55+ is formulated by award-winning integrative medical physician, Tieraona Low Dog, M.D., specifically for women over the age of 55 who seek optimal health and wellbeing*. Our twice-daily tablets can be taken any time throughout the day, and are crafted with a blend of vitamins, minerals and green tea leaf extract that support a woman's unique physiological needs*. It includes 1000 IU (25 mcg) of vitamin D to support already healthy bones and mood*, B vitamins and zinc to support cognitive function*, and FoodState® B vitamins, including methylated folate and B12, for healthy energy*. (Please note: this formula is made without calcium, magnesium, iron and vitamin K. We recommend consulting with your healthcare practitioner to determine whether you should also supplement with a bone-supporting product, like MegaFood® Bone Health.)
1000 IU (25 mcg) of vitamin D supports an already healthy mood and bones*
FoodState® B vitamins support healthy energy production and nervous system health, as well as an already healthy cardiovascular function*
Methylated folate and B12 are suitable for those with MTHFR gene mutation and compromised methylation*
Includes B6 in the active form of P5P*
Choline supports an already healthy memory and cognitive function*
Formulated by award-winning integrative physician, Tieraona Low Dog, M.D.
Calcium- and magnesium-free formulation.
This MegaFood product is made with real food sourced from our trusted family farm partners, wholesome nutritional yeast and added nutrients. Each vitamin or mineral is paired with an ideal whole food using our unique process to deliver guaranteed potency and the benefit of health-promoting compounds present in the whole food itself.
Suggested Use
: 2 tablets daily with a beverage. May be taken anytime throughout the day, even on an empty stomach.
Serving Size
: 2 Tablets
Amount Per Serving
Vitamin A ... 360 mcg RAE
(as beta carotene)
Vitamin C ... 100 mg
(as ascorbic acid)
Vitamin D3 ... 25 mcg
(as fermented cholecalciferol)
Vitamin E ... 14.7mg
(as d-alpha tocopherols from sunflower seed oil)
Thiamin ... 2mg
(as thiamine hydrochloride)
Riboflavin ... 2.6mg
(as riboflavin 5'-phosphate sodium)
Niacin ... 20mg NE
(as niacinamide)
Vitamin B6 ... 6mg
(as pyridoxal-5-phosphate)
Folate ... 340 mcg DFE
(200 mcg L-5-MTHF)
Vitamin B12 ... 20 mcg
(as methylcobalamin)
Biotin ... 300 mcg
(as biotin)
Pantothenic Acid ... 8mg
(as d-calcium pantothenate)
Choline ... 200mg
(as choline bitartrate)
Iodine ... 50 mcg
(as fermented iodine glycinate)
Zinc ... 15mg
(as zinc bisglycinate)
Selenium ... 50 mcg
(as fermented selenium glycinate)
Copper ... 0.2mg
(as fermented copper bisglycinate)
Manganese ... 1mg
(as fermented manganese bisglycinate)
Chromium ... 120 mcg
(as fermented chromium glycinate, nicotinate, glutamate)
Molybdenum ... 60 mcg
(as fermented molybdenum bisglycinate)
Green Tea Leaf Extract ... 250 mg
Food Blend ... 264mg
Organic brown rice, organic orange, carrot, organic broccoli

Other Ingredients: Microcrystalline cellulose, ferment media (organic brown rice, rice protein, autolyzed yeast extract, yeast [inactive], silicon dioxide, stearic acid, gum acacia, autolyzed yeast extract, hypromellose.