Multi Glyco
Seroyal/Genestra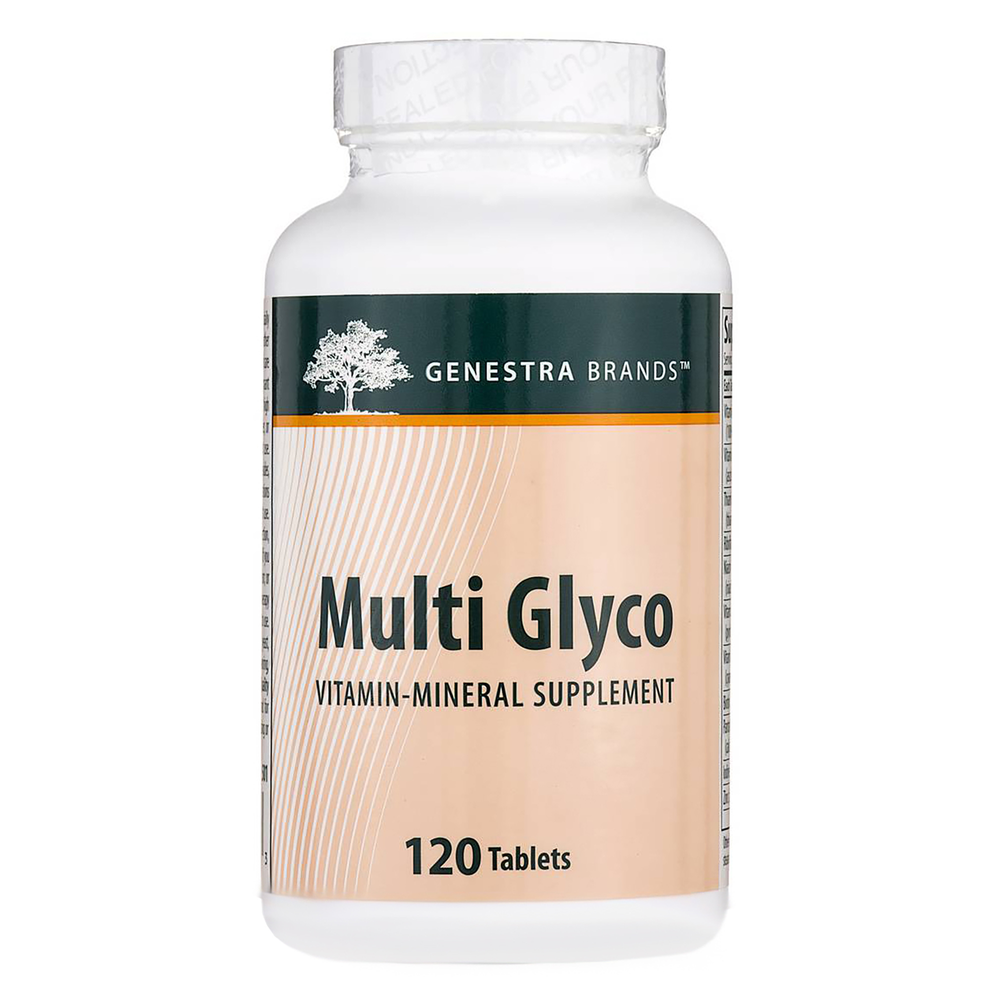 SKU: GN-03501120
Comprehensive multi vitamin, mineral, botanical and glandular formulation in tablet format
-Chromium provides support for healthy glucose metabolism, while other ingredients maintain immune function and help the body to metabolize carbohydrates, fats and proteins (1)
Easy-to-use
-One tablet daily with a meal ensures patient compliance
Multi Glyco combines chromium with synergistic vitamins, minerals, herbs and glandular tissues. Chromium supports healthy glucose metabolism (2).
Take one tablet daily with a meal, a few hours before or after taking other medications, or as recommended by your healthcare practitioner.
Serving Size: 1 Tablet
Amount Per Serving
Vitamin A ... 5000IU
(100% beta-carotene)
Vitamin C ... 200mg
(ascorbic acid)
Thiamin ... 35mg
(thiamin mononitrate)
Riboflavin ... 35mg
Niacin ... 335mg
(niacinamide)
Vitamin B6 ... 35mg
(pyridoxine hydrochloride)
Vitamin B12 ... 20mcg
(cyanocobalamin)
Biotin ... 100mcg
Pantothenic Acid ... 100mg
(calcium d-pantothenate)
Iodine ... 90mcg
(from kelp)
Zinc ... 15mg
(zinc aspartate)
Selenium ... 50mcg
(selenomethionine)
Manganese ... 8mg
(manganese citrate)
Chromium ... 200mcg
(chromium nicotinate)
Bovine ... 50mg
(Bos taurus) Adrenal
Porcine ... 50mg
(Sus scrofa) Pancreas
Bovine ... 50mg
(Bos taurus) Liver
Alfalfa ... 50mg
(Medicago sativa) Leaf/Stem
Eleuthero Root ... 10mg
(Eleutherococcus senticosus)
Licorice Root ... 10mg
(Glycyrrhiza glabra)
Other ingredients: Cellulose, croscarmellose sodium, magnesium stearate, silica, hypromellose, glycerin
Guaranteed to contain no added wheat, yeast, gluten, soy, artificial coloring or flavoring or dairy products.
If you are pregnant or breastfeeding; or if you have hypokalemia, high blood pressure, a kidney or cardiovascular disorder, or a history of systemic lupus erythematosus, do not use. If you are taking thiazide diuretics, cardiac glycosides, corticosteroids, stimulant laxatives or other medications which may aggravate electrolyte imbalance, do not use.
Safety-sealed for your protection and for product freshness. Do not use if outer seal is missing or broken. Store in a cool, dry place.
†These statements have not been evaluated by the Food and Drug Administration. This product is not intended to diagnose, treat, cure, or prevent any disease.