Multi Minerals
Nordic Naturals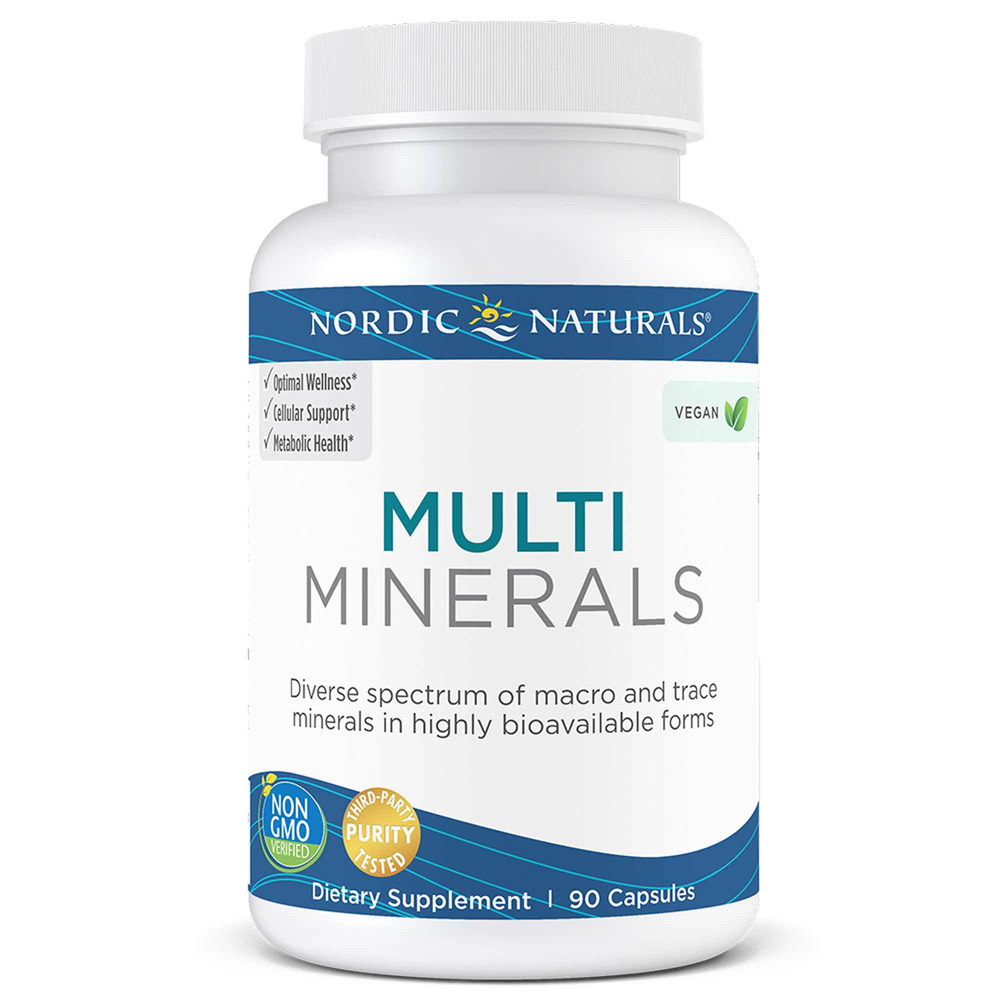 SKU: NORD-RUS01538
Nordic Naturals Multi Minerals is a highly absorbable blend of macro and trace minerals that support cellular and metabolic health.* Due to the many factors affecting how foods are grown and transported, even people who regularly eat fruits and vegetables may require additional amounts of certain essential minerals. This multi-mineral blend helps address these needs by providing a diverse spectrum of well-balanced, better-absorbed minerals.
11 essential minerals in chelated form for better absorption
Supports metabolic and cellular health*
Helps to fill nutritional gaps associated with a modern diet*
Non-GMO and Certified Vegan
Suggested Use:
Take 3 capsules daily, or as recommended by your healthcare professional.
Serving Size: 3 Capsules

Amount Per Serving
Calcium … 150mg
(from Red Sea Algea)
Iron … 13.5mg
(as Iron Glycinate)
Iodine … 255mcg
(as Potassium Iodide)
Magnesium … 150mg
(from Magnesium Glycinate, Red Sea Algea)
Zinc … 8.25mg
(as Zinc Glycinate)
Selenium … 41.25mcg
(as L-Selenomethionine)
Copper … 0.68mg
(as Copper Glycinate)
Manganese … 1.73mg
(as Manganese Glycinate)
Chromium … 26.25mcg
(as Chromium Nicotinate Glycinate)
Molybdenum … 1.73mg
(as Molbydenum Glycinate)
Potassium … 37.5mg
(as Potassium Chloride)
L-Glutamine … 75mg
Boron … 0.75mg
(as Bororganic Glycine)
Vanadium … 75mcg
(as Vanadium Nicotinate Glycinate)

Other Ingredients: Capsule (vegetable cellulose), microcrystalline cellulose, silica.



No gluten, milk derivatives, wheat, soy, or artificial colors and flavors.
Warning: If pregnant, nursing, or taking prescription drugs, consult your healthcare professional prior to use.