Multi-Vitamin Complex
Klaire Labs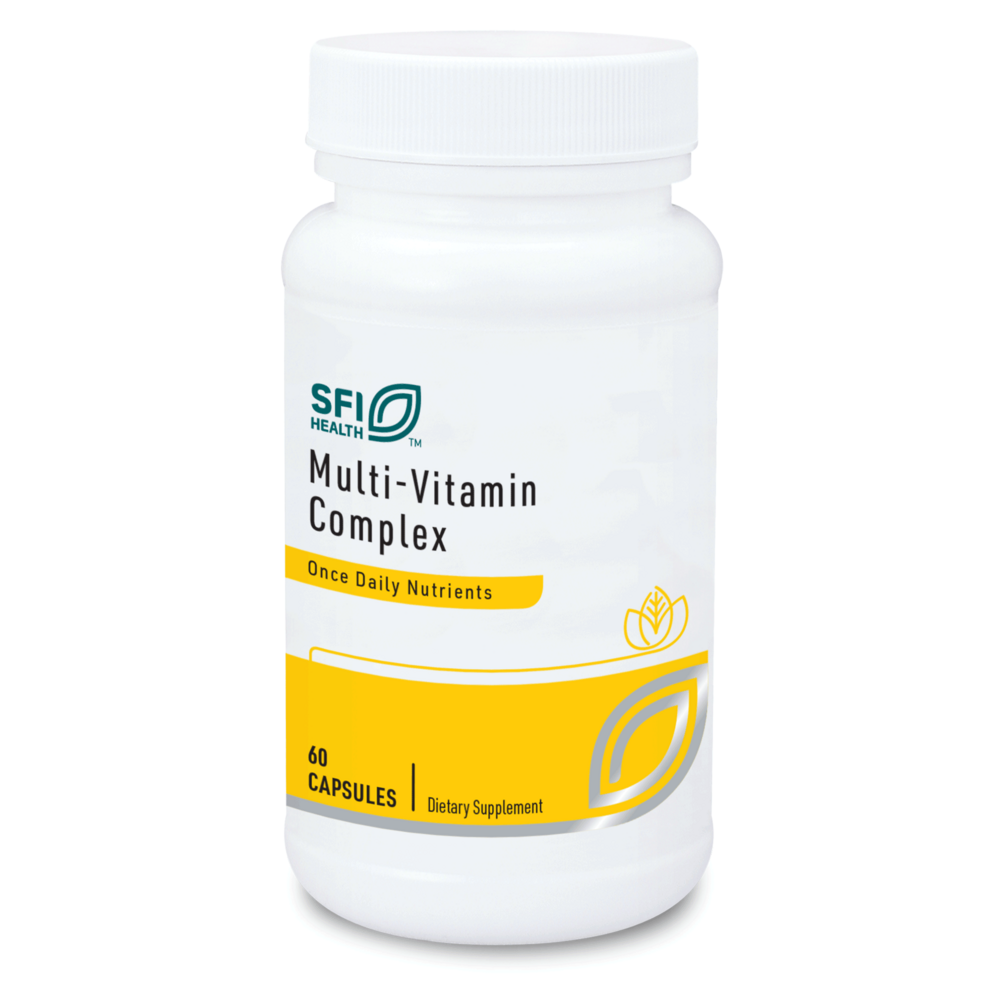 SKU: KL-V82906
Enhances daily vitamin intake
A hypoallergenic, once-daily vitamin supplement, Multi-Vitamin Complex has been specifically formulated to exclude minerals for situations where enhancement of vitamin intake only is desired. This formula provides between 100% and 200% of the Recommended Daily Allowance (RDA) for most vitamins, and 300% of the RDA for several B vitamins. For best absorption, Multi-Vitamin Complex should be taken with food.
Suggested Use:
Take 1 capsule daily with food or as directed by a healthcare professional.
Serving Size: 1 Capsule

Amount Per Serving
Vitamin A ... 1, 500mcg RAE
(50% (750 mcg RAE) as natural carotenes (beta-carotene, alpha-carotene and beta-cryptoxanthin) from D. salina and50% (750 mcg RAE) as Vitamin A palmitate) D. salina)
Vitamin C ... 120mg
(as L-ascorbic acid and calcium ascorbate)
Vitamin D3 ... 5mcg
(as cholecalciferol)
Vitamin E ... 13.5mg
(as RRR-apha tocopheryl)
Thiamine ... 4.5 mg
(as thiamine HCl)
Riboflavin ... 5.1 mg
Niacin ... 60 mg NE
(as niacinamide)
Vitamin B6 ... 11 mg
(55% as pyridoxine HCl and 45% as pyridoxal 5'-phosphate)
Folate ... 680 mcg DFE
(as Metafolin®‡ calcium L-5-methyltetrahydrofolate)
Vitamin B12 ... 18 mcg
(as methylcobalamin)
Biotin ... 300 mcg
(D-biotin)
Pantothenic Acid ... 30 mg
(as calcium D-pantothenate)
Choline ... 40 mg
(as choline bitartrate)
Para-Aminobenzoic Acid ... 50 mg
Inositol ... 40 mg

Other Ingredients: Vegetarian capsule (hydroxypropyl methylcellulose, water), L-leucine, L-valine, and cellulose.


Free of the following common allergens: milk/casein, eggs, fish, shellfish, tree nuts, peanuts, wheat, and gluten. Contains no artificial colors, flavors, or preservatives.

‡Metafolin® is a registered trademark of Merck KGaA, Darmstadt, Germany.
Caution: If you are pregnant, nursing, have a medical condition, or taking prescription drugs, consult your healthcare professional before using this product.

KEEP OUT OF REACH OF CHILDREN.